Automobili Lamborghini ceases production of the Aventador: a final Aventador LP 780-4 Ultimae Roadster, in a special light blue Ad Personam color destined for the Swiss market, is the last, pure, naturally-aspirated V12 Lamborghini to be produced in Sant'Agata Bolognese, and marks the end of an era.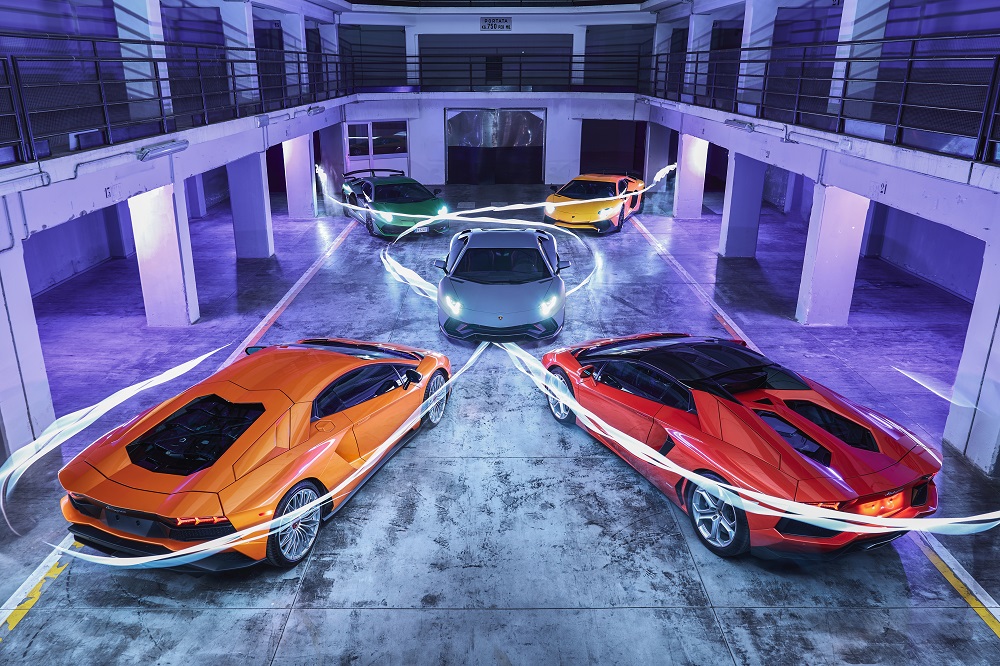 Unveiled at Geneva Motor Show in 2011 as the Aventador LP 700-4, its moniker described its 700 horsepower and permanent four-wheel drive, with the engine mounted longways at the rear – Longitudinale Posteriore – but the Aventador encapsulated so much more. With a new Lamborghini V12 60˚powerplant, developed entirely in-house, it encompassed significant new technologies, an extraordinary and timeless design and not least, breathtaking performance, the like of which had not been seen in a production super sports car. Stephan Winkelmann, Chairman and CEO of Automobili Lamborghini, said at its launch, "the Aventador is a jump of two generations in terms of design and technology, with an exceptional package of unique, innovative technologies and performance that is simply overwhelming."
The benchmarking characteristics described at its debut have endured throughout its life, over more than 8 model derivatives and 11,465 cars delivered to customers worldwide. It has originated over 10 one-off and limited editions; set track records; won numerous awards; been the subject of artistic projects; featured in films and video games; and delighted owners, enthusiasts, children and media the world over with its inimitable design, extraordinary performance, thrilling engine noise and driving emotions.
"The Lamborghini Aventador was a game-changer at its launch, and the flagship Lamborghini model for 11 years of production," says Stephan Winkelmann, Chairman and CEO of Automobili Lamborghini. "The V12 engine has been part of Lamborghini's heritage since the company's earliest days; the beating heart of models from Miura to Diablo, Countach to Murciélago. The Aventador captured Lamborghini's competencies in design and engineering when it debuted in 2011, with Lamborghini values that are always at the centre of company and product impetus: pure, futuristic design; benchmarking performance; and addressing technical challenges with innovation to produce the most emotive, class-leading super sports cars. These principles are the very essence of the Lamborghini Aventador, and assure its timeless appeal."
Lamborghini has sold more Aventadors than the sum of all its previous V12 models; in its fifth year the company delivered 5,000 units, matching the total number of Murciélago models produced, and delivering its 10,000th Aventador in September 2020.
Performance engineering, innovation and design
The Aventador's technical innovation was at its heart, driven by Lamborghini's R&D department headed by Chief Technical Officer Maurizio Reggiani working in close collaboration with the Centro Stile design department, in a 'clean sheet' approach. The first of its kind in a production car, a lightweight carbon fiber single-piece monocoque weighing just 147.5 kg was produced using Lamborghini's patented RTM-Lambo™ process, manufactured entirely in-house. It delivered maximum torsional stiffness, and safety for the car's occupants. Automobili Lamborghini's expertise in carbon fiber and lightweight technologies is represented throughout the Aventador's evolution, including extensive developments in forged composite technologies. A team of 'flying doctors was established at the Aventador's inception, travelling across the world to support dealers with specialist diagnostics and repairs to the carbon fiber monocoque when damaged.
The new 6.5 liter 12-cylinder engine, outputting 700 hp at maximum 8,250 rpm, delivered an astounding 0-100km/h in just 2.9 seconds, with a top speed of 350 km/h. With 690 Nm of torque and a well-rounded torque curve, the Aventador's pulling power, dynamism, aerodynamic efficiency and precision handling, set to the soundtrack of the V12 engine's roar, has evolved to maintain the Aventador's legendary status and appeal throughout its lifetime evolution.
A robotized, Independent Shifting Rod (ISR) single-shift transmission, chosen for its lightweight compactness and the most emotive shift, was unique in a road-going car and changed gear in just 50 milliseconds. A pushrod suspension system inspired by Formula One was implemented in the super sports car, with a central ECU controlling electronic systems as well as the car's set-up in terms of engine, transmission, differential, stability and steering via the unique drive mode selection system: STRADA, SPORT and CORSA.
The Aventador's design, led by head of the Centro Stile Filippo Perini, delivered an aeronautically-inspired, dynamic, sculpted super sports car. Its taut lines, complex surfaces and juxtaposition of angles and surfaces, including the scissor doors reserved for V12 Lamborghinis, creating a timeless automotive design but more importantly, a powerful piece of enduring automotive art.
Art, drama and performance
Every Aventador produced is considered a piece of art; with 85% of Aventadors featuring Ad Personam personalization by their owners: more than 200 unique colors and trims have been created for the Aventador.
Street artist Skyler Grey created his interpretation of Lamborghini's typical yellow and orange hues, complemented by an animation of running bulls, on an Aventador S shown at Monterey Car Week in 2019: the first Aventador to be certified by blockchain. In 2020 Japanese fashion designer Yohji Yamamoto collaborated with Lamborghini Centro Stile to dress an Aventador S in his bold signature black and red patterns. The Aventador has featured in exhibitions from St Petersburg, 'Lamborghini: Design Legend'; to Art Basel and at the Wolfsonian in Miami Beach; and in a Lamborghini curated event 'Art and Exclusivity' in Venice. The last Aventador LP 780-4 Ultimae coupé to be produced was auctioned in 2022 to coincide with a 1:1 NFT drop by contemporary artists Krista Kim and Steve Aoki.
At Japan's Lamborghini Day 2017, five unique Aventador Roadster S models were presented in color palettes representing the natural elements from Japanese culture: water, earth, fire, wind and sky. Two cars in specially-created colors inspired by Korea's culture and flag were created in 2021 and presented in Seoul: Green Ocno symbolizing 'warm Korean sentiment' and the Blue Emera 'intelligence and wisdom'. An Aventador S Goodwood Special Edition sporting grey and orange Ad Personam colors with Goodwood decals and interior embroidery was produced as a one-off in 2017.
The Aventador featured in movies including 'Batman: the Dark Knight Rises' in 2012, starring Christian Bale as Bruce Wayne who drove an Aventador LP 700-4. An Aventador LP 700-4 appeared in 'Transformers: Age of Extinction' in 2014 as the Decepticon villain Lockout, Aventadors have appeared in many music videos and been produced as scale models and children's toys.
The Aventador has been a protagonist in numerous tours and adventures, from its Italian homeland to Scandinavia and Scotland, to Asia and the Americas. The Aventador coupé and just-launched roadster joined 350 current and historic Lamborghini models from around the world to thrill owners and crowds on the Italian roads in May 2013, in a tour event celebrating 50 years since Ferruccio Lamborghini founded the Italian super sports car company.
However, topping its performance credentials are the two lap records taken at the notorious Nürburgring Nordschleife: the Aventador LP 750-4 SV clocked a sub-seven minute lap in 6:59:75 in 2015, with the Aventador SVJ reclaiming the record for Lamborghini in 2018, with a 'Ring time of 6:44.97.
Model evolution
Following the Aventador LP 700-4's debut, the roadster version was announced in December 2012. With its lightweight carbon fiber panels removed and stored in the front bonnet, the roadster delivered open air driving exhilaration. During its dynamic launch in Miami at the beginning of 2013, the year of Lamborghini's 50th anniversary, with special permission from the Mayor of Miami and the Federal Aviation Administration Lamborghini kicked off its festivities on the airport runway, setting speeds of up to 338 km/h: faster than the take-off speed of 'planes.
The Aventador LP 750-4 SuperVeloce unveiled at Geneva Motor Show in 2015 was graced with a 50 hp power upgrade and a weight reduction of 50 kg for an exceptional 2:1 weight-to-power ratio; new aerodynamics including a fixed carbon fiber wing; and an improved acceleration from 0-100 km/h of 2.8 seconds. Taking the production car lap record at the Nurburgring Nordschleife in a time of 6:59:75, piloted by Pirelli test driver Marco Mapelli in 2016, numbers were limited to 600 units: like production of the 500 Aventador SV Roadsters announced later that summer, all were sold out within a few months.
With more than 5,000 Aventador models delivered by March 2016, in December that year the next-generation Aventador S was announced, with its official unveiling at the following year's 2017 Geneva Motor Show. With the 'S' suffix denoting its enhancements as in previous Lamborghini 'S' models, Lamborghini's new head of design Mitja Borkert oversaw design modifications that incorporated new aerodynamics with up to 50% further efficiency and 130% more front downforce. With 740 hp and an increase to 690 Nm of torque at 5,500 rpm, the Aventador S introduced Lamborghini Dinamica Veicolo Attiva (LDVA), centrally controlling all electronic systems; MagneRide suspension; four-wheel steering and an additional customizable drive mode: EGO. The Aventador S Roadster was unveiled at Frankfurt Motor Show in autumn 2017.
Prior to its unveil at Monterey Car Week in August 2018, the Aventador SVJ – taking the Jota suffix to denote its track prowess – had already made its name. With Lamborghini test driver Marco Mapelli behind the wheel of the camouflaged car, he achieved a lap time of 6:44.97 on the Nürburgring Nordschleife in July, retaking taking the production car record for Lamborghini. Its reworked engine produced 770 hp with 720 Nm of torque at 6,750 rpm and adopted Lamborghini's ALA active aerodynamics system alongside the LDVA 2.0 system, achieving up to 40 % additional downforce over the earlier SV model and a -1% reduction in drag. Its lightweight engineering incorporating extensive use of carbon fiber and a titanium exhaust gave a weight-to-power ratio of just 1,98 kg per horsepower. Joined by the roadster model presented at the 2019 Geneva Motor Show, a limited '63 edition' coupé commemorated the company's foundation year, followed by a 63 Roadster edition unveiled at the 2019 Monterey car week the following year: all were sold prior to launch.
The finale of the Aventador, the last aspirated V12 to be produced by Lamborghini, was announced in July 2021: the Aventador LP 780-4 Ultimae, combining the most iconic design and engineering elements from the Aventador S and SVJ to present a definitive final masterpiece and pure V12 driving experience. With the design sophistication of the 'S'; 780 hp, top Aventador acceleration of 0-100 km/h in 2.8 seconds and the SVJ's 720 Nm of torque, the Aventador Ultimae took its cues from the best of its predecessors, including all 350 coupés and 250 roadsters sold shortly after its first debut.
Few-offs and special editions
Lamborghini has a strong heritage of producing few-offs and very limited editions of its super sports cars, particularly its flagship V12 Aventador.
A year after the Aventador's launch, the one-off Lamborghini Jota was shown at the 2012 Geneva Motor Show: the roofless and windowless lightweight barchetta model, which introduced Lamborghini's CarbonSkin™ fabric, paid homage to the FIA Appendix J racecar regulations and the earlier Miura Jota.
In celebration of the company's 50th anniversary in 2013, a special Aventador Anniversario was first shown at Shanghai Motor Show in 2013 and the roadster at Monterey Car Week the same year. The 100 coupés and 100 roadsters were produced with a 20 hp power upgrade; improved aerodynamics; model-specific yellow Giallo Maggio sparkling yellow paint and a 50th anniversary logo in forged composite carbon fiber.
Its anniversary year also saw the creation of the Lamborghini Aventador airport 'follow-me' car for its hometown Guglielmo Marconi airport in Bologna. The LP 700-4 in white with red and white chequered flag livery, safety lights on its roof and 'follow me' on its bonnet, thrilled passengers as the Aventador greeted planes and led them to their stands during Lamborghini's celebration month in May 2013.
In December 2014, celebrating the 50-year, long-term association between Lamborghini and Pirelli, the Aventador LP 700-4 Pirelli edition was announced in coupé and roadster form. Its two-tone color scheme echoed that of Pirelli's tyres, with contrasting black roof and detail and with a thin red line running through the roof.
At the UK's Goodwood Festival of Speed in 2016, the Aventador LP 700-4 Miura Homage was unveiled, celebrating 50 years since Lamborghini announced its Miura V12 super sports car. The 50 units were sold with an exclusive two-tone color and trim reflecting original Miura palettes, with special colors Rosso Arancio Miura, Blu Tahiti and Verde Scandal with silver or gold secondary colors.
In July 2020 during the challenge of the pandemic, the Aventador SVJ Xago was announced: just ten units would be produced for clients using Lamborghini's new virtual Ad Personam studio, taking inspiration from the 'hexagonita' shape found in Lamborghini design and in the storm clouds around Saturn's north pole.
Lamborghini few-offs based on the Aventador chassis include the Veneno coupé and roadster. Celebrating the 50th anniversary year in 2013, the coupé was unveiled at Geneva Motor Show with 740 hp, an extreme lightweight design drawing on the familiar Lamborghini Y-shape around its increased air intakes and a modified exhaust. An interpretation of a racing prototype homologated for the road, three of the Grigio Veneno coupè were built for customers, each featuring a different accent color from the green, white and red Italian flag, with a fourth car retained by the factory. Nine Veneno roadsters were also created for clients following the car's reveal on board a naval air carrier in Abu Dhabi in December 2013.
At the 2016 Geneva Motor Show, the Lamborghini Centenario was unveiled, honoring the 100th birthday of Ferruccio Lamborghini in a celebration of design and technology innovation. A recalibrated SV powerplant output 770 hp with 690 Nm of torque at 5,500 rpm, accelerating from a standstill to 100 km/h in just 2.8 seconds. With rear-wheel steering for maneuverability in town and stability at high speeds, an electronically deployed rear wing contributes to significant downforce. The 20 coupés, and 20 units of the roadster shown at Monterey Car Week later that year, were all sold prior to their public debut.
The SC18 Alston announced in November 2018 is a one-off, track car created for a customer in collaboration with Lamborghini's Squadra Corsa motorsport department. Based on the SVJ with a power output of 770 hp, it drew on aerodynamic features from Lamborghini race cars including an adjustable carbon fiber wing, air intakes and hood scoop, a central fin, Veneno-inspired wheels and a one-off exhaust system and rear lights inspired by the Centenario. The 830 hp SCV12 unveiled in 2020, produced in just 40 units, was developed by Lamborghini Squadra Corsa and designed by the Centro Stile. A track car created for an exclusive 'club' of 40 owners, it was the first GT car homologated to FIA prototype safety measures based around the Aventador's carbon fiber monocoque.
The Lamborghini Sián FKP 37 was officially presented at the 2019 Frankfurt Motor Show: its moniker paying homage to VW chief and Lamborghini supporter Ferdinand Piech who was born in 1937. Based on the Aventador SVJ chassis, power comes from the reconfigured V12 combustion 780 hp engine together with a 34 hp electric motor powered by supercapacitors at the rear axle to produce a total of 808 hp: the first hybrid super sports car to be produced by Lamborghini. The Countach LPI 800-4, presented at Monterey Car Week in 2021, is a design rulebreaker produced in 112 units to celebrate the 50th anniversary of the legendary Countach; a forerunner and design inspiration to the V12 Aventador and like all Aventadors: sold.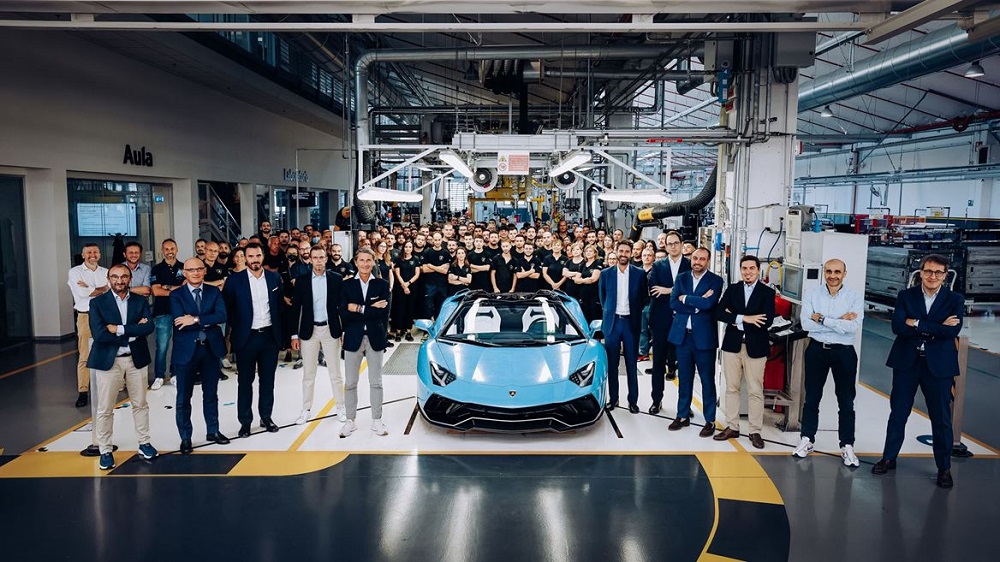 If you are interested in more news click here.
---