The Richard Mille Racing Team scored its third consecutive top ten result of the season in the first-ever 6 Hours of Monza.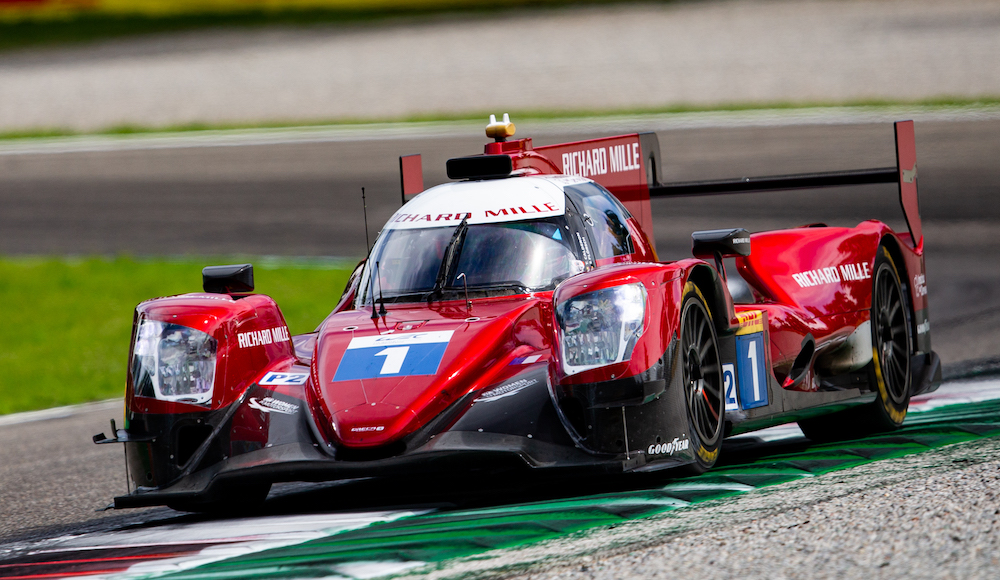 • Eighth in their category despite the absence of Beitske Visser, Sophia Flörsch and Tatiana Calderón reduced the gaps to the LMP2 front-runners.
• Following this dress rehearsal event, the trio from the famous watch manufacturer now switches its focus to the 24 Hours of Le Mans (15-22 August).
After promising results in Belgium and Portugal, the Richard Mille Racing Team travelled to Italy with a two-pronged objective: confirm its progress and fine-tune its preparations for the 24 Hours of Le Mans on a track with many similarities to the Circuit de la Sarthe.
In the absence of Beitske Visser, who had other commitments in the W Series, Sophia Flörsch and Tatiana Calderón got on with the business at hand during free practice to reacquaint themselves with the Autodromo Nazionale di Monza and their No.1 Oreca-Gibson.
The pair finished in the top ten in each of the three sessions before the German set her fastest lap on her final qualifying run to take ninth place in the LMP2 category.
Her team-mate Tatiana Calderón was at the steering wheel to start the race at noon on Sunday. Trapped in the bottleneck at the first chicane, the Colombian lost a position before regaining it when the n°70 Realteam Racing car made a mistake.
Thanks to a strategic gamble during the first pit stop, the team then battled with the n°44 ARC Bratislava entry and the n°21 Dragonspeed car before Sophia Flörsch took over after 90 minutes with the same seriousness and determination. The German then avoided the traps and pitfalls of the Italian track to steadily take «Roxy» up to fourth place.
The second half of the race saw the chasing pack close the gap. Oscillating between fourth and eighth place during the pit stop cycles, Tatiana Calderón and Sophia Flörsch gave it everything they had to give in the battle but their hopes were dashed when the final full-course yellow provided several of their rivals a free stop.
At the end of her final triple stint, Sophia Flörsch took the chequered flag in eighth place in the LMP2 category, just a few seconds adrift of the overall top ten. Although the team slipped to eighth in the championship, the positive to be taken go far beyond just the result, with gaps once again reduced to the category leaders.
With this experience behind them, the Richard Mille Racing Team drivers will look to build on their achievements when they return to the cockpit next month to challenge one of motor sport's most iconic races, the Le Mans 24 Hours (15-22 August).
Tatiana Calderón: «It was a very tough race, but it was quite nice to fight with many of our rivals. We ran at a good pace in our first stint, but the second was compromised as we kept our old tyres to some time in the pits. I don't think our strategic gamble paid off in the end, but it was a great way to prepare for Le Mans. We wanted a better result but we will take that and I look forward to my second start at Le Mans, where the aim will be to do better than last year. I would also like to thank the team who worked extremely hard this weekend, including a long night to change our engine. We will keep pushing to reward them at Le Mans!"
Sophia Flörsch: «First of all, it was great to be back with the team. I think we have made further progress since Portimão as our race pace was really strong. We were a little unlucky with the full course yellow at the end of the race as P6 should have been ours. In any case, it was an good preparation with a lot of kilometres to be ready for the 'Big One' at Le Mans. We are ready and I can't wait to get there!"
Philippe Sinault, Team Principal
«This race was an excellent dress rehearsal for the 24 Hours of Le Mans despite the particular context of Beitske's absence. It's always difficult to enter a six-hour event with just two drivers, but Sophia and Tatiana rose to the challenge extremely well with a track, conditions and set-up similar to what we will encounter next month. Our team has never been so close to the best in the category, and it's been gratifying to see them improve on last year's results by consistently running between fourth and eighth in such a competitive field. The top five seemed within their grasp had the race circumstances been more favourable to us. We still have a lot of work to do before Le Mans, but they are now on track, and they will be able to aim for a better result than last year if they can put in a performance as good as this weekend.»
Click here for further information
Results
6 Hours of Mon za – LMP2
1. United Autosports USA n°22 200 laps
2. Team WRT n°31 +57.696s
3. Racing Team Nederland n°29 +1:22.909s
4. Inter Europol Competition n°34 + 1 lap
5. JOTA n°28 + 1 lap
6. DragonSpeed USA n°21 + 1 lap
7. Realteam Racing n°70 + 2 laps
8. Richard Mille Racing Team n°1 + 2 laps
9. High Class Racing n°20 + 3 laps
10. Risi Competizione n°82 + 4 laps
FIA Endurance Trophy LMP2
1. United Autosports USA n°22 – 74 points
2. JOTA n°38 – 56 points
3. JOTA n°28 – 53 points
4. Team WRT n°31 – 38 points
5. Inter Europol Competition n°34 – 37 points
6. Racing Team Nederland n°29 – 29 points
7. Realteam Racing n°70 – 23 points
8. Richard Mille Racing Team n°1 – 20 points
9. DragonSpeed USA n°21 – 20 points
10. High Class Racing n°20 – 7 points
---
more information: richardmille.com/events
---