It is the 23rd March 1976, the day that the previous owner picked up his 4 year old Dino 246 GT from Kroymans, the Dutch Ferrari importer. The Dino 246 GT succeeded the Dino 206 GT after Ferrari responded to the call for more power by clients.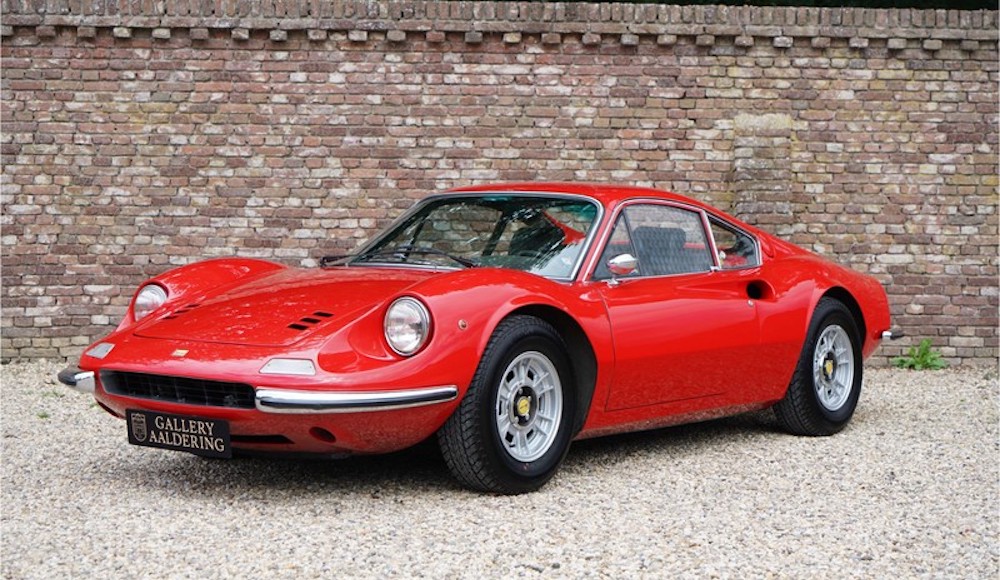 The engine size went from the 2.0 litre in the 206 GT to 2.4 litre in the 246 GT with an increase in output from 180 Hp to 195 Hp. There were also changes to its body size being slightly longer and higher than its predecessor. The changes immediately resulted in better sales figures. Over a two year period Ferrai only sold 152 206 GT's in contrast to the 3,671 246 GT's between 1969 and 1974. In 1972 our Dino 246 GT first hit the open road in Belgium. This one is a series 2 Dino 246 GT, recognisable by its 14" Crommodora wheels and parallel windscreen wipers. This car has had one owner over the last 44 years. As you can readily imagine, the car has always been very well look after. In the past the Dino was professionally restored. You can still appreciate the effort spent. The fine bodywork has nice and correctly aligned body panels. The red paintwork has been professionally re-sprayed and remains in good condition with only minor signs of use. The upholstery was also renewed. The "Daytona" style seats upholstered in red and black leather are in good shape. The black carpets and black leather dashboard cladding are also in fine condition. The switches and instruments are in good working order. Mechanically the Dino is very sound. That the engine and gearbox were overhauled shows to its advantage. The 65 degrees 2.4 litre V6 engine runs and sounds fantastic. The engine is coupled to a 5-speed manual gearbox which shifts smoothly and precisely over all 5 synchro-meshed gears. Driving the Dino 246 GT has a rather modern feel to it. Apart from the fact that the Dino 246 GT is a great design, it also handles extremely well. This feat is achieved by the combination of low weight, strong mid-engine and superb suspension. The car comes with documentation and photo's of the restoration. A superb Dino 246 GT, bound to give many more years of ultimate classic pleasure as only an Italian stallion can provide. And believe us there is no doubt these days that this is nothing less than a thoroughbred!
Click here for further information!
Report by gallery-aaldering.com
---