The brotherhood between AC and great, powerful America V8's started – as we all know – with that talented Texan, Carroll Shelby. Starting with the beautiful little Ace, Shelby created one of the most legendary cars of all time. But with no right to use the name 'Cobra', and every right to use their own chassis and a commercially available V8, AC kept the momentum going by building the AC MkIII, a Cobra in all but name.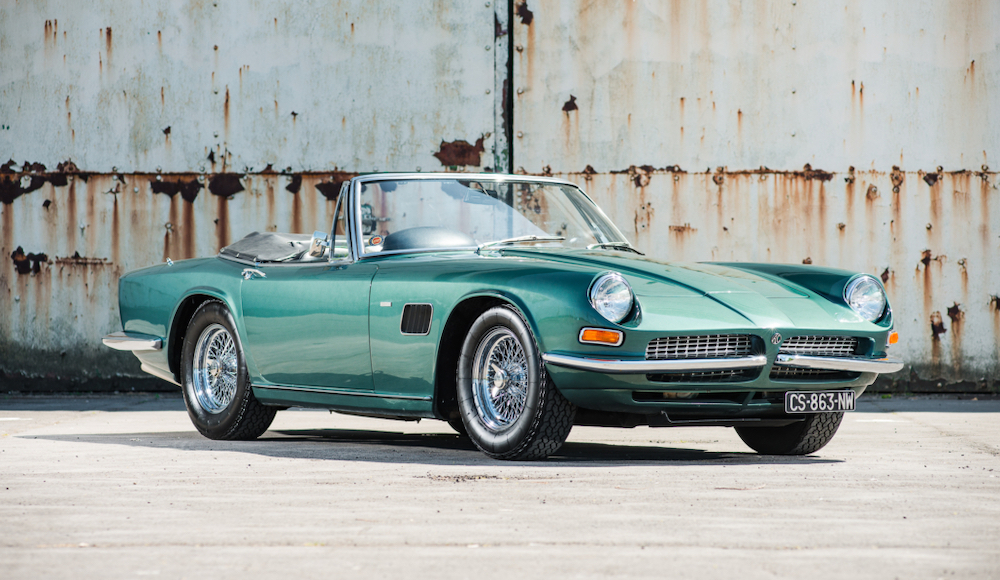 Built on an extended AC MKIII chassis, the 428 was a fast, luxurious touring sportscar that was intended to be the tailored suit to the Cobra's boxing glove. It was mightily expensive in period, costing twice the price of an E-Type. The rolling chassis was shipped to Italy to be bodied by Frua, before returning to AC to have the powertrain and trim fitted. Quicker off the mark than a DB6, it was a car you could demolish a continent in in a day. The order book bulged, but supply was a problem, the laborious production process often being the death of a sale.
Built in 1969, this example is one of just 29 of the desirable convertibles. Finished on 31st  January, the factory records supplied by the AC Owners Club confirm that this particular drophead left the factory in the same colour as it sports today, Live Oak over black. Dispatched to Mike Spence Ltd. on consignment – presumably as a test car – this AC was subsequently sold to HR Owens Ltd. on 20 February, 1969 and finally registered on the 21st of February.
The extensive history file, starting in 1976, contains an AA Technical inspection report which reviewed the car's condition. At this time the recorded mileage is only 17,810. Following this inspection there are many invoices on file from AC Cars Ltd., Thames Ditton, having been sent back to the factory for maintenance on a yearly basis until 1989, at which point it was entrusted to "Autokraft" who took over the AC business. In 1989 the mileage was listed as 28,447, which is consistent with the previous invoices on file. Paperwork of maintenance and expenditure continue through to the present day, with a bare-metal repaint in 2011 and an engine rebuild less than 7,000 miles ago.
It's fair to say that most AC 428's did not stand the test of time well, many ending up as Cobra replicas. This low-mileage example is unusual in that it has clearly always been cherished and presents very well indeed today. Half the price of a DB6 Volante with twice the charisma?
Click here for further information!
Report by pendine.com
---