Talacrest is offering this Ferrari 275 GTB Long Nose Torque Tube model for sale.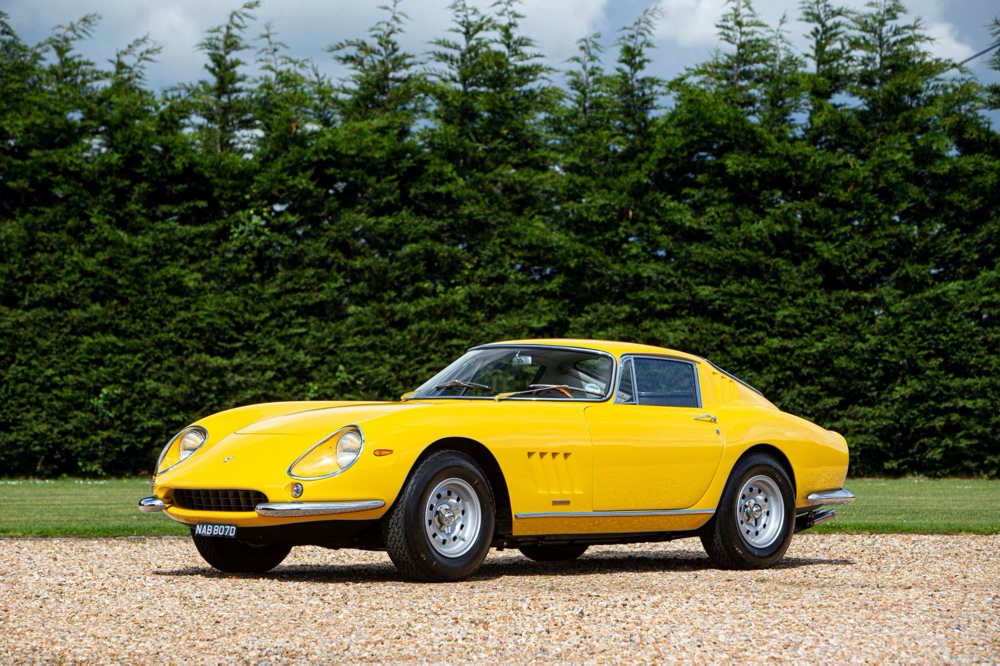 The 275 GTB was a two-seat grand touring coupé produced between 1964 and 1966. The name of this model was derived from the engine's per-cylinder displacement of 275 cc and the Italian designation Gran Turismo Berlinetta.
The 275 GTB used a double overhead cam 3.3 litre Colombo-designed 60º V-12 engine designated Tipo 213. This engine was the final development of the Colombo V12, with a stroke of 58.8 mm and a bore of 77 mm. The internal parts of the engine were derived from those used in other Ferrari models including the 250 GTE 2+2, 250 Lusso and 250 GTO. Three twin-choke Weber 40 DCZ 6 or 40 DFI 1 carburetors were equipped as standard. Power was claimed to be 280 horsepower at 7600 rpm, but provided closer to 240-250 hp in actual use. The rear wheels were driven by a 5-speed manual transaxle with Porsche-style syncromesh and a limited-slip differential. This was the first time a transaxle was used on a Ferrari production road car, although they were used on some earlier Ferrari competition models such as the 250 Testa Rossa.
The 275 chassis was a conventional ladder frame design fabricated from oval-section steel tube. Mike Parkes had a major role in developing the 275's suspension, which employed many technologies tested in earlier Ferrari racing cars such as the 250 TR and 250 LM. Double wishbone independent suspension was used at all four wheels along with Koni shock absorbers and coil springs. The 275's four-wheel independent suspension was a first for Ferrari road cars, which were previously equipped with live rear axles. Dunlop disc brakes were equipped at all four wheelsand cast magnesium 14 inch diameter wheels were standard equipment, with Borrani wire wheels available as a factory option.
The coupé body was designed by Pininfarina and manufactured by Scaglietti. The standard 275 GTB body was fabricated in steel with aluminum alloy doors, hood and boot lid.
Series 2 long-nose 275 GTB
A series two, or "long-nose" version of the 275 GTB was introduced in 1966. The second series 275 GTB incorporated a number of mechanical and cosmetic changes. A torque tube was installed between the engine and transaxle in order to relieve stress on the drive shaft and central support bearing. The engine and transaxle mounts were also revised to use two chassis attachment points each, rather than the four found on earlier cars. The front bodywork was lowered and lengthened and the front air intake was reduced in size, which improved aerodynamic characteristics and reduced high-speed instability. This was the most visible change between the two series, resulting in the common informal designation of series I cars as "short nose" and series II as "long nose." The rear window was enlarged to improve visibility. In order to improve luggage space, the fuel filler, fuel tanks and spare tyre were relocated and the boot hinges were changed from internal to externally-mounted.
A total of 442 of the 275 GTB road cars were produced between autumn 1964 and summer 1966, including 236 Series I "short-nose" and 206 Series II "long-nose" cars.
Chassis #08441
Still in its highly desirable colour scheme of Giallo Fly and Nero.
Click here for further information 
---
collectorscarworld is partnering with the most renowned classic car specialists and dealer-ships in the world. We always offer selected rare and sought-after collectors cars and supercars for sale and every day a special car is featured for one of our partners. The passion for classic cars is diverse, sometimes it concerns the beauty of forms that can be admired at a concours, sometimes it is the smell of rubber , old leather and gasoline at a racing event or trip in the sunset.
Or its a classic car you have great memories with or which your parents owned a longtime ago. Classic cars and supercars are an expression of the lifestyle that someone shares with other petrolheads, and which is immortal, enduring and always a lot of fun. If you are looking for a special car or need support in the evaluation and history of cars, please contact us at info@collectorscarworld.com
---