Extreme impact, the value of knowing what you are doing, racing into the future. That roughly sums up the topics of our conversation with Lamborghini chief designer Mitja Borkert. Though we also talked about awkward moments when driving off and designer clichés that we can do without.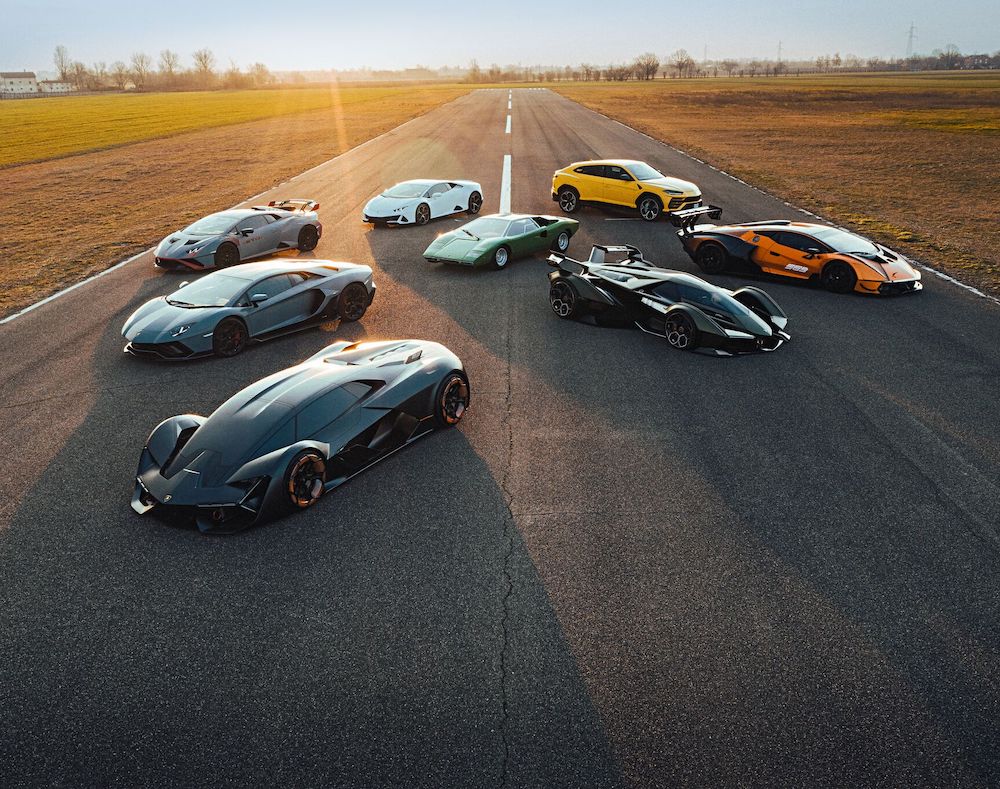 When people see a Lamborghini, what message does it communicate right away?
The Lamborghini design is the result of almost sixty years of design history – and it remains as innovative and forward-­looking as ever. We work hard on that. A new Lamborghini leaves no one cold, and I want the observer to take their time and discover the design like a fabulous gourmet dish, because we designers are artists and chefs all rolled into one, and it is our ambition to deliver the best possible ­performance.
The new edition of the legendary Countach is much more restrained compared to the rest of the portfolio. Why is that?
I've wanted to implement this design language ever since I started at Lamborghini. But the time simply wasn't right before –and I'm always very respectful of a brand's established shapes. We started off by setting the cornerstones of our design diversity. Besides, something that really has to be right for me is the rhythm. The Countach LPI 800-4 takes the essence of the original and beautifully translates that classic 1970s shape in line with the technical challenges of today. We weren't looking for a retro design, but a modern interpretation.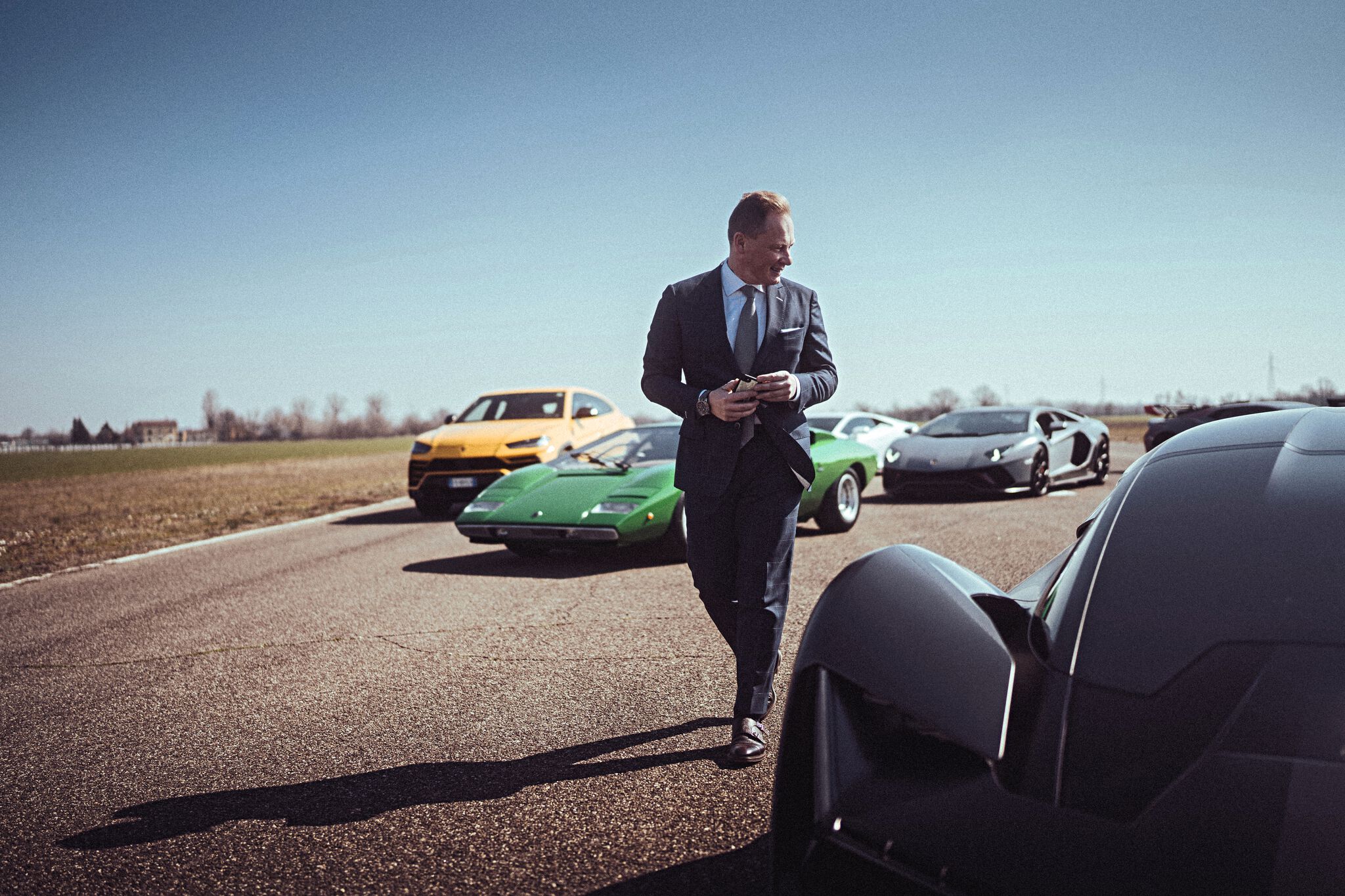 What does a Lamborghini like that tell us about the brand? What are the current defining elements here?
The most important statement of our design language is the silhouette. Everyone will have seen a Lamborghini at some point, at least from a distance: a Lamborghini is immediately recognizable as a Lamborghini. It's that typical architecture, the hexagonal shape of the cabin with the recessed windows and almost horizontal roof. That all makes it stand out so clearly from all the other supercars out there.
How trendy can or should a Lamborghini be?
We are never trendy. An important theme is not to always follow the latest trend, like the lines of light, for example. Instead, our focus is on the iconic light signatures such as the Y or the hexagon.
What is the best choice of color for a Lamborghini?
We offer over three hundred and fifty different colors and are constantly on the lookout for new hues. The Lamborghini Sián, limited to nineteen roadsters and sixty-three coupes, was an incredible creative challenge. Virtually every unit is unique. Personally, I love taking five minutes every now and then to go down to our finishing line where all the completed Lamborghinis pass through every day for a final inspection. And I can look at the colors that have been chosen. Sometimes I see the same colors in matte or gloss, which makes me realize all that is possible. Then I understand why some of our customers have such a large collection. It's like a drug.
What kind of music should you listen to in a Lamborghini?
If you ask me, none. The engine makes the music. I've recently driven seven hundred or even a thousand kilometers in a Lamborghini, and every time I just enjoyed the overall beauty of the vehicle – and that includes the sound of the ten- or twelve-cylinder engine. It's almost hypnotic at times; you're alone, focused, attentive, enjoying the beauty of the surroundings. Though it is a bit different in the Urus, which has a fantastic sound system. Then I'll play my favorite music. At full volume.
And how would you describe the engine sound?
A Lamborghini twelve-cylinder sounds like an animal. At slow speeds, like a lion, with a deep bass note. When you rev it, it sounds like Formula 1 in the 1990s. ­Personally, I love the ten-cylinder in the Huracán. The sound always gives me goose bumps, even from the outside.
And the volume?
I put quality before volume. Of course, this topic is also the subject of controversy, more so in Germany, I think, not so much in Italy or California. Personally, I would like to be able to drive away without making a sound. I used to live in the middle of Stuttgart, so whenever I had to go to the airport at five-thirty in the morning with my other sports car, I would always wake up half the neighborhood. That was a tough one. Once we've hybridized our range, anyone can set off in silence. In my mind, an electric Lamborghini would have a cool spaceship-like sound. With vibrations and so on, like the pod racers from Star Wars.
What's your all-time favorite Lamborghini?
A black Countach Quattrovalvole with white rims and white interior. Because it's the perfect version of the Countach. With the fender flares, the telephone wheels and without the wing. Powerful. Muscular shapes. Still relatively clean and puristic.
What clichés should we beware of when we think of a designer?
The cliché of the designer who shows up for work at ten, squanders the budget and never finishes his project. These days, you have to be extremely professional. You have to be punctual. The ideas have to be clear, and besides, you work on many different projects at the same time. In the past, you would spend months shaping the fender. Today, you have to work simultaneously on the future design strategy, on today's facelift and on the next model series as well as the interior, the lights and the graphic design. At the same time, homologation requirements, costs and new regulations have to be met. A monumental task.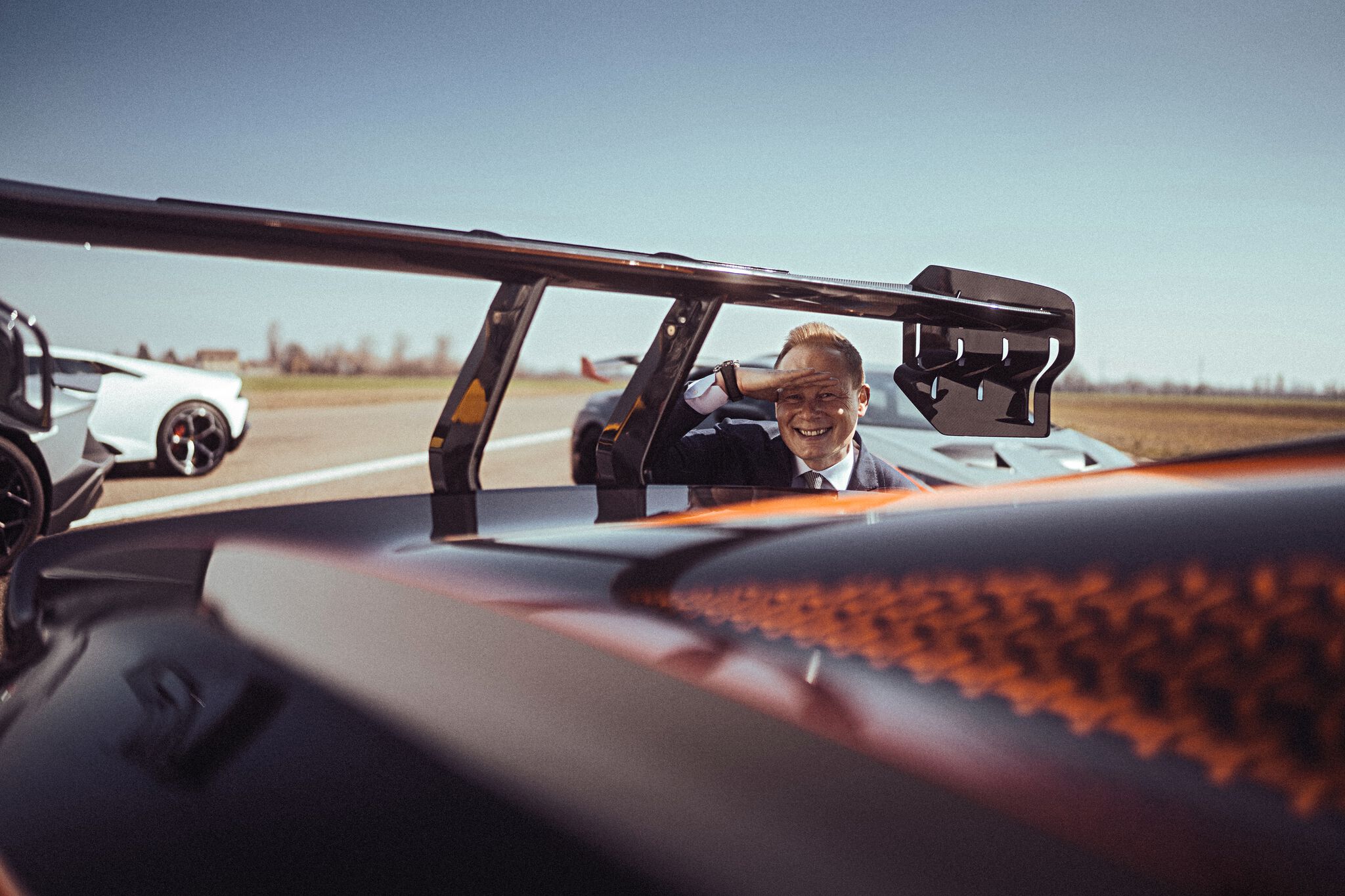 Changing the subject, how would you describe your buyer base?
We have incredible customers who are clearly different from others, people like entrepreneurs or self-made inno­vators. This individuality pushes us and the technology.
Frank Sinatra once said, "You buy a Ferrari when you want to be somebody. You buy a Lamborghini when you are somebody." What do you say to that?
I can only agree. The customers I've had the pleasure of meeting so far form a special sort of family. They are all glowing with enthusiasm and have exciting stories to tell, either about their own lives or about their history with Lamborghini. These are often people who have worked hard for their success.
Are there any customers you're embarrassed about?
Lamborghini deliberately polarizes. There's a reason why our brand values are "brave, authentic, unexpected": they suit our brand and our customers. With our range of models and colors and the available options, every customer can express their own personality through the configuration. It's only natural that tastes sometimes differ – but variety, as they say, is the spice of life.
Is there such a thing as a Lamborghini feeling, a Lamborghini spirit?
Absolutely! And we live this feeling. We aren't arrogant, but open and optimistic, we work on the future and we know what we are doing. I immediately felt this spirit in Emilia-Romagna, where the people are very hardworking and friendly.
Is there a typical Lamborghini personality?
I think so. Of course, it's fantastic to own a Lamborghini. You look at it for a long time, enjoy the shape, not to mention the driving pleasure. Of course, the sound is special too. And: when you buy a ­Lamborghini, you do it for yourself.
You're the brand's chief designer. To what extent do you shape the Lamborghini brand and where are your limits?
I'm very satisfied with my influence on the brand. The design is the most important reason why people buy a Lamborghini. CEO Stephan Winkelmann teases the absolute maximum out of me, which is very fulfilling. It's also so refreshing to work with other partners, which results in yachts, motorcycles or lamps. The Lamborghini design is extremely universal.
Does Lamborghini's design make such an authentic fit with all the different product worlds?
The world of Lamborghini is a special universe. Together with Tecnomar, we have already beautifully shown what a motor yacht could look like. That was the Tecnomar for Lamborghini 63. Our design DNA and special world of colors and materials makes virtually anything possible. I saw that when I was in the cabin aboard the Tecnomar. It was like being in an Aventador SVJ. There were the typical Alcantara materials with laser cutting and even a carbon fiber toilet.
So a Lamborghini motorcycle would be possible as well?
For me, definitely! I ride a Ducati ­Panigale that I covered with Lamborghini livery. It  looks incredibly cool. Our design ­language would totally suit a supersport bike. That's still a dream of mine.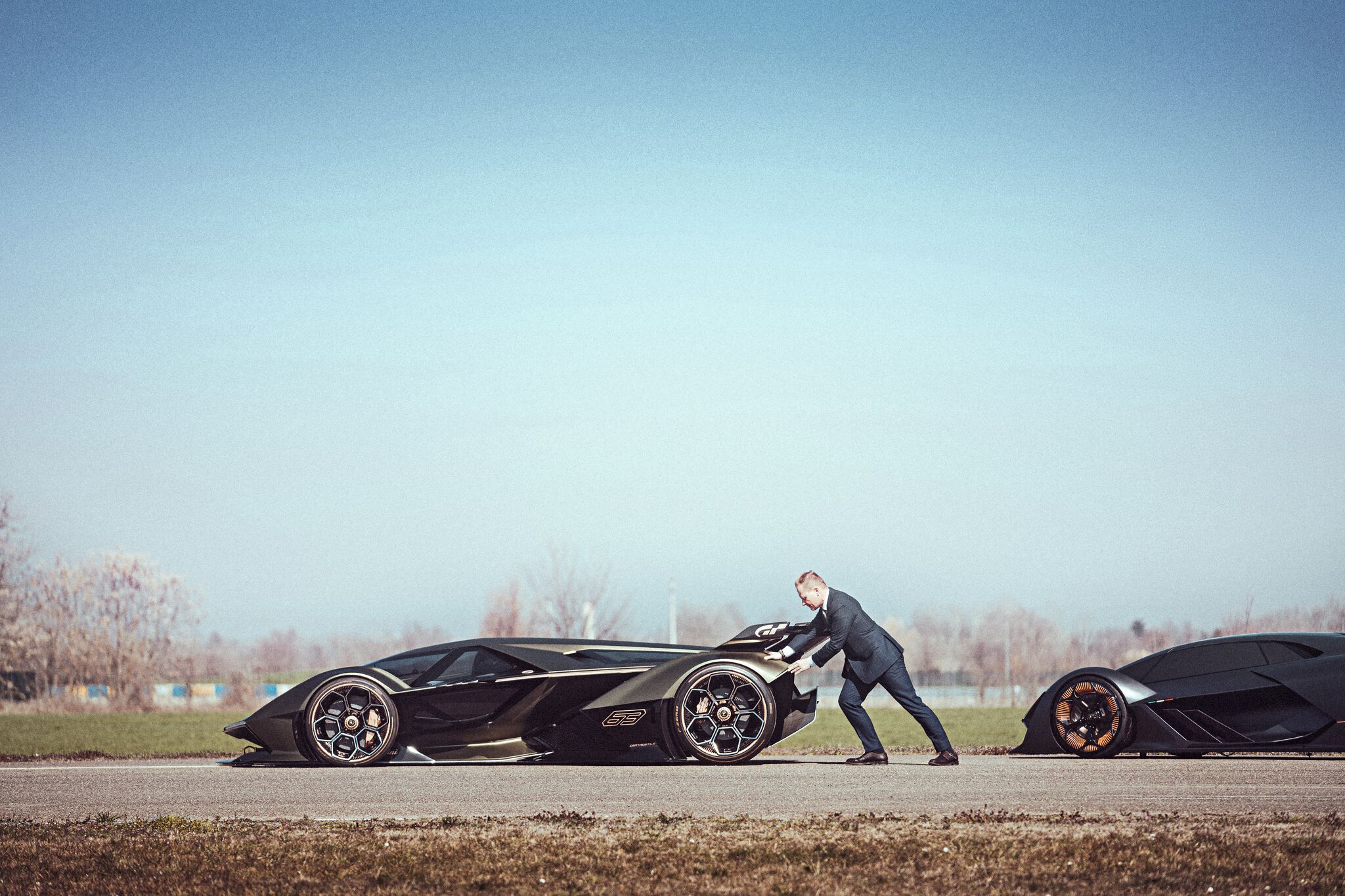 What do you think makes good design?
Unfortunately, good design cannot be measured and is always something individual. Good design can certainly follow certain standards, it can be puristic, complex or visionary. For me, it always depends on which product and which brand it is applied to. Examples of good design are the MV Agusta F4, a milestone in sports motorcycles, the LC4 couch by Le Corbusier or the Moon sofa from Zaha Hadid. In general, I tend to love design that is sculptural and sexy at the same time.
How do you recognize good taste?
Perhaps a good way of describing it is Daniel Craig in the role of James Bond. Classic and perfect. That's the style I like. In general, I do think that Italians have good taste and an eye for the right detail, though it does depend on one's own ­culture too. In the end, I'm happy to leave things up to the individual.
How does Lamborghini interpret luxury?
In a cool, unexpected and decisive way. Luxury must always be modern, not outdated or too classic. Luxury must always deal with general social realities. Strong brands are in demand – the market shows that – but they have to adapt to the current zeitgeist. We have the great advantage that Lamborghini can implement the current transformations perfectly, both in terms of the digital disruptions as well as vehicle automation.
And what does luxury mean for you personally?
Real luxury for me is having time. It's when I read a book to my son at bedtime. When I spend time with my wife. I also enjoy time with my motorcycle, when I can just enjoy the scenery for half a day and let my mind wander. But the greatest luxury is that I get to do the design for Lamborghini. That is certainly the greatest fulfillment.
Why is luxury good for us?
Luxury is good for us when it doesn't harm anyone else. Personally, I'm not that demanding. I grew up under relatively simple circumstances in East ­Germany, and of course I enjoy a certain standard of living today. One of the things I really appreciate about life here in Italy is the way people treat themselves to the pleasure of a good meal as a daily luxury. 
What is an electric Lamborghini like?
It's still clearly recognizable as a Lamborghini. And definitely electrifying. Our Terzo Millennio concept has already shown that. In the future, we will make wonderfully creative use of the changing architecture of electric vehicles for new, previously unknown types of cars. That's exciting for us, and I'm sure it will excite others.
What does the car stand for? What will become of it in the future?
Cars stand for freedom and individual mobility. But something that worries me these days is the excessive power and performance. If you ask me, I see more promise in a BMW Circular concept than in a 2,600-kilo electric SUV. I always wonder where these kilowatt numbers are supposed to lead. As an industry, we have to ask ourselves other questions so as not to lead ourselves ad absurdum.
And what part do designers play in this?
We need to demand new and more ­sustainable manufacturing methods. Instead of plastic bumpers and plastic foam in the seat frames, there are new, sustainable options that don't cost more either. The auto industry is like a huge tanker that can't be turned around so quickly, but we're all in this together.
ramp #57 – Really?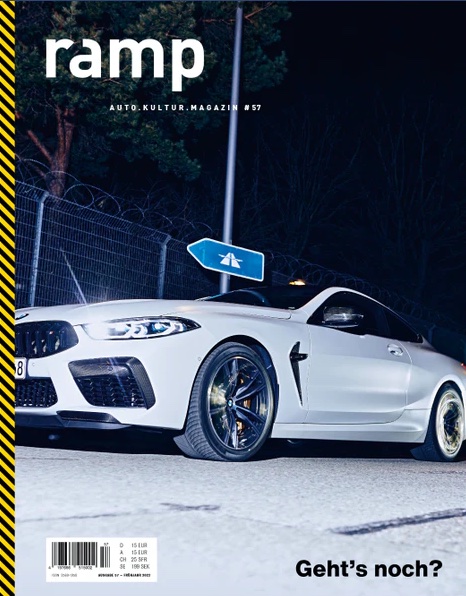 In this issue of our magazine we are simply engaging in a stimulating conversation. We ask the question "Really?" and allow it to unfold in a playful range between indignant outrage and thoughtful reflection. Because not only is everything connected, it also is the relationships between things that make them what they are. Or something like that.
Interview by Michael Köckritz for ramp
Photos: Lamborghini for ramp