Pendine is offering this AC Ace Bristol for sale. Original Right Hand Drive and Only Three Owners. Early Competition History Including the 9 Hours of Kyalami.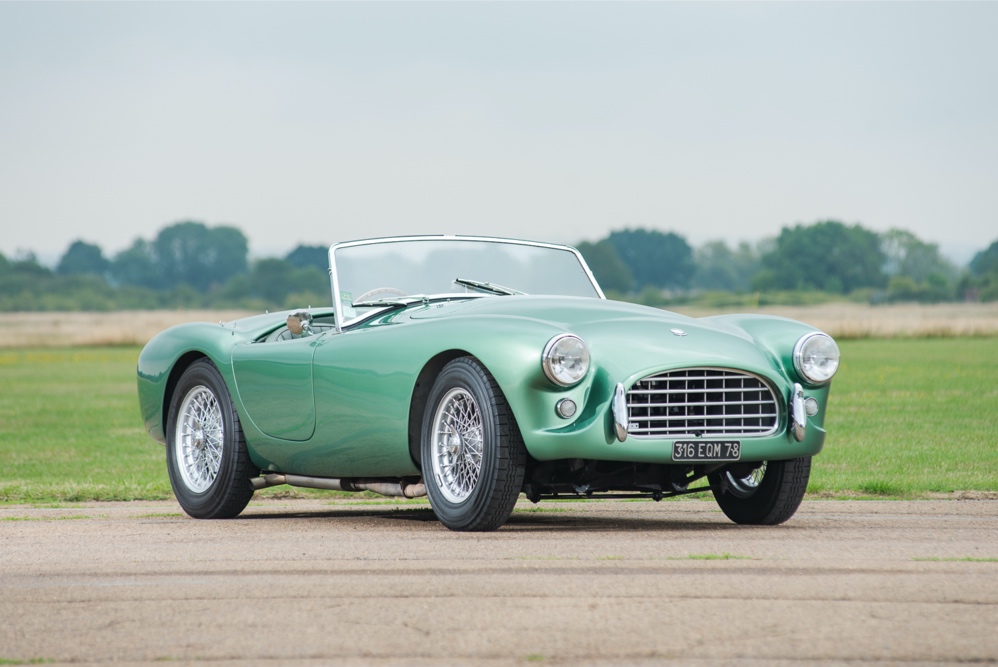 During their production run between 1956 and 1962, the AC Ace Bristol was a popular and effective sports racing car, the perfect package of week-day sports car and weekend racer. As with so many of its brethren, BE 1179 was set for an early life of competition.
The Ace Bristol Register records that the car was ordered by R.G.P Edwards – or Glyn, to his friends – who immediately arranged, via the factory, to have it delivered to his home in Rhodesia. Original documents from AC in January 1961 show a purchase invoice for £1612, with shipping to Beira included in the price. By March the car was on-route to Salisbury, the customs route cleared by a covering note from the factory.
The engine, a 100D2 unit, was ordered to Stage 2 specification, including a Barwell gas flowed cylinder head. Once in Rhodesia it was much raced by Edwards, who according to the Register won 84 cups in Rhodesia, South Africa and Mozambique. The breadth of events included the first ever Rhodesian Grand Prix and the 9 Hours of Kyalami. Whilst competing, it ran with the registration number RGP 5, as shown in period photos.
The AC retired from competition, and 30 years later was bought off Edwards's widow by second owner Brian Taylor, an Englishman living in South Africa. Photos from this period show a complete, original car, clearly displaying traces of original paint and trim. Taylor decided to restore the car but, as is often the case, the project stalled. It was whilst on holiday in 1998 a mutual friend introduced the current owner to Taylor. He had been hunting for an AC Ace Bristol to restore for years and couldn't believe his luck; after 12 months, and a return visit in 1999, he managed to buy the car. In June that year the half completed, but very original and complete Ace arrived in Normandy, its new home.
Rather than start from scratch, it was decided to complete the work so as to get the AC back on the road as quickly as possible. This work was undertaken by a respected ex-Lecoq restorer called Jose Filgueras. As an enthusiastic member of the AC Owners Club of France the owner covered many thousands of miles, entering numerous events and thoroughly enjoying the car. By 2012 it was apparent that if this level of use was to continue, a thorough, ground up restoration was needed. Returning to the UK, the chassis and body were completely rebuilt by Andrew Mitchell, the renowned AC and Bristol specialist. The engine and gearbox were sent away to Mike Freeman, whose documentation of their rebuild challenges War and Peace in its extent.
The car is accompanied by two large history files, documenting the life and restoration of BE 1179. Finished in light Metallic Green with a Green interior, this exceptionally well prepared AC is absolutely 'on the button' and represents the best of British sports car motoring from the era.
*EU Registered
Click here for further information  
---
collectorscarworld is partnering with the most renowned classic car specialists and dealer-ships in the world. We always offer selected rare and sought-after collectors cars and supercars for sale and every day a special car is featured for one of our partners. The passion for classic cars is diverse, sometimes it concerns the beauty of forms that can be admired at a concours, sometimes it is the smell of rubber , old leather and gasoline at a racing event or trip in the sunset.
Or its a classic car you have great memories with or which your parents owned a longtime ago. Classic cars and supercars are an expression of the lifestyle that someone shares with other petrolheads, and which is immortal, enduring and always a lot of fun. If you are looking for a special car or need support in the evaluation and history of cars, please contact us at info@collectorscarworld.com
---