Pendine is offering this AC Ace Bristol for sale.The Venezuela Ace. A very special Ace-Bristol with period competition history.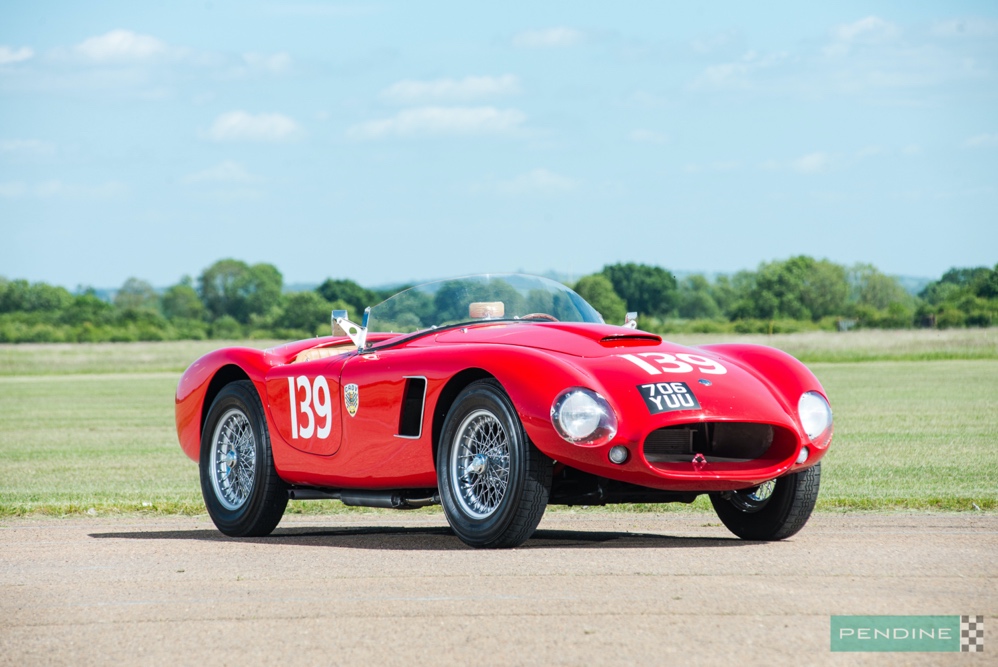 With a change of regulations under President General Marcos Perez Jimenez in 1955, the racing scene in Venezuela burst into life. All the great marques – Ferrari, Maserati, Aston Martin and Mercedes – were present, with all the great drivers of the time, including Fangio, Moss and Hawthorn, piloting these great cars.
People often don't realise that during this period Venezuela was a global supplier of oil, and with it came great personal wealth for those involved. Being highly competative in the under 2 Litre Class , AC sports cars gathered silverwear. And so wealthy, amateur racers turned to local businessman, Juan 'Jack' Fernandez to help them secure one. He was responsible for importing AC cars into Venezuela, bringing in not just Ace Bristols, but also Aceca's. Being a racing driver himself, he was in the best position to represent the burgeoning brand.
Chassis BEX 148 departed AC Cars in Thames Ditton in April 1956, being shipped straight to Venezuela to its first owner, Dr Oscar Lupi. This was one of the first group of five Ace-Bristols to head to Venezuela. Arriving in Venezuela, BEX 148 was destined for competition and was sent to the workshop of German garage owner Karl Pentz. Along with two other Ace-Bristols, Pentz's made aerodynamic modifications by way of a lower air intake and cowled lights. This increased the car's straight-line speed. All three differed slighty, showing that at the time each owner was doing their best to squeeze the best out of their cars.
Lupi and BEX 148 were a well respected, well known pair, with four years of extensive competition, always with race number 139. Local circuits including Circuito Le Trinidad, La Montana, Valencia, Maracay and Pedro Garcia became second homes. The extensive history file has numerous period images, local newspaper cuttings and race results. It's worth noting that the Ace Bristol is often sharing the grid with far more powerful racers, including Ferrari and Mercedes.
Following retirement, Lupi sold the car in the early 1960s with two local owners using it as a road car before it was put into long term storage. In the 1990s, BEX 148 was purchased by another Venezuelan enthusiast with the view to restoring it. He started the project, but sold it to the previous U.K. owner before completion.
Once back in the U.K., the new owner decided to retain the original period body modifications, as raced by Lupi in the 1950's. AC specialist Nigel Winchester of Winchester Motorsport oversaw the project, the focus being to keep it as original as possible.
Today, the car is retains this original body, as the factory stampings attest to. Repainted in its original period shade of red and retrimmed with a beige leather interior, it took two years to restore the Ace, which is all catalogued in a weighty history file.
Competing in the 2013 Goodwood Revival Fordwater Trophy, it proved to be the quickest Ace-Bristol on the track and was the highest placed Ace in the race, the period aerodynamics perhaps showing their worth.
Of the three Venezuelian Ace Bristol's that were modified, this is the only one that survives. Eligible for a plethora of historic events for both road and track, including the Goodwood Revival, Members Meeting, Woodcote Trophy & Mille Miglia, this unique Ace offers a lifetime of opportunities.
Click here for further information 
---
collectorscarworld is partnering with the most renowned classic car specialists and dealer-ships in the world. We always offer selected rare and sought-after collectors cars and supercars for sale and every day a special car is featured for one of our partners. The passion for classic cars is diverse, sometimes it concerns the beauty of forms that can be admired at a concours, sometimes it is the smell of rubber , old leather and gasoline at a racing event or trip in the sunset.
Or its a classic car you have great memories with or which your parents owned a longtime ago. Classic cars and supercars are an expression of the lifestyle that someone shares with other petrolheads, and which is immortal, enduring and always a lot of fun. If you are looking for a special car or need support in the evaluation and history of cars, please contact us at info@collectorscarworld.com
---