By the time you're reading this, you probably have seen the article about the RUF CTR2 aka White Pegasus I wrote a while ago.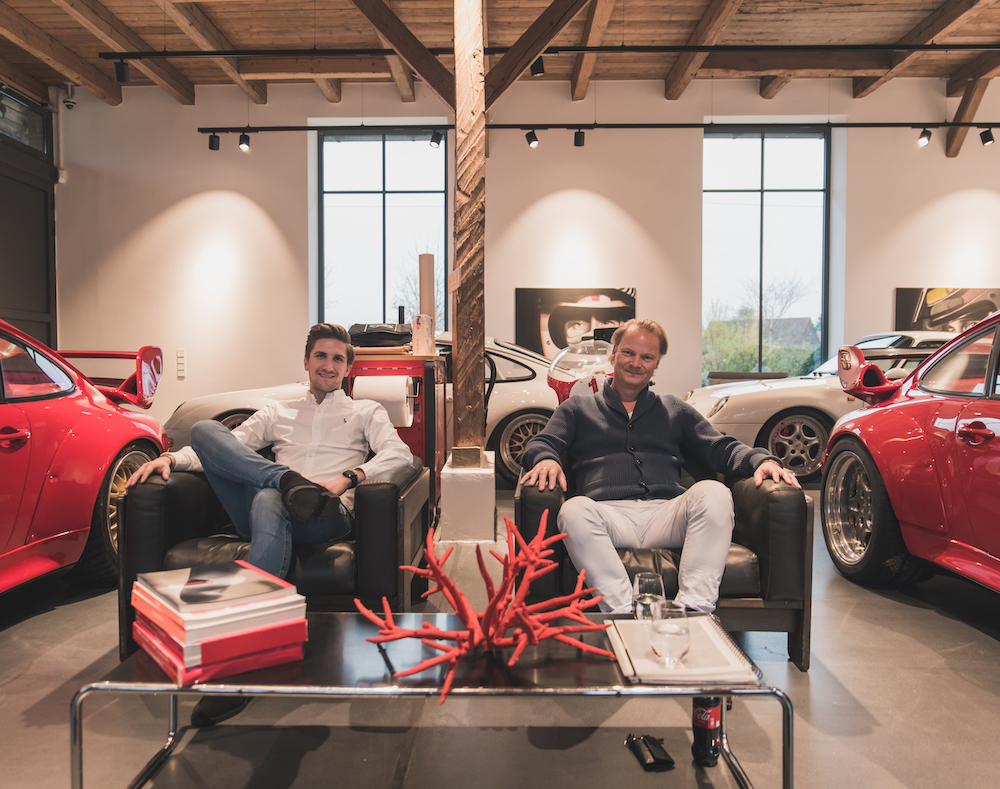 However, today I am going to tell you a little bit more about the day I visited Jan B. Luehn as well as touching on some of the other cars that were on display in his small – yet stunning – showroom.
Also in an upcoming article you will find a little interview I did with Mr. Luehn himself, speaking about the history of his business, telling his story and perhaps the most important, sharing his passion for cars. After the interview, it was time for a quick mandatory game of 'This or That'.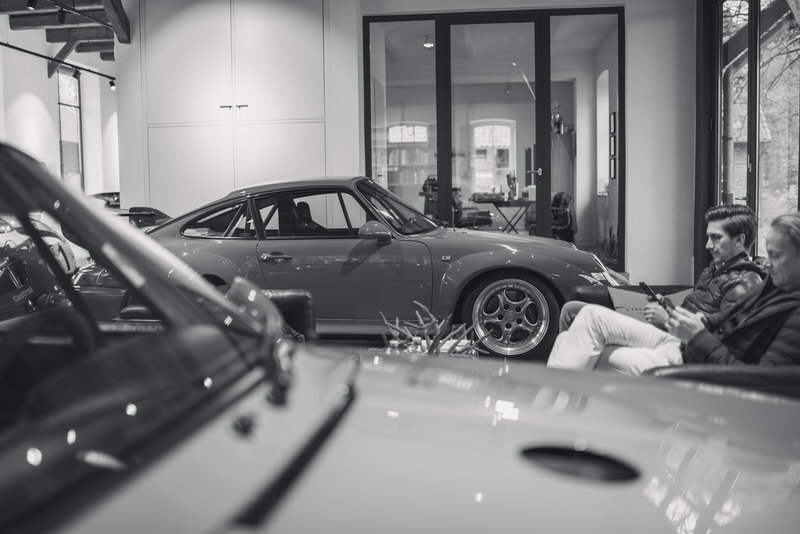 Good Morning
5:15 am – I heard the alarm on my phone go off. It's still pitch black outside and I wished I went to bed earlier last night. Of course that didn't happen. Despite not having had much sleep last night, as soon as I realized what was on the menu for today I jumped out of the bed and was wide awake.
I got dressed, started loading up my car with all my camera gear, grabbed a few energy drinks and a bottle of water (I know, that's not the most healthy decision but hey, I had a 4 hour drive ahead of me) By the time I was ready to go, it was 5:45 am. Right on time because I had an appointment in Germany at 10 am.
Getting up early is something I normally don't like doing at all, but for some reason I love starting a roadtrip while it's still dark outside. Being on the road for a few hours, bumping my head to some good music and seeing the sun come up is something kind of magical. It just brings me joy to see the first light of the day, especially knowing I was going to see some epic machinery later on.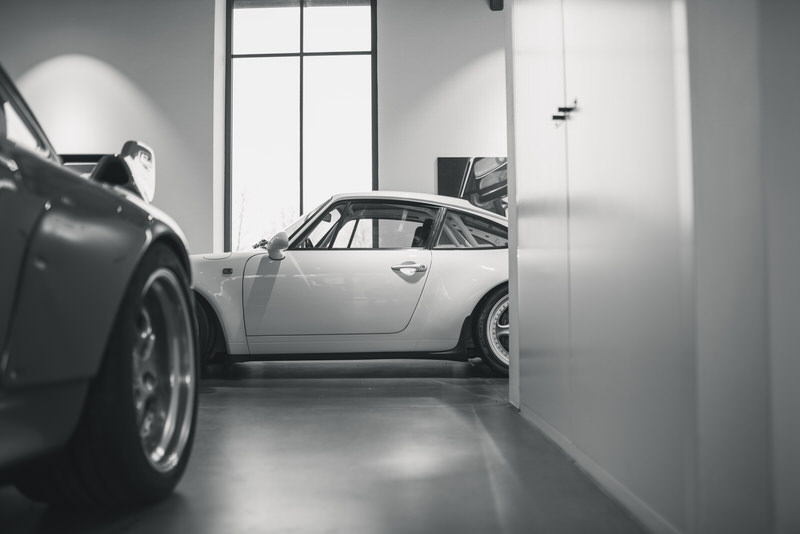 After driving for a few hours on the highway in the glistening morning sunlight, the skies started to get cloudy and darker – that's not good! When I talked to Jan he said we could take one of the cars to do some rolling shots and photoshoot outside, under one condition, the roads have to be dry. So you could imagine how I felt with just a few more miles to drive when suddenly out of that dark sky a raindrop was falling down on my windshield. And another one, and another one. In the distance I could see major showers. Damn, that's not good!
Luckily for me, somehow I kept avoiding the showers as I exited the highway. The skies cleared up a bit and I navigated through the German countryside until I heard a voice 'You have reached your destination'. Nice, I can't wait what today will have in store for me.
What. A. Beautiful. Space
Upon my arrival I had a warm welcome by Mr. Luehn himself and Matthias Bemben, the showroom manager. As the door of the renovated barn – his showroom – opened up, I simply couldn't believe my eyes. From the first second I walked in, I knew today was going to be epic.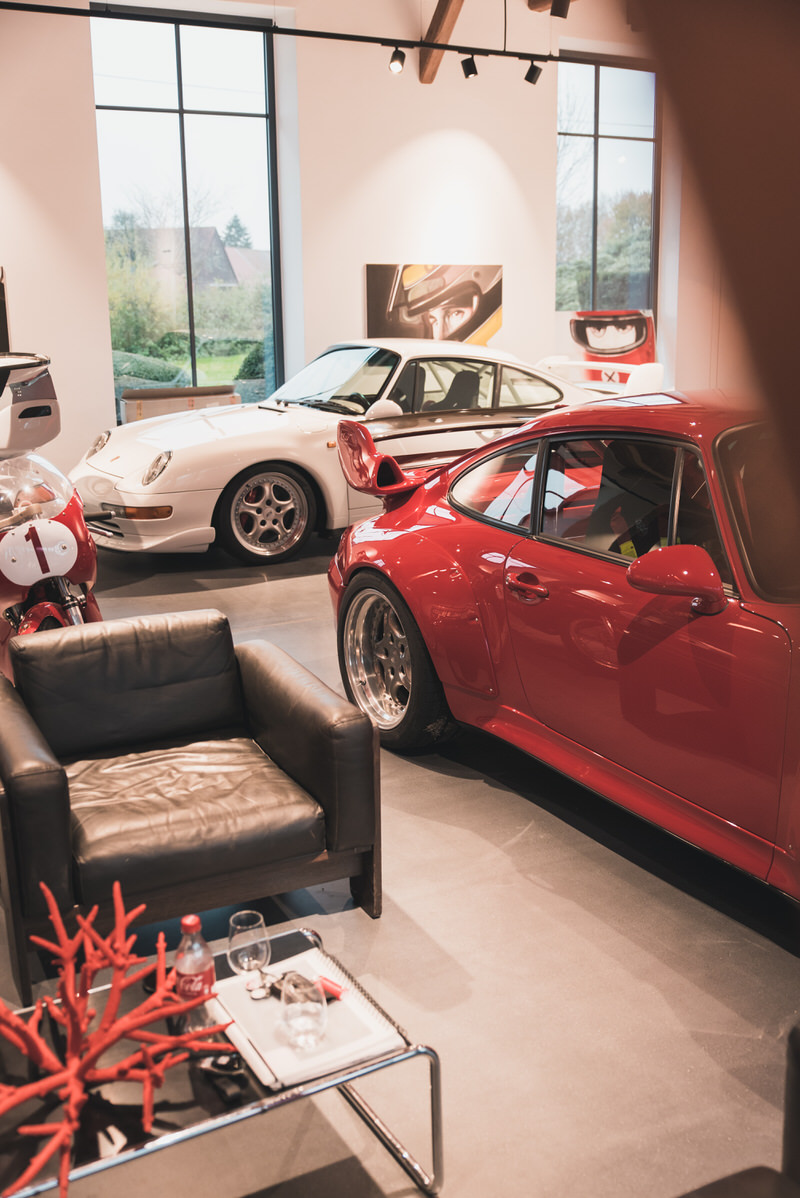 The first thing I noticed when walking in – besides the 993 GT2 R of 'the Leichtbau Collection' directly staring at me – was the space itself. (more on those cars later on)
The space itself is simple yet clean with white walls, big windows, a relatively high ceiling and beautiful authentic wooden beams carrying the roof. A perfect blend of modern design with old, classy vibes, finished off with appropriate motorsport related art on said white walls. Perfect if you ask me.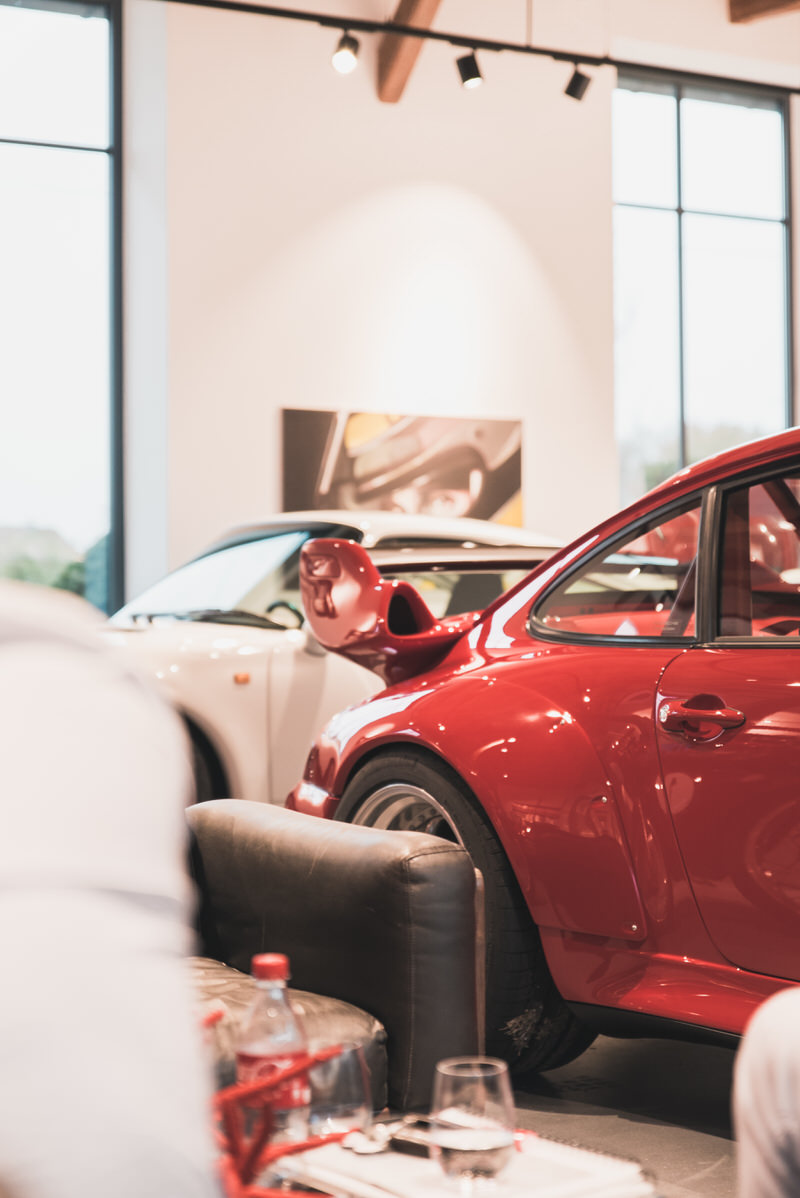 After I picked up my jawn off the floor, we sat down in a super comfy leather chair, had a bit of small talk and brief introduction, and then, we got down to business!
Shooting the unicorn
No time to waste. The plan was to take out the RUF CTR2 Sport to do a little photoshoot outside – check out the article I wrote about this unicorn. Because it was parked 3th in a row of 4 stunning machines, we had to take out some of the cars first, so that's exactly what we did. After casually pushing out a matching numbers 993 RS Clubsport and the GT2 R Matthias got to start up the RUF and drove it out. That cold-start sounded absolutely magical. It certainly wasn't a super loud, eardrum shattering startup like an Aventador or any other massive-engined supercar but much rather a muffled, deeper growl. The 580 horses were awake at last and after warming up for a little while outside – ready to stretch their legs.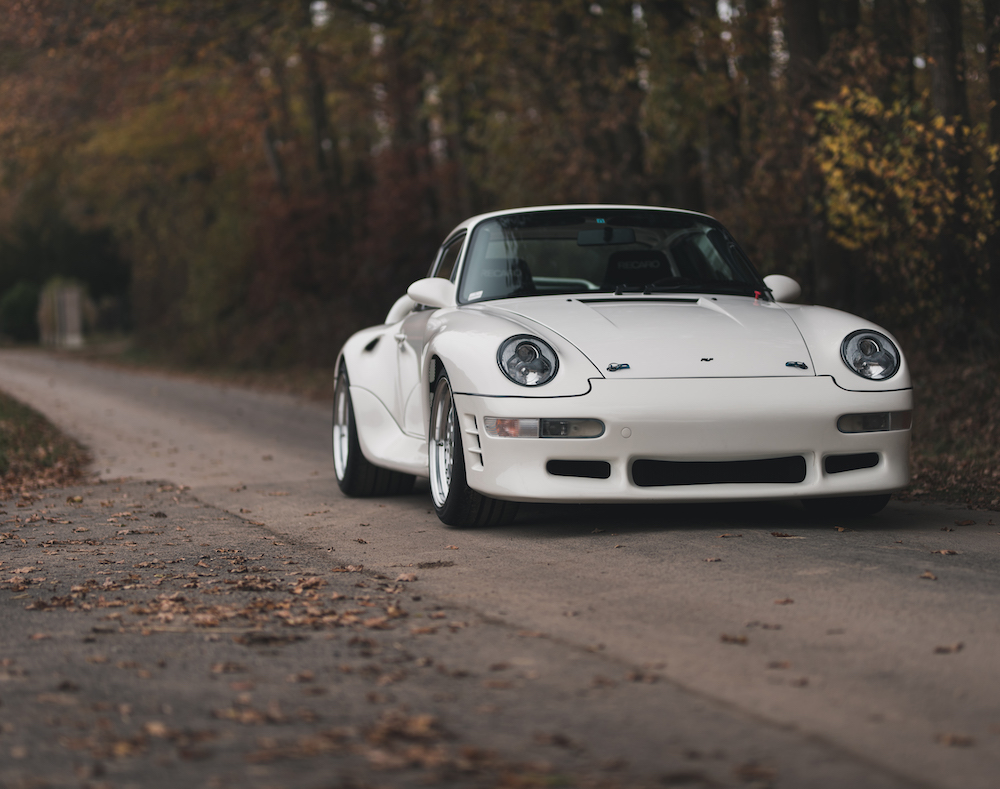 I hopped in the trunk of Jan's C63 AMG while Matthias was driving the RUF up and down the small country roads to get some rolling shots. After a few passes up and down the road we decided to stop and take some static photos of this unicorn – again, all those shots you'll be able to find online in the other article I wrote for collectorscarworld.com.
After the static and dynamic shots we headed back to the showroom through the narrow, 1 lane, country roads. However, now I got to ride shotgun in the RUF with Matthias.
As I hopped in the car (read: squirmed and double folded myself due to the roll cage) I realized I should be going on a diet because I could almost not fit the narrow Recaro racing bucket seat. I guess I have found my new year's resolution.
Anyway, once I got in and the car started moving I really realized this was more a full blown race car than it was a street car. Despite having a license plate and registration, all my other senses told me RACECAR!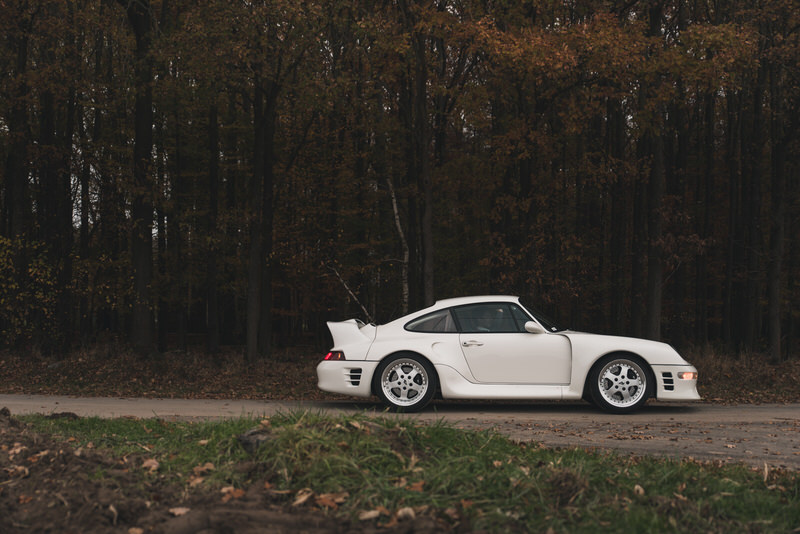 From the feeling of the suspension to the vibrations and sound of the engine to even the smell and view in the cabin… This definitely isn't your average 911 – and I loved it!! Sadly enough the drive back wasn't very long nor did we go fast and I could not help to imagine what this car would be like on the open roads. How amazing it must be like to really let those 580 ponies loose and put all the available power down to the road.
Even from a photographer's point of view, imagine the shots we could have gotten on a more open road. Maybe that's something we could do another time, Jan? *Hint hint*
After we returned to the showroom and parked all the cars back inside it was time to focus a bit on what else we had inside the showroom. The Leichtbau Collection.
The Leichtbau Collection
Leichtbau (eng. = Lightweight) is a term that Porsche exclusively reserves for their featherweight versions of their already pretty light – and most rare – sports cars.
From the iconic 1967 911R and the 1972 2.7 RS up to the latest 992 gen, Porsche has always been a fan of building lightweight cars, which is basically what they are known for. But it was especially in the '90s that they were set on losing some weight. After the elusive 964 lightweight (only 22 produced) it was time for its successor, the 933 to get a similar treatment.
Inside the showroom I found – other than the RUF CTR2 – four high performing, rare, aircooled Porsche 993 legends all belonging to the same client who spent years hunting to acquire these RS and GT2 rarities. It's a perfect mix of track only and road cars. Two of each and two of each color. Obviously they could be bought as a ready collection or individually. That's all up to you!
1995 Carrera RS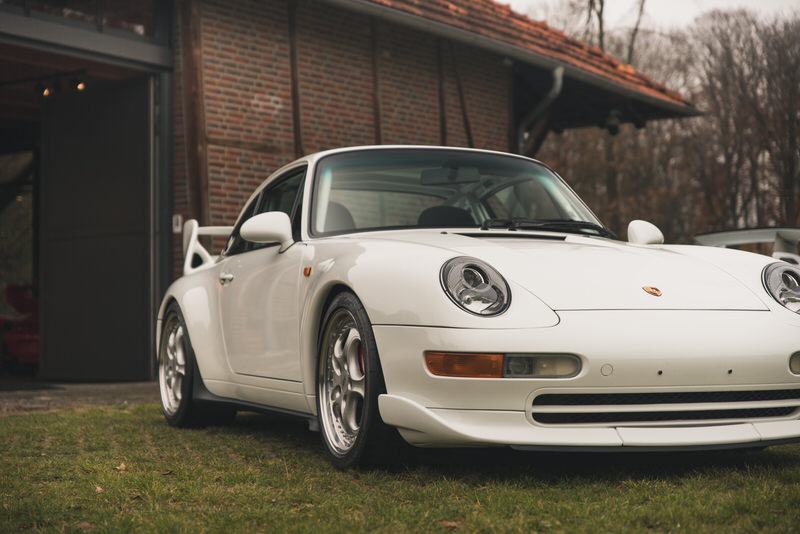 So what exactly are the four cars making up the Leichtbau collection you might ask? Well let us start with the least rare of them all, the 1995 Carrera RS in Grand Prix white, equipped with the super rare M003 option. This M003 code means the original owner specced the most hardcore option made available from engineers in Zuffenhausen, the Club Sport package. This means they basically got rid of pretty much all the creature comforts like the carpets, air conditioning, radio and the power windows. Talking about the windows, the glass itself got even replaced by thinner, lighter glass! These modifications came on top of the standard RS treatment which already shed off around 100 kilos of the standard Carrera 2.
The addition of an alloy bonnet, the rear seats removal and minimalist door cards made sure of that. To enjoy the glorious aircooled 3.8 liter engine more – or to lose even more weight, it's all about perspective – the soundproofing materials were reduced to a minimum.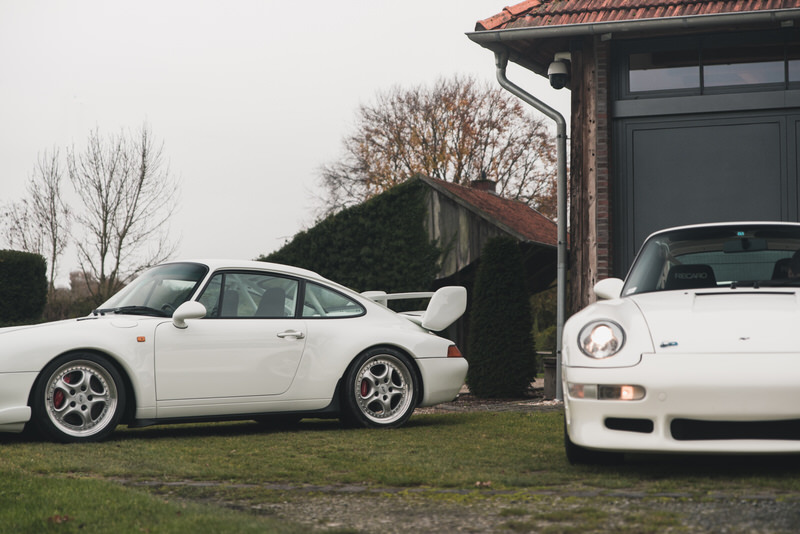 3-piece 18 inch aluminum Speedline wheels came as standard equipment. Bilstein dampers are used for the suspension system and the handling was improved by lowering the ride height. The final weight of the car is about 1.280 kg
1998 RSR
Now let's move on to the real special stuff. What do you think about a red, track-only 993 RSR? (Officially known as the Cup 3.8 RSR). One of only 30 produced – well – it is part of the Leichtbau collection too!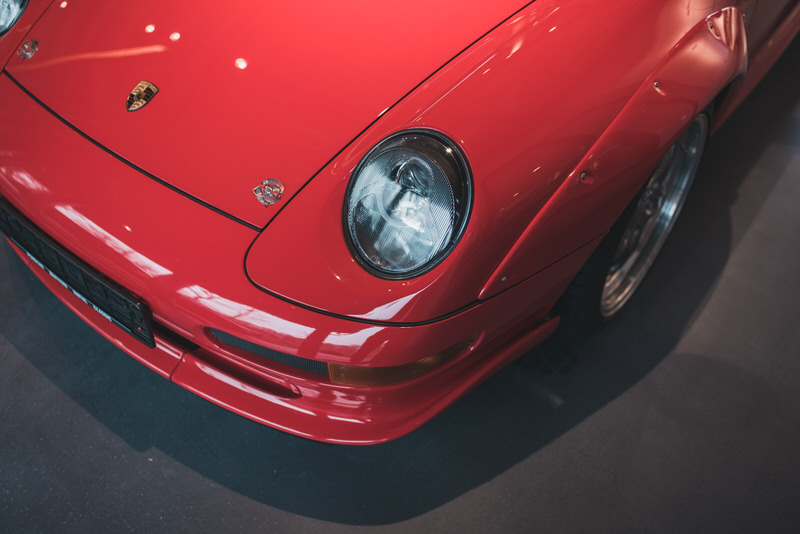 The RSR is based on the 993 Cup car, but was upgraded with an advanced suspension and the wider fender flares from the 993 GT2. A true off-the-shelf, factory endurance racer. I mean, when a car rolls straight of the production line with: a fully welded Matter roll cage, alloy bonnet, front strut brace, two-way adjustable Bilstein suspension, ball-jointed suspension, a single racing seat and harness, battery switch, fire extinguishing system and special front spoiler and adjustable rear wing… It's safe to say 'Because Racecar'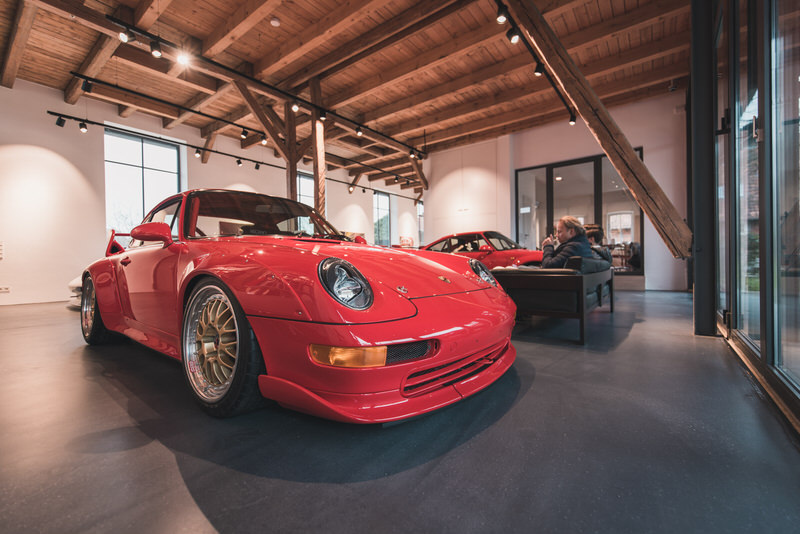 This specific 993 RSR was sold new to the famous German racing team Zakspeed in 1998. The original bill of sale issued on 27 February 1998, states a total price of 284.265 Deutsche Mark. Zakspeed racing team used this car for three years, mainly at German VLN races. In 2001 it was sold to a German amateur driver, who continued racing the car.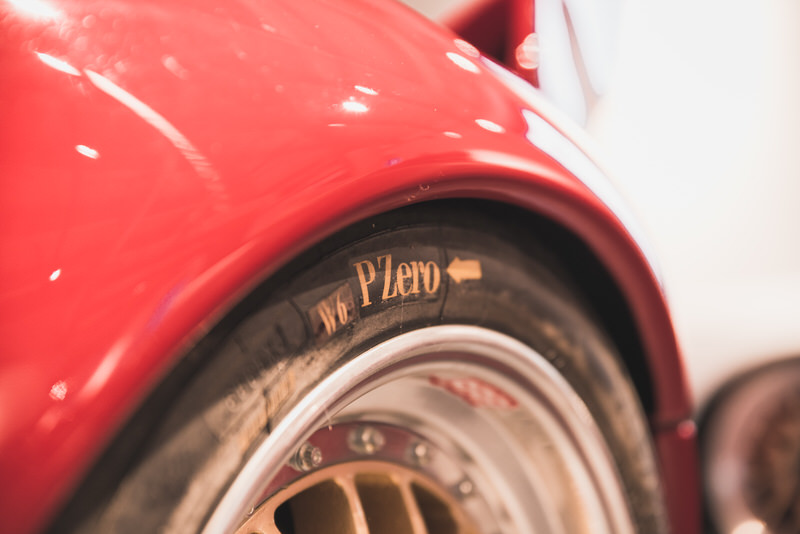 1996 GT2 Clubsport
Another red beauty in this marvelous 993 collection is this homologation special: a one of 21 GT2 Clubsport.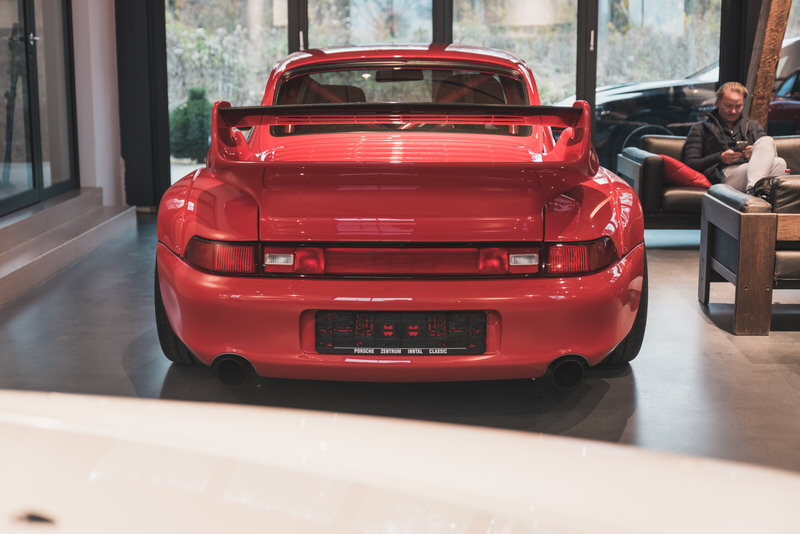 So what happens when you take the 3.6-litre flat-6 bi-turbo engine from the four-wheel drive road car but remove the front differential so all the raw power of 430 ponies get unleashed on the rear rubbers – without the help of traction control? Well, you guessed that right, the GT2 was born.
Of Course some modifications to the body panels were done, such as: widened and riveted front and rear fenders and an extra large rear wing with air scoops in the struts for improved engine cooling.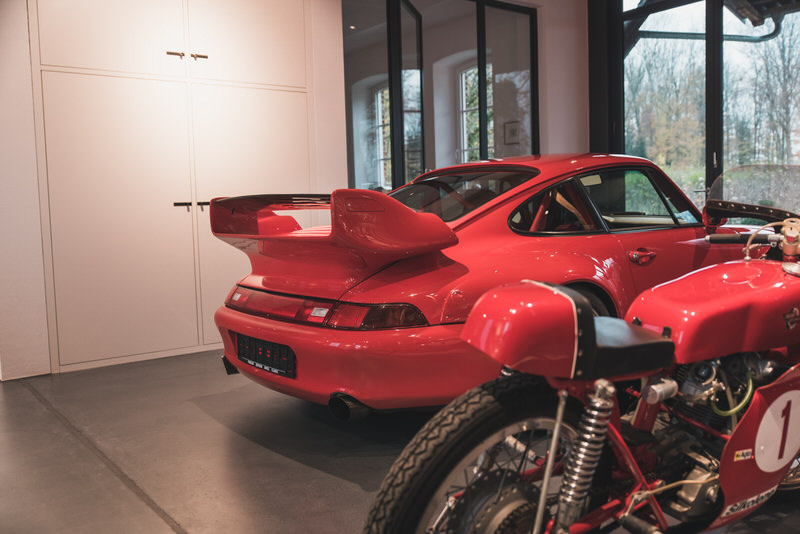 Porsche have built around 175 GT2's but only 57 cars were built for homologation purposes, and from the 57 just 21 had the rare M003 Clubsport package as an option. The ultra rare Clubsport-option pack features a welded Matter roll cage, six-point harnesses, a battery switch, a full fire extinguishing system and bucket seats.
Fully and perfectly restored by Porsche Classic themselves in 2014 and with a restoration bill of around €150.000, it's safe to say no expenses were spared. Also due to the fact this specific car hasn't driven much ever since, it's safe to say it is one – if not the best – GT2 Clubsport in the world.
1998 GT2 R
Finally the last piece of automotive art in the Leichtbau collection, the car to complete the already perfect 993 collection – a GT2 R. Not just any GT2 R though, nope.. This is chassis number #001 out of 13 units built by Porsche Motorsport.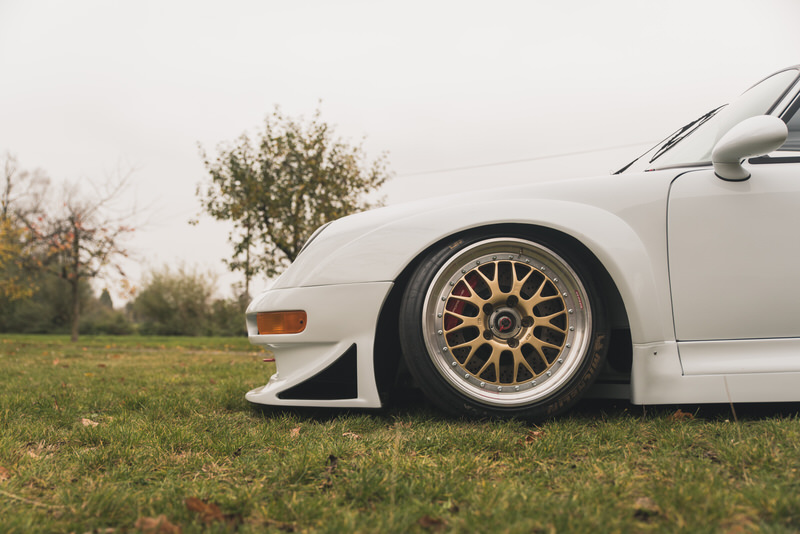 While the 911 GT2 RS Clubsport was aimed at 'gentleman drivers' , the R however, was known as the customer race version. The road cars got an interior but kept the wild looks and a 430 Hp engine based on that in the regular 993 Turbo. Meanwhile the R got a power increase up to 450 Hp, revised gearing for the regular H-pattern manual, race-spec suspension, the cage, harness and seat required to go racing and a massive wing bolted on crude extensions to the existing road car mounting points.
The way I see it, if you're in the market for one (of four?) perfect examples of the last handbuild, air cooled Porsches, this Leichtbau collection is definitely the one to look at!
If this spiked your interest and you'd like to know more about any of these stunning machines, get in contact with Mr Luehn himself at jl@janluehn.com or via 'the gram' @janbluehn