There are a few things I love in life; my friends and family, good food and drinks, traveling, (classic) race cars and Porsches. So Imagine how I'd feel if those last 2 things were coming together at once. Feeling excited would be an understatement!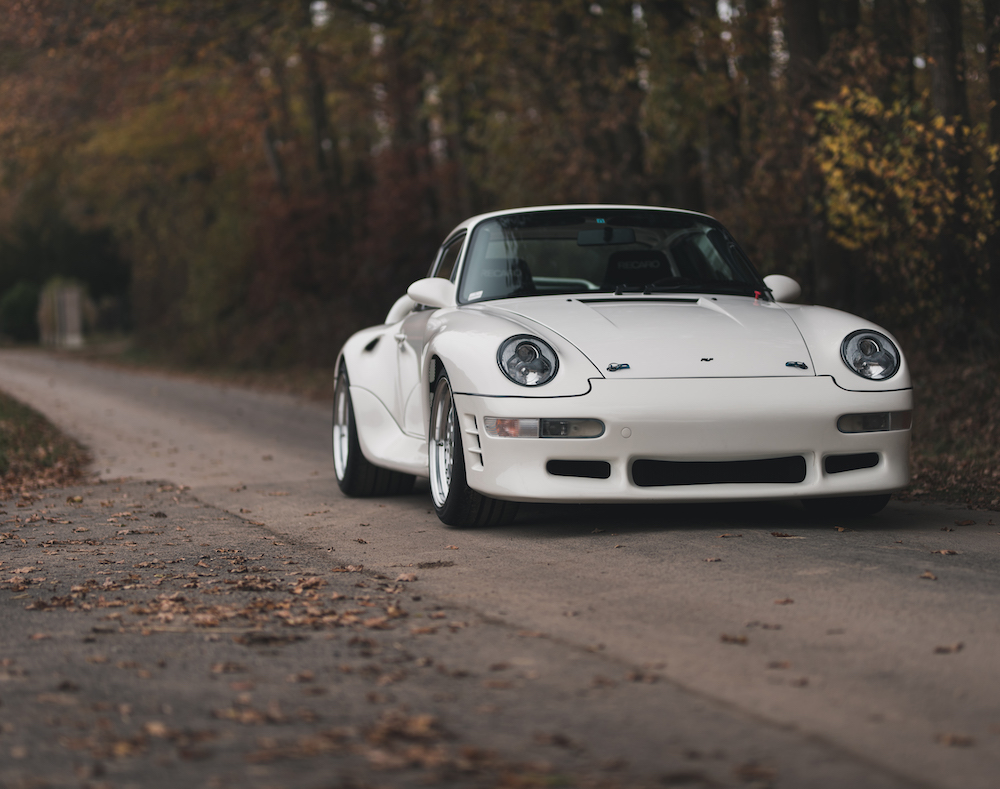 I have been following Jan B. Luehn for a while now on instagram (@jan_b_luehn) and I knew he had a collection of 4 super rare, lightweight Porsches for sale but to my surprise, another unicorn has joined that line up quite recently…
To be correct, their latest addition isn't really a Porsche but a RUF CTR2, which is based on a Porsche 993 911 Turbo. The CTR2 is basically the successor of the – then already – legendary CTR Yellowbird which was the fastest production vehicle for a couple of years when it was released back in 1987. I drove all the way to Germany, to admire this unicorn in real life.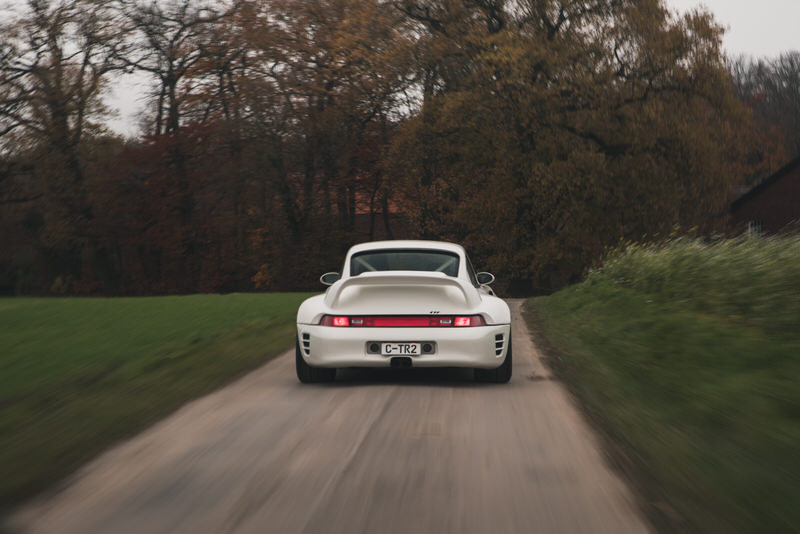 A brief history lesson. Subject: RUF
For those who don't know what (or who) RUF exactly is, let me explain.
RUF Automobile was founded in 1936 by Alois Ruf. What first started out as a regular car shop that did maintenance work became a fully Porsche-backed manufacturer under control of Alois Ruf's son.
Alois's son, Alois Jr., has a big passion for Porsche cars, especially the 911. After one year of his fathers death in 1974, RUF Automobile had enhanced a Porsche 911 and only 2 years after that they already had built their very first car based on the Porsche 930 with a stroked 3.3 litre engine.
Being a fully backed company means they are able to get their hands on brand new, unmarked chassis straight from the Zuffenhausen factory. As well as they're allowed access to the Porsche part bin where they can pick and choose any part they want and – if necessary – even develop their own improved performance parts. Something which they obviously do.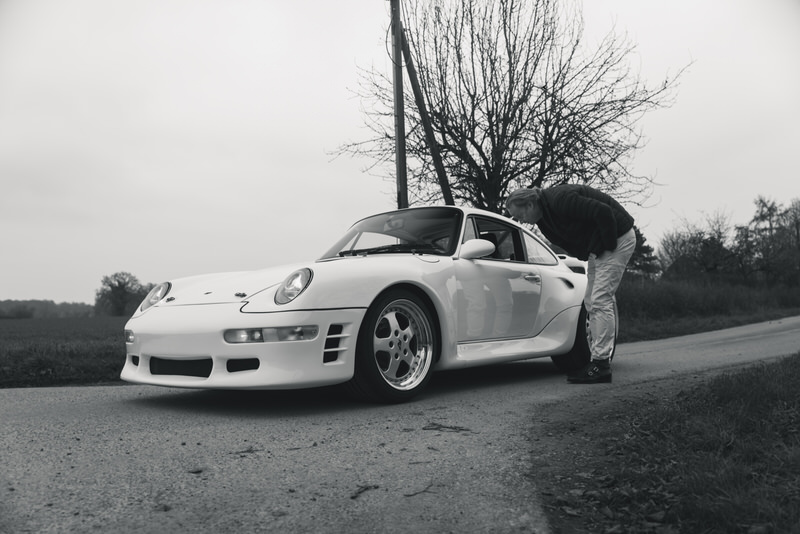 CTR2
Now skip a few years forward to 1987 and the CTR, whom I mentioned above, was born. Alois Jr. was obsessed with speed, so it's no surprise the CTR was fast. Very fast… As in, record breaking fast. It reached a top speed of a whopping 349 km/h. This translates to 217 mph for those who live across the pont.
In 1995 the CTR2 was born. As it had to walk in the footsteps of its predecessor, it had some big shoes to fill. The question on anyone's mind was: Will the CTR2 live up to the yellowbird's name? And if you ask me, the answer would be most definitely YES!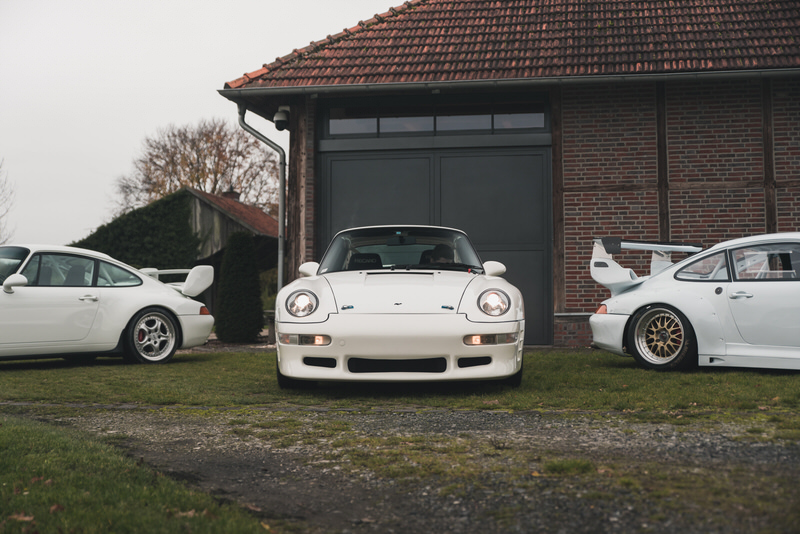 Available with either rear-wheel drive only or an optional all-wheel drive layout, Recaro racing seats with five-point belts, enlarged brakes (which were definitely useful) an integrated roll-cage, a RUF made coilover suspension system, a bi-functional rear wing and kevlar body panels with lightweight glass. As we have a look at the rear wing, we can see two air intakes. One intake goes towards 2 intercoolers, located on each side. The other air intake powers the beast by feeding it some fresh air, which literally flows through the wing itself. All these modifications played their part in making the CTR2 a record breaking missile. However, this isn't your regular CTR2, if there ever is such a thing as a 'regular' RUF car anyway.
Back in the days, RUF made 29 CTR2's and 13 of those were built with the sport specifications. Initially the CTR2 was tuned to 520 hp and later modified to the full 580 hp. While we are talking about the engine, it might be a good time to mention that the CTR2 has a race derived air-cooled 3.6liter flat six engine. This engine is based on the one used in the legendary Porsche 962 Le Mans Group C cars. Another great creation from the engineers of Stuttgart.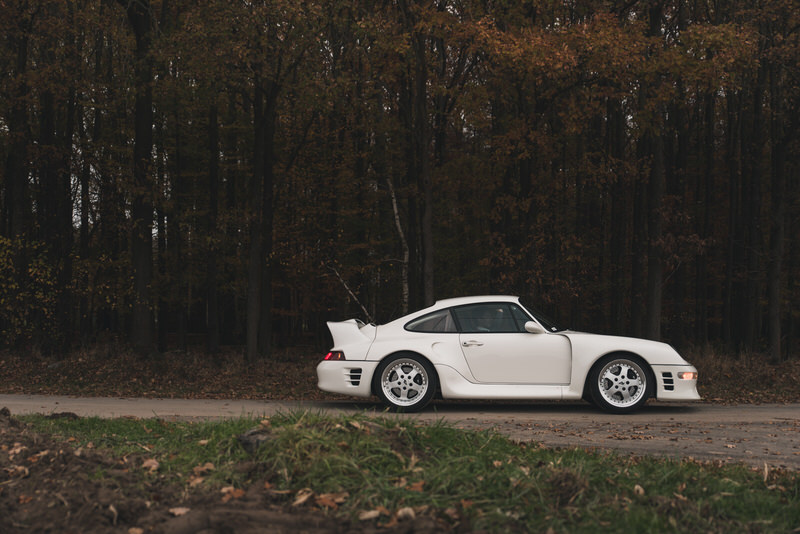 With the help of the 2 turbskies (aka turbo's) slapped on to this glorious engine, the low weight body panels and overall brilliant engineering, this car was able to accelerate from 0 to 100kmh in just 3,5 seconds. But what was truly remarkable is it's top speed. With it's Vmax clocking in at a whopping 349 km/h! (that's 217 mph for you english readers)
This milestone was set back in 1995, making it the fastest production car – wait for it – in the world!
Which other cars were also going mind boggling fast around that time you might ask? Well, the CTR2 out performed the Ferrari F50 (204 mph) , the Jaguar XJ220 (213 mph) and was on par with the mighty GT1 race car from Japan, the Nissan R390. Pretty impressive to say the least.
Ruf was the 'king of speed' for a couple of years, right until some guys in the UK woke up and presented the McLaren F1 to the world in 1998. If you're reading this, I am sure this is a car that doesn't need an introduction. The 3-seater took over the speed record victory with a measured top speed of 387 km/h. (or 241 mph) Making the CTR2 the 2nd fastest production car of the decade.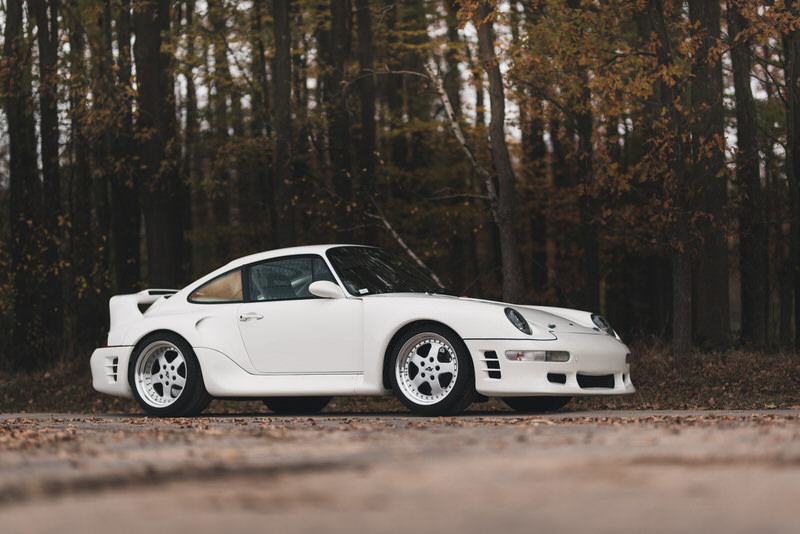 White Pegasus
What would you do if you were in the market for a super special car, which would be awesome on track as well as on the road? But with your mad – or genius mind, depending on how you look at it – thinks the regular CTR2 isn't just quite extreme enough?
There are basically 2 options. Either you could get one, find a good workshop and start modifying it yourself. Or you could just ring up your dear friend Mr. Ruf himself and ask him to build you a special commissioned car.
Ofcourse, this is exactly what Mr Jun Takeyama did. How cool is that?
Being the former president of the Japanese RUF owners club, Mr Takeyama had a special connection with Mr. Ruf himself. This helped him to approach Mr Alois Ruf personally and ask to build this special car.
So the car you're looking at is a one-off one dubbed 'White Pegasus'. It got this nickname shortly after completion once a few magazines did a review of this car, a name that remains until today. This specific CTR2 Sport is the only one in existence built in the leichtbau (aka lightweight) specification.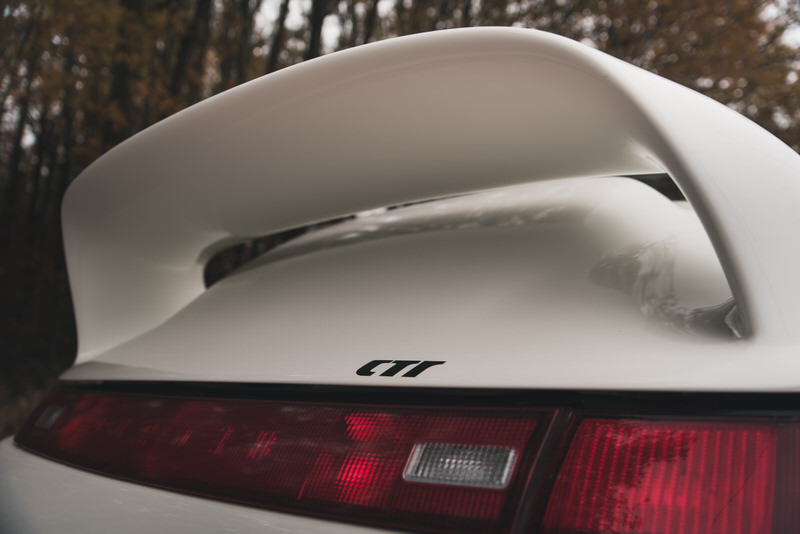 The unique details that Mr. Takeyama's car has are usually seen on racing cars only, however he requested to leave the air conditioning unit in the car because of the warm and humid Japanese summers. After all, he wanted a race car built for road use as well so RUF got rid of the radio player and the AC-controls had to move over to make room for the turbo boost pressure knob. The whole dashboard and center console of this car is uniquely designed solely for White Pegasus. It's the only CTR 2 sporting this layout, making it even more unique!
Because the racing DNA oozes out of every square inch of this car, being able to adjust the boost pressure is more important than controlling the AC-unit. That's why the AC-controls are located further away from the steering wheel so the driver can adjust the turbo's on the go while being out on the track. Without having to lose too much time looking away from the track in front of him. Besides the AC-controls, power windows are surprisingly enough also one of the few (read two) creature comforts installed.
The CTR2 Sport is a FIA approved road-car, this means you could technically drive it to the track, race it, and drive it back home the same day without having to do any major changes.Seriously, the interior is so stoic it's hard to imagine its road legal. I mean just look at the beautiful, bare carbon door panels. Completely stripped down of any insulation materials with just a little bit of alcantara on top. Even the door handles are replaced by a pull handle strap.
However, back in 1997, RUF prepared 2 prototype CTR2 Sports to enter the famous Pikes Peak race in the USA. They handed over both cars to racing brothers Steve and David Beddor. It was Steve who posted the fastest qualifying time of any car before finishing second overall in a yellow CTR2. (David finished 4th overall)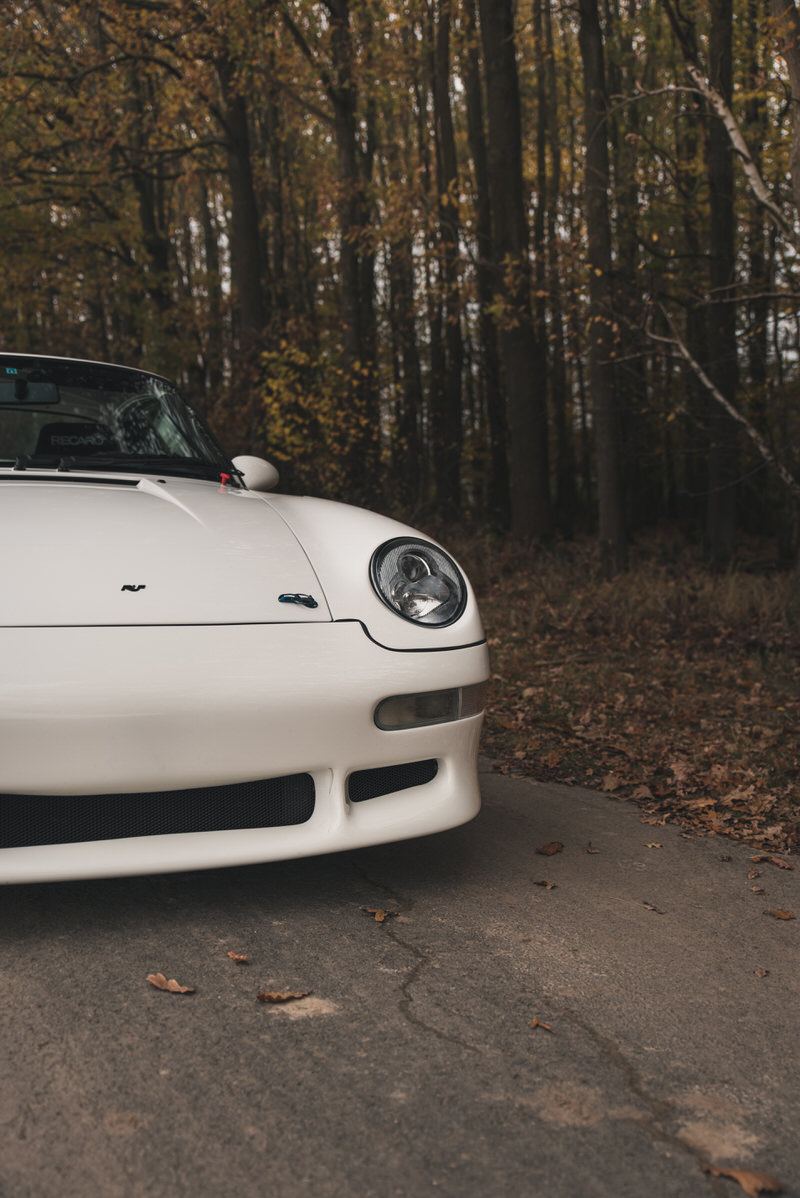 That was a result made all the more impressive by the fact that the CTR2 Sports were still road-legal in the US and Europe. So obviously – as one might expect – the Beddor brothers simply drove the two cars to and from the event. Definitely a game changer!
Talking about changes: another neat detail of the CTR2 is the removal of the rain gutters found on each side of the roof, right above the doors. These are typically found on any older air-cooled Porsche and served – besides the obvious function of keeping water out when the windows are open – also as a structural component. With the addition of their signature roll cage the cars enhanced structural rigidity so RUF was able to shave the gutters off the roof, giving it a cleaner look with less wind noise while driving. (and some improved aero as well, according to some rumors)
Stepping back in the cabin of this beast we notice the original Recaro 5 point seat belts found in the standard RUF CTR 2 are swapped by a modern 6 point FIA approved Sabelt harness. Also the 3 pedals you wind in the footwell have been changed compared to the normal 993 turbo, to some aluminium, drilled pedals, giving them a super racy feeling.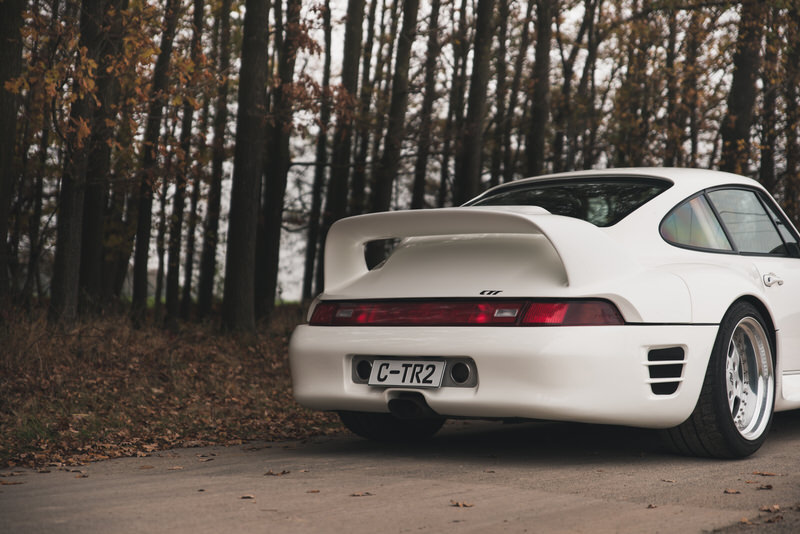 This Leichtbau Porsche – I mean RUF – got delivered to its Japanese owner back in 1998 where it spent a little while before it got sold to someone in Belgium. There it actually stayed most of its life being part of a private collection.
Nowadays however, this reinweiß (pure white) gem found its way back to the homeland of Germany where it is offered for sale by motorsport specialist Jan B. Luehn. Not every day you have the opportunity to acquire a flagship RUF. Even though original cars in this segment are very sought after, with this being the last air cooled RUF, it's value should remain invulnerable.
A quick summary of the highlights/specs:
–  Chassis No.: W09BA0366WPR06003
–  1998 RUF CTR2 Sport Leichtbau ''White Pegasus''
–  One of one
–  18.990 km
–  Japanese delivered car
–  3600cc Flat 6
–  Air cooled
–  Twin turbo
–  433 kw (580 Hp) @ 5900 rpm
–  781 Nm @ 4800 rpm
–  0-100 km/h in 3.5 sec
–  Vmax = 349 km/h or 217 mph
–  6 Point Sabelt harness
–  5 Spoke aluminium RUF wheels
–  Price: P.O.R.
Massive thank you to Jan B. Luehn for this amazing opportunity for me to shoot a unicorn like this. What a machine! Enjoy the following photo series