Ken Miles (November 1918 – August 1966): Kenneth H. Miles was born in Sutton, Coldfield , England. "Motor bikes entered my life at age 11. A pal of mine let me take over his 350cc trials machine and I proceeded to wrap it around a lamp post. But , by that time, I'd developed a permanent interest in moving rapidly." Ken met Mollie, his wife to be, in high school and immediately decided that he would marry her. "I spent half of my free time wooing Mollie and the other half in building up an Austin Seven Special. Both enterprises were highly successful."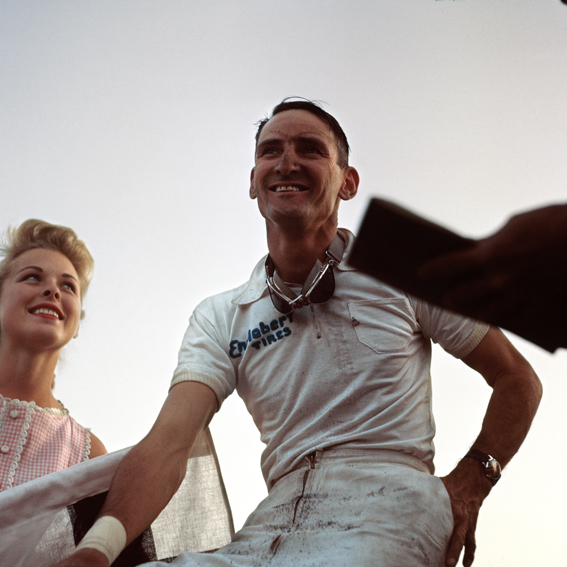 Ken left school at 16 to become an apprentice at Wolseley Motors , where he gradually worked his way through every phase of auto production from sweeping the floor to final assembly. In 1938, at Donnington Park, a fascinated Miles watched there legendary Tazio Nuvolari manhandle a massive Auto-Union to win brilliantly over a top field of European competitors. He got out of the army in 1946 and bought a Frazer Nash into which he dropped a Ford V8 engine. He had a fair amount of luck with his machine at hillclimbs and club events at Prescott, Shelsley Walsh, Silverstone and Brands Hatch.
He was without doubt one of the most controversial individuals and best drivers racing history. His expert driving and all out loyalty to the California Sports Car Club had him involved in numerous disputes. Banned from the Club for no apparent reason, his famous Specials were more or less restricted to tear up West Coast records.
Slim and athletic Ken Milers is pictured here after winning the over 1500cc main event with his clever "Pooper" (Cooper-Porsche) at the second Paramount Ranch meeting in November 1956. He not only won, but also set a new lap record , which was never improved, not even by Dan Gurney in the big 4.9 Ferrari at the final event in December 1957. The beautiful blonde is Dorothy Deen, the driving force behind both the Swallow Doretti and Triumph TR2  in the western half of the US. Her company , Cal Sales Inc. , marketed both cars there.
---
Weekend Heroes 2 is about sports car drivers, spectators and enthusiasts that made the scene in California in the 1950's. The fascinating books are not merely nostalgia ; those early years from 1950-1957 truly were magical – filled with special cars and special people , who have genuinely become our heroes. The three books are the most people focused sports car racing books ever. Photos never seen before and never published before. Almost six hundred pix in full color and over three hundred in black and white. Tony's books are all extraordinary and have never disappointed anyone. They are true masterpieces and levels above other period racing books.
If you want to order Weekend Heroes 2 here is the link: corsaresearch.com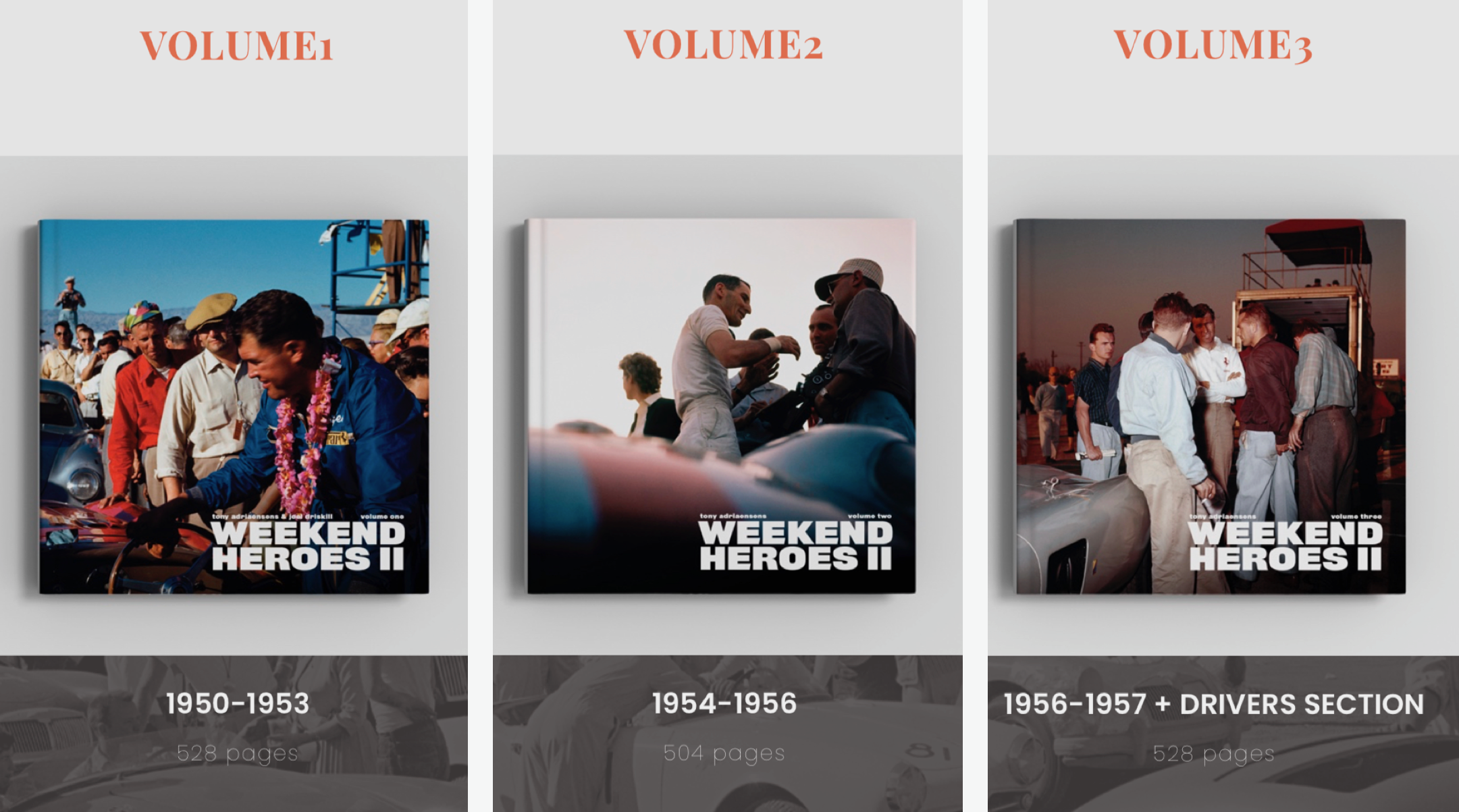 Report by Tony Adriaensens/ collectorscarworld.com
Photo by The CPA Collection
---