Car Racing 1968 is every bit a worthy successor in the tradition established by the three previous tomes of the 'Car Racing' series (1965, 1966, 1967). It is still through treasures unearthed from the archives of the DPPI photographic agency that this book published by Éditions Cercle d'Art offers, for the title year, a unique experience of immersion in the atmosphere of 1960s motorsport. Created in 1965 by a group of photographers fascinated by the fury of the track and the bravura of drivers, DPPI has always gone where the action is. And, in the '60s, the expression was by no means mere metaphor!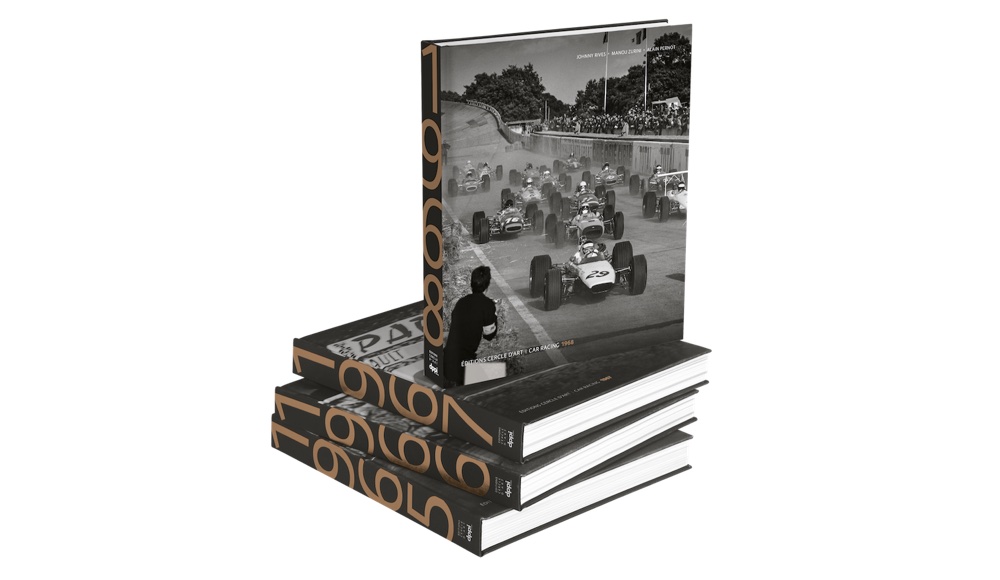 The book
Impelled by the momentum of Matra, French motorsport underwent a renaissance in the 1960s. For the1968 season, the French firm entered Formula 1 full time and even developed its own V12 engine! This ambitious commitment fanned public enthusiasm for Formula 1 Grand Prix racing in France. DPPI's photographers, who were friends with Jean-Pierre Beltoise, had a front-row seat to this fantastic adventure.
The stars of the sixties are featured across the board in this volume. Jim Clark, Graham Hill, Jackie Stewart, Jochen Rindt and the other driving and engineering virtuosos are amply represented, naturally. Unfortu- nately, this is only a glimpse in some cases… For, as one of the six stories written by Johnny Rives and Alain Pernot explains, fate was particularly cruel that year: too many drivers lost their lives at the wheel, including the talented Jim Clark, then at the top of his game.
The Authors
A fixture on the circuits since the mid-1960s, Manou Zurini was among the first to lend motorsport photography an artistic dimension. Now retired from the racing circuit, he has forgotten nothing of this exciting period and punctuates the pages of Car Racing with his colourful commentary.
Another key witness of the period, Johnny Rives has been a leading motorsport specialist since he joined L'Équipe in 1960. Here, he brings all his enthusiasm and liveliness, notably by drawing moving portraits of driving legends.
For this 1968 edition, a key season in many respects, contributions were invited from Alain Pernot, an independent journalist and motorsport expert who knows how to share his exhaustive knowledge with all the passion that drives him to collect it.
The Collection
One of the strengths of the Car Racing collection is that it remains true to its initial purpose, namely an editorial approach that is essentially photographic: 'This is not an umpteenth book on the history of motorsport,' insists Fabrice Connen, DPPI's editorial director. 'In every case, we favoured the strongest, most unusual pictures or those that best recreated the atmosphere of the time, even if they were taken at minor events.'
Limited Edition 1968
Each volume in the collection is also issued in a special cloth-boxed edition of which only 200 numbered copies are printed; these come with an original photograph from the DPPI photo agency's archives, printed on 315-gram Hahnemühle paper by the Picto laboratory in Paris and its associated certificate of authenticity. Cloth-bound boxed, limited-edition photograph in 200 numbered copies, certificate of authenticity €250
Click here for further information
Report by peterauto.peter.fr
---