Here is a special selection of cars that have recently arrived or are expected soon at our partner Gallery Aaldering. This preview allows you to be the first to indicate your interest in one of these cars. And this Saturday is the 1st Viewing Day of their online auction!
This Saturday is the 1st Viewing Day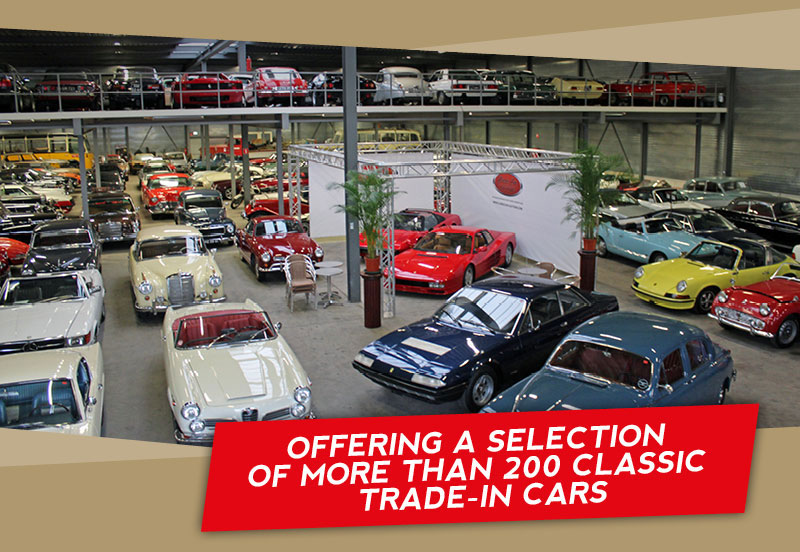 After the huge success of the online sale of the last two years it's now time for the new edition. On offer will be over 200 classic cars from our storage unit that were traded in during the past year. This is an excellent opportunity to obtain your favourite classic!
Viewing days will be held at their Warehouse,
Mercuriusweg 41, 6971 GV BRUMMEN, The Netherlands.
1st Viewing day – Saturday 18th January 2020 (between 10:00 AM and 16:00 PM)
2nd Viewing day – Friday 24th January 2020 (between 10:00 AM and 16:00 PM)
3rd Viewing day – Saturday 25th January 2020 (between 10:00 AM and 16:00 PM)
4th Viewing day – Tuesday 28th January 2020 (between 10:00 AM and 16:00 PM)
The complete auction offer will be online at www.classiccar-auctions.com
During viewing days you are of course more than welcome to visit the showroom and Gallery Grand Café at the Arnhemsestraat 47 in Brummen as well. The online auction has been started at January 9 and ends on Wednesday January 29 2020, 20:30 PM
See here some highlights of the auction
---
New Arrivals
Ferrari 365 GTC/4 (1973)
EU car, only 505 made, only 39.035 miles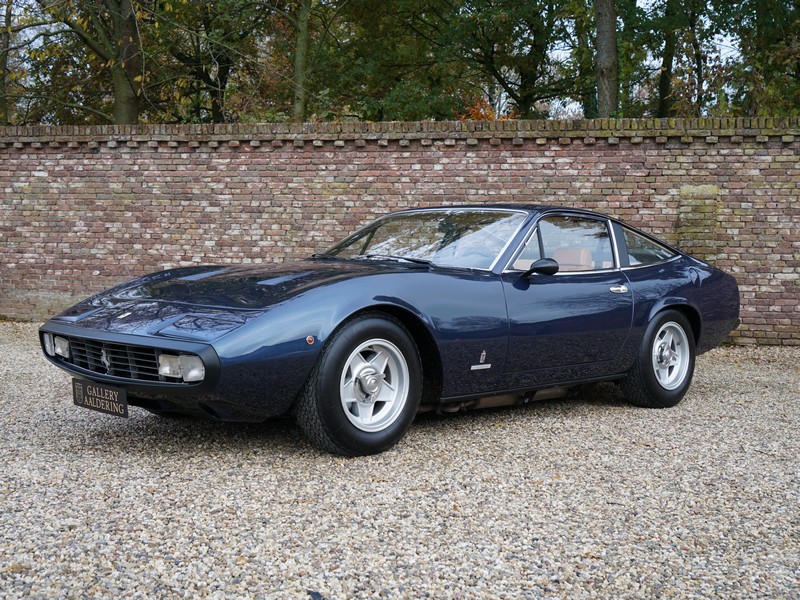 This wonderful European supplied 1973 Ferrari 365 GTC/4 has all the LHD European specifications. This is the ultimate 70's Gran Turismo, based on the well known Ferrari 365 GTB/4 Daytona chassis and fitted with the powerful Colombo V12 producing 340Hp. In its short 2-year production run only 505 were eventually made. It has a 'Navy Blue' finish with 'Pelle Nera' interior trim. The interior is still completely original and exudes a wonderful patina. Even the dashboard has retained the original finish!
The fine bodywork is nice and straight with well-aligned body panels. The underbody is especially original and naturally rust-free. The many invoices show that mechanically the car has been perfectly maintained. As expected this car is in a perfect working order and driving state. An Italian collector had owned it for over 27 years. In short a beautiful Gran Turismo Ferrari with a superb finish! Find out more here.
Mercedes-Benz SLS AMG Coupé (2011)
Only 39.566 km, 2 owners from new!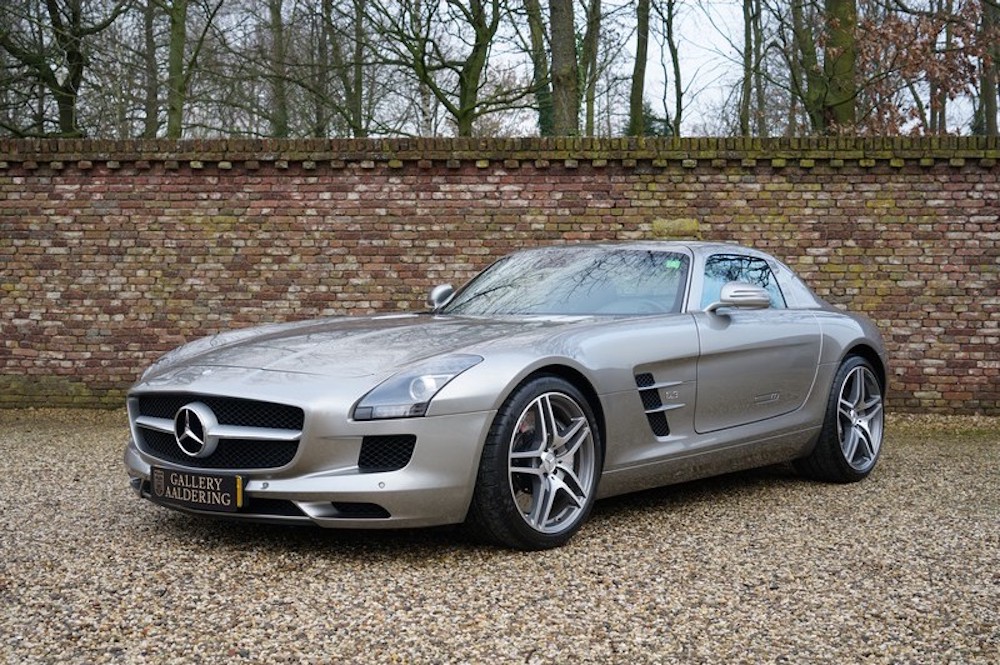 The reincarnation of the legendary 300SL Gullwing became a future classic on its introduction. We are , of course, talking about the SLS AMG Coupé with the unique 'Gullwing' doors. It is the Mercedes built before the downsize/turbo era and has an naturally aspired M159 6.2 V8 AMG engine delivering 571 Hp. Mercedes-Benz Jurgens in Germany supplied this SLS on the 17th February 2011. It was sold to a Dutch collector in 2014. At this time it had only done 27,000 km.
In early 2017 it was given a Dutch registration and used sparingly. Today the car is absolutely as good as new, it is completely undamaged and has only clocked up 39,566 km in total. Despite the low mileage it has always been neatly dealer-maintained. Overall the car is in a superb condition and still has its first coat of lacquer. Naturally fully documented with a car wallet, owners manual and service book as well as various invoices. In short a pristine SLS Coupé, two-owner, low mileage with a complete clear history! Find out more here.
Fiat Dino 2400 Spider (1972)
Only 420 made, extensive history file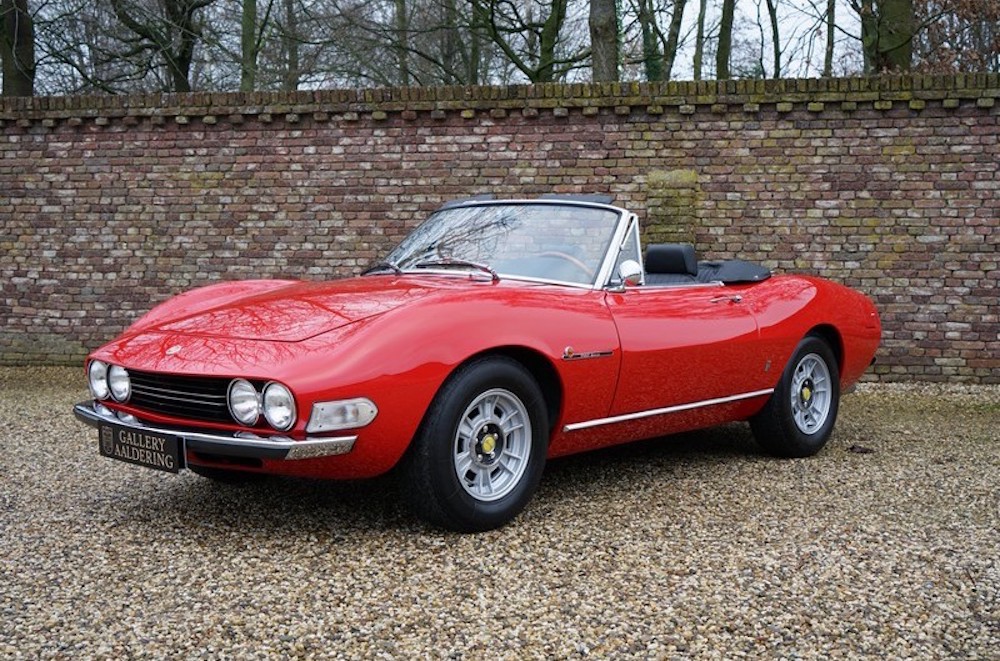 A stunning Fiat Dino 2400 Spider. A little while ago this car was completely restored and mechanically overhauled. This model is the top of the range Dino with the 180 Hp 2.4 Ferrari 3 carburettor Dino engine with a ZF 'Dog-Leg' 5-speed gearbox. The reason that Ferrari used a Fiat to put its 6-cylinder engine in is because it wanted to use its 6-cylinder engine in the 1967 Formula 2 series. To comply with the FIA homologation regulations it needed to be have been built 500 times in series. So Ferrari and Fiat collaborated to achieve this, with Ferrari engines and Fiat bodies.
The early 2.0 examples were assembles at the Fiat plant whilst the later 2.4 Dino's were assembled at the Maranello Ferrari plant, besides the Dino 246 GT. The 2400 Spider is the most rare of the lot with only 420 ever made. Between June and July 2010, with 98,000 km on the clock, Ferrari specialist Superformance rebuilt the whole engine and gearbox. Mechanically the car is now in 100% condition, with performance credentials to match. This Dino has always had excellent maintenance and servicing. As one would expect the paperwork has been carefully kept, amongst which for instance many MOT's. The fine bodywork has straight perfectly aligned body panels. The leather interior trim has been completely renewed. In short, a rare Italian Spider in especially fine condition and good provenance. Find out more here.
Some other highlights
This preview allows you to be the first to indicate your interest in one of these cars. Do you want to hear more about these cars? Please send an e-mail to: info@gallery-aaldering.com
About Gallery Aaldering
SINCE 1975 – Gallery Aaldering is a family owned business since 1975. Founder Nico Aaldering and his son Nick are responsible for operational and executive management. The company has been in Brummen since 1987 and started on the location where we currently have our second workshop and detailing shop.
MOVING TO BRUMMEN – Nico started very small, with only three employees. People who still work for the company today. The company grew rapidly and established a name for itself based on quality. In the nineties it was time for expansions after many years of selling Alfa Romeo, then Italian cars later on followed by British cars as well. At the end of 2000 Gallery Aaldering moved to the current premises at the Arnhemsestraat in Brummen. This showroom was build according to Nico's idea and sketches and has a Neoclassical style to match the classic cars inside.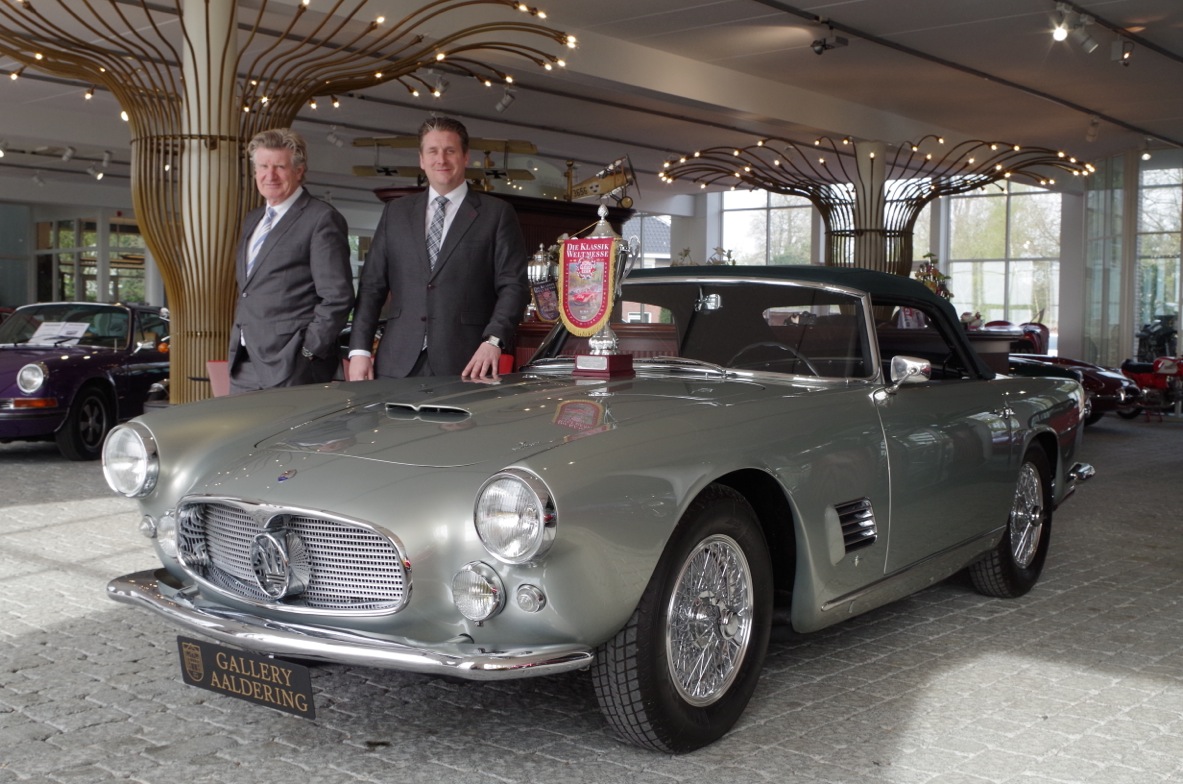 SECOND GENERATION – During this time Nick entered the company after finishing his studies and working for different automotive companies. Gallery Aaldering expanded and gained momentum with the decades of experience offered by Nico and the bright new ideas and progressive vision offered by Nick. The collection became more diverse with an important move upwards to higher segments. Gallery Aaldering has grown to become one of the largest classic car dealers in Europe. There are about 350 classic cars on display on four floors with a Grand Café and special rooms for business meetings.
PASSION – As a family owned business Gallery Aaldering is proud of its history and traditions, but the future is just as important. At the heart of this all is the passion for classic automobiles. For that reason we participate in the most impressive classic car rally in the world, the Mille Miglia.
If you are interested please feel free to contact info@gallery-aaldering.com
Report by gallery-aaldering.com
---