The fourth and final GT & Sports Car Cup event of the season takes the sporting family back to sunny Portugal for the ever popular annual Algarve Classic Festival. The lure of the magnificent Formula 1 circuit, writhing through the hills a short distance inland from Portimao and an easy hour's drive from Faro airport, is apparently irresistible. In welcoming the strongest and most diverse entry of the season to the Autodromo Internacional Algarve for a two-hour race, it is a particular joy to announce the renaissance of the Sports Car classes.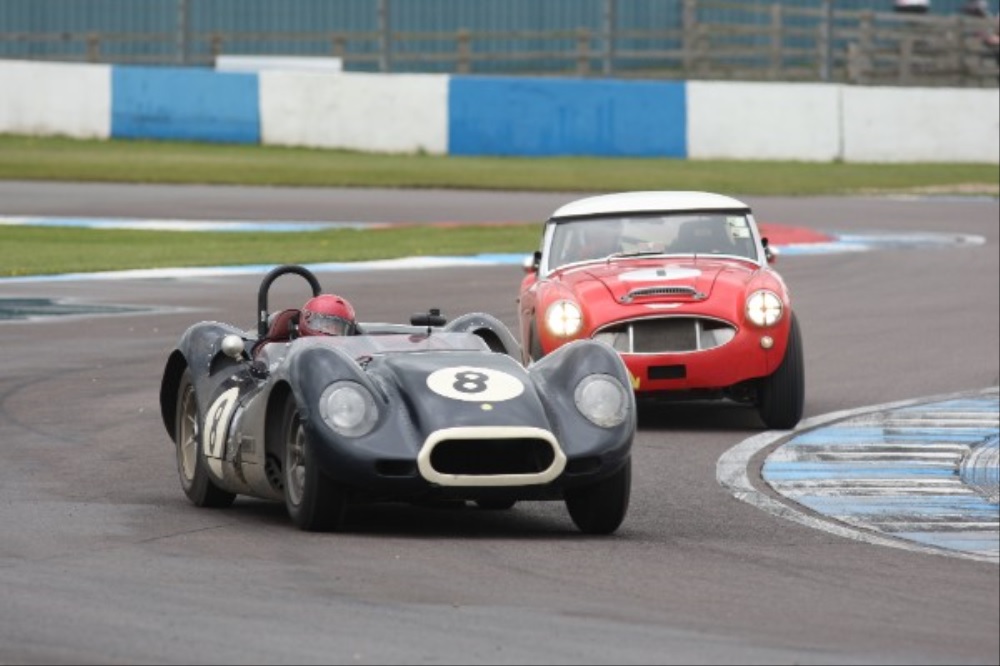 Some owners have stoically supported the Pre-1963 element of the competition, but it has been a while since seven sports racers of a splendid era have subscribed to the GTSCC. The split is impressive too, for the 3.8-litre Lister-Jaguar Knobblies of John Spiers/Nigel Greensall and Paul Pochciol/James Hanson are ranged against the Cooper T49 Monaco of father and son Justin and Ben Maeers, with speedy preparer Charlie Martin in the SP2 division. This svelte machine's two-litre Coventry-Climax FPF engine is rear-mounted, mated to a bespoke transaxle. All have their sights on emulating the 2014 victory of Mark Lewis/Ewan McIntyre in a Chevrolet Corvette V8-powered Lister.
SP1, for cars rooted in the 1950s, features a quartet representing different marques. A warm welcome goes out to former Historic F1 competitor Max Smith-Hilliard, who debuts his Lotus-Bristol X, NOY 1 – colourful West London car dealer Cliff Davis' 1955 Goodwood Nine Hours entry subsequently raced and hillclimbed by Welshman Peter Cottrell – with Miles Griffiths, winner of the Castle Combe Autumn Classic race in 2017 sharing Philip Walker's Lotus 15.
Scottish stalwart John Clark, architect of the eponymous Aberdeen-headquartered motor group, returns to the fray with his nimble Cooper T39 Bobtail motivated by a single-cam Climax engine. John is joined by Welshman Karl Jones, whose sparkling frontline racing career spanned winning the Champion of Brands Hatch Formula Ford series in 1983 to the British Saloon Car Championship in a fire-breathing Ford Sierra Cosworth RS500. German Ralf Emmerling is also back, Florian and Julius Brandt co-driving his Elva-Climax Mk5, but Nick Finburgh/Ollie Crosthwaite start favourites in the former's Lola Mk1, formerly owned by John Clark.
The three Pre-1965 Gran Turismo divisions all feature superb entries and look very competitive. It's AC Cobras versus Jaguar E-Types and Lotus Elans in the GT4 split. Both the 'snakes' have previously won at the AIA. Local heroes Pedro and Rui Macedo Silva [father and son] and Ford Escort ace Joaquim Jorge will endeavour to repeat their 2017 success, while Chris Chiles Jr – who triumphed with Simon Garrad in '18 – is back with father Chris. On top form, they are gunning for a third victory this season, having already taken the chequered flags at Donington and Castle Combe.
Jaguar's side also boasts a previous winner in Chris Ward, who shares Richard Kent's ex-Dick Protheroe Fixed Head Coupe CUT 7, which flew at last month's Goodwood Revival. The contrasting bubble-topped roadsters of the Pearson brothers John and Gary, victorious on home soil in Silverstone's season opener, and the German-British partnership of Rhea Sautter/Andy Newall, are also in with strong shouts.
Three 1600cc Lotus Elans, which will find their time carrying more speed than the big bangers through the multiple slower corners, complete the GT4 mix. Robin Ellis – winner of this month's Modena Cento Ore tour of Italy with Julian Thomas – is teamed with GTSCC newcomer Paul O'Reilly, Swiss-licenced Austrian Stephan Jobstl with Andy Willis and Steve Jones is rejoined by the Isle of Wight's Chris Atkinson, having had Ben Tinkler aboard at Combe.
Torquey straight-six Austin Healey 3000s are numerically strongest in GT3, but the combos of Doug Muirhead/Jeremy Welch, David Smithies/Chris Clarkson, Mark Pangborn/Harvey Woods and Paul & George Ingram won't have things all their own way. They know better than to discount feisty Morgan challengers John Emberson/Nigel Greensall (Plus 4) and Simon Orebi Gann/Billy Bellinger (SLR), or the similarly-powered Triumph TR4 of Allan & Daniel Ross-Jones. Jaguar is also represented by Sir David Scholey's rapid XK120 entrusted to Rob Newall, preparer Nick Finburgh and Oliver Marçais, and Martin Melling's early E-Type FHC, which Jason Minshaw saddles as usual.
The GT2 class features the greatest inter-marque variety. Six MGBs should be well-matched, with Mark Hope and double driving Jason Minshaw the form crew. Husband and wife Brian and Barbara Lambert, George Grant [son of Formula Super Vee and F3 veteran Ronnie, now 98!] with Rob Boston mentoring him, William Tebbit/James Hicks [son of late racer and FJunior Caravelle constructor Bob] and newcomers Michael Boyle and Hugh Lafferty/Darren Dunne and Historic 1000cc F3 racer Ian Bankhurst are in the Abingdon-built cars.
TVR Granturas form the bulk of the opposition, but with Malcolm Paul/Rick Bourne and Joe Ward not entered a new GT2 winner could emerge. Equipe GTS founders Rob Cull/John Pearson, Guy Grant and former Spa Six Hours winner Mark Hales drive Grantura Mk IIIs and Florian and Julius Brandt their Mk IIA. Veteran Porsche technicians Peter Tognola/Steve Monk share a two-litre 911, Simon King and Peter Cole a Morgan +4 Super Sports, but all will be looking out for the zippy 1220cc Lotus Elite of Marc Gordon/Nick Finburgh.
The trio of small-capacity Touring Cars, which have run doorhandle to doorhandle all season, without touching, are set to continue their wheel-scrabbling rivalry. Ellie Birchenhough – daughter of the late Dorset Racing founder Tony, who raced Lola sports prototypes at Le Mans and in Angola, Portugal's West African enclave, in the 1970s – co-pilots her Mini Cooper S with swift ERA to Cooper T53 pedaller Nick Topliss. Father and daughter Richard and Alice Locke field their Cooper S and Mini-based Broadspeed GT in opposition aided by Matt Green.
MAINTAINING THE HERITAGE:
First run in 2007, the GT & Sports Car Cup is a series of races for Pre-1963 sports racing cars and Pre-1966 Grand Touring cars of a type which contested World Championship races in period. Entry is by invitation only. Exemplary driving standards and the highest standards of car preparation and presentation remain its hallmarks. Watch for an exciting 2024 calendar – including an unmissable new European event – over the winter months.
---
GTSCC ALGARVE WINNERS:
2011 Leo Voyazides/Simon Hadfield (AC Cobra)
2012 Leo Voyazides/Simon Hadfield (AC Cobra)
2013 Fred Wakeman/Patrick Blakeney-Edwards (Jaguar E-Type)
2014 Mark Lewis/Ewan McIntyre (Lister-Chevrolet Knobbly)
2015 Jon Minshaw/Phil Keen (Jaguar E-Type)
2016 Derek Hood/Chris Ward/John Young (Jaguar E-Type)
2017 Rui & Pedro Macedo Silva/Joaquim Jorge (AC Cobra)
2018 Chris Chiles Jr/Simon Garrad (AC Cobra)
2019 James Cottingham/Oliver Bryant (AC Cobra)
2020 NOT RUN
2021 Jon Minshaw/Phil Keen (Jaguar E-Type)
2022 Andrew Haddon/Andy Wolfe (Lotus Elan 26R)
find more news here…
---