RM Sotheby's, in partnership with Ferrari, is pleased to present the unique Online Only: One in a Millennium auction, offered entirely without reserve on rmsothebys.com. Held in celebration of Scuderia Ferrari's milestone 1000th Grand Prix event, which took place in Mugello, Italy on 11-13 September of this year, the Online Only sale will offer 16 exclusive motorsport lots relating to the race and will, fittingly, be held to coincide with the season-ending 2020 FIA Formula 1 Etihad Airways Abu Dhabi Grand Prix.
Bidding will open at 11am ET (5pm CET) on Monday, 7 December and run through to Monday, 14 December at 11am ET, the Online Only auction lineup is led by an item that is sure to capture the attention of all motorsport fans & historians, a unique SF1000 Formula 1 show car. The full-scale display car holds the unique distinction of wearing the burgundy livery designed specifically for Scuderia Ferrari's 1000th GP event to commemorate the 125S, the very first racing car designed and produced in Maranello bearing the name of the company's founder. Scuderia Ferrari raced its first World Championship Grand Prix in Monaco, on 21 May 1950, the second-ever Formula 1 WC event. The show car comes to auction signed by Scuderia Ferrari drivers Charles Leclerc & Sebastian Vettel.
The Once in a Millennium auction features additional signed memorabilia from the 1000th GP race, as well as exclusive Formula 1 and Ferrari experiences. Highlights include:
Three sets of 1000th GP racing gloves and racing suits signed by Charles Leclerc, Mick Schumacher, and Sebastian Vettel; 

Two replica 1000th GP racing helmets signed by both F1 drivers Charles Leclerc and Sebastian Vettel; 

Two SF1000 rear wing end plates signed by both Charles Leclerc and Sebastian Vettel; 

Two Scuderia Ferrari packages for two people to enjoy a once-in-a-lifetime experience joining the team as their VIP guest at a Formula 1 Grand Prix during the forthcoming 2021 season. The experience includes unrivalled

 

behind the scenes

 

access to the Team over the course of a Grand Prix weekend in 2021 with two passes to the famous Ferrari Formula 1 Club, and an exclusive meet and greet with Scuderia Ferrari drivers Charles Leclerc and Carlos Sainz in the team's exclusive F1 Paddock motorhome;

Three Scuderia Ferrari packages for two people each to enjoy an exclusive behind the scenes guided tour of the legendary Ferrari factory and race team operation in Maranello, and to watch a 2021 GP race live from inside Ferrari Gestione Sportiva. The package also includes a one-night stay in Maranello, a tour of Museo Ferrari and a team representative meet and greet.
---
Maarten ten Holder, Head of Europe, RM Sotheby's, says: "It is a privilege for our team to once again work with Ferrari to bring our clients another rare and exclusive offering following our Online Only charitable auction of one of the earliest Ferrari Romas to be delivered to North America in October. The lots in this motorsport auction offer Ferraristi and Formula 1 enthusiasts a chance to acquire their very own piece of motorsport and automotive history, or, in the case of the packages on offer, experience it for themselves first-hand."
Mattia Binotto, Scuderia Ferrari Team Principal, says: Scuderia Ferrari is unique in being the only team to have taken part in every season of the Formula 1 World Championship. This year it reached the historic milestone of competing in its one thousandth Grand Prix, which was held at the company's home track of Mugello. For the occasion, the cars raced in a special livery, featuring the color used on the first Ferrari car built in Maranello. We chose to commemorate this event by producing two show cars, one of which will be auctioned through RM Sotheby's, the other will remain with us at Ferrari. It is an amazing opportunity to acquire a piece of history relating to the most successful team in motor racing's blue riband category."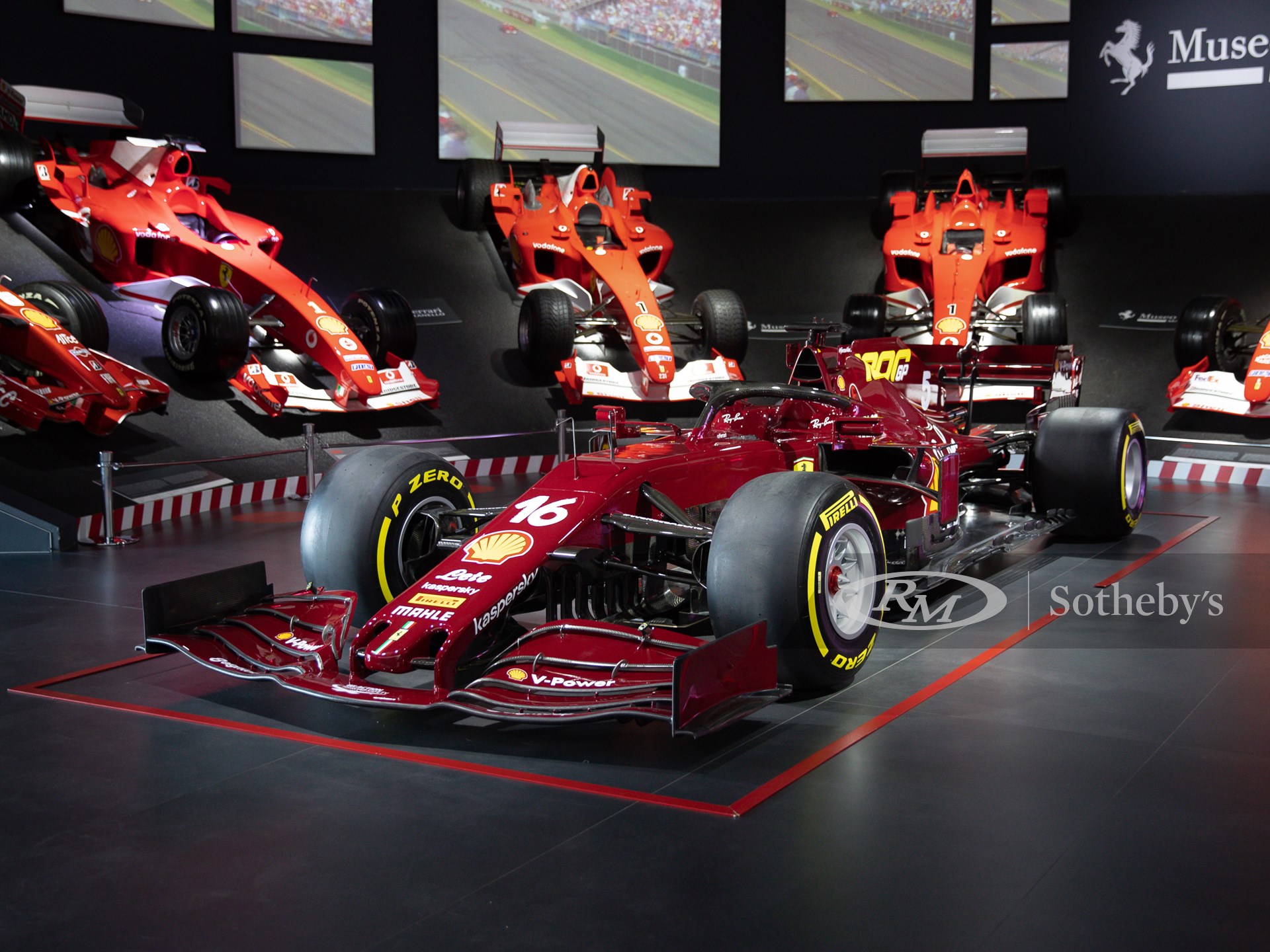 In the 70 years since its first GP in 1950, Ferrari is Formula 1's most successful, most celebrated and iconic team enjoying 238 F1 wins, capturing 228 pole positions, and recording 254 fastest laps and 772 podiums. The team has amassed an unsurpassed total of 31 FIA Formula 1 World Championships – 16 constructors' world titles and 15 drivers' world titles; in the hands of legendary F1 drivers including Alberto Ascari, Juan-Miguel Fangio, Mike Hawthorn, John Surtees, Phil Hill, Niki Lauda, Jody Scheckter, Kimi Raikkonnen and Michael Schumacher.
---
Report by rmsothebys.com
---