The Carrera RS is one of the most revered cars in the Porsche lineage, and is regarded as one of the finest sports cars of the 1970's. Revealed at the 1972 Paris Auto Show, it was a factory special built to meet the homologation rules of FIA Group 4 racing. The RS ("Rennsport") was almost invincible at Le Mans, Daytona and the Targa Florio, often winning outright against pure racing prototypes.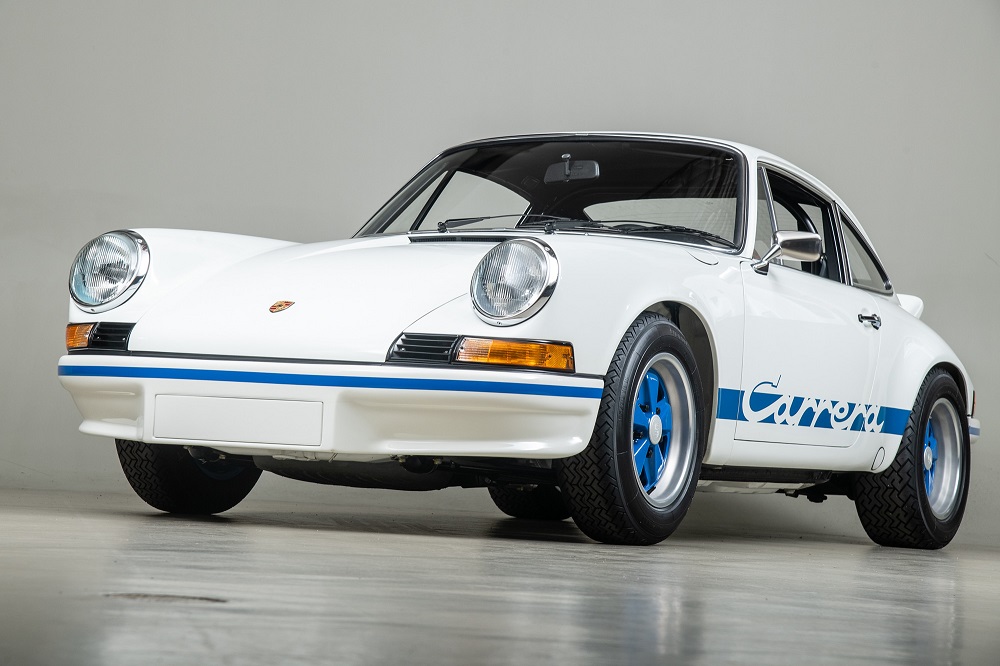 One of the early 1st series Carrera RS examples built – chassis 0096
Matching numbers engine and transmission per Porsche Certificate of Authenticity
Fully restored by Automobile Associates of Canton, including M471 Lightweight specification
Longtime U.S ownership – 34 years between two individuals
Sympathetically maintained – Large collection of service records
Documented in the definitive Carrera RS book by Dr. Georg Konradsheim
Includes owner's manuals, service and restoration documents, tool kit, spare wheel/tire, and compressor
---
It's not often you would see the same car on the podium one day, and passing you on the open road the next. The RS is conclusive proof that one of Porsche's greatest skills was building a car that was immensely competitive at the track, and equally useable as a street car.
Porsche had only intended to produce 500 Carrera RS examples, set on making just enough to homologate the cars in order to go racing. These "1st series" cars are highly coveted, sporting thinner sheet metal from the factory and were focused on being lightweight, offering a "purer" experience. However, the general public fell so in love with the Carrera RS platform that Porsche ultimately made 2 more rounds of cars, producing another 1,080 examples. These later versions (often referred to as series 2 or series 3 cars) had thicker sheet metal and were generally heavier than their 1st series siblings.
This 911 Carrera RS was produced in November of 1972. Optioned in Grand Prix White with blue script, the car was optioned with: heated rear window (two-stage) tinted, limited slip differential, head rests, sport seats, and shoulder and lap seatbelts. Built to be delivered in Germany, this Carrera would remain in Europe for the beginning of its history before being purchased by an American orthopedic surgeon, Robert Herickson.
Nate Cantwell (one of the primary members of Automobile Associates of Canton at the time), recalled that Robert Herickson was the type of person who spent the right amount of money to have the very best. Being an extremely successful orthopedic surgeon, he had wherewithal to purchase many things that collectors would consider holy grails. One of his cars that he had in his collection during a period of time was a Porsche 917 PA Spyder and used it on the race track. Robert purchased the Carrera RS from Motorsports International on October 27th, 1986 for a cool $9,000, and quickly sent the car to Automobile Associates of Canton. There it would undergo a complete concours-level restoration, down to the bare factory sheet metal.
Nate Cantwell, a former member of the Automobile Associates of Canton team, was able to recall the restoration and the condition of the Carrera RS when it first arrived. At that time Automobile Associates of Canton were known for acquiring and importing Carrera RS cars, and the common theme was that many had something terrible happen to them during their history and then were fixed or restored. The reason why this Carrera RS, 9113600096, was so memorable to Cantwell was that this car had remained intact and untouched. During the time at Automobile Associates, the car was completely stripped to the bare body to reveal the factory welds and thin sheet metal, untouched since the factory had finished them. Minor corrosion issues that are common to Carrera RS cars were fixed due to the lack of undercoating, but otherwise reported that the car was surprisingly intact and complete. The restoration took almost three years, with Automobile Associates taking their time in ensuring that the quality of the restoration was second to none. This attention to detail and quality-oriented mindset yielded a restoration that even today has held up over the past 30 years.
Due to the fact that the car was being completely stripped down to the very last component, Robert decided that he wanted to convert the car to the prestigious M471 lightweight specification during the restoration. Using NOS parts in order to build the car properly, including Automobile Associates of Canton sourcing one of three last original lightweight bumpers at the time, the car is impossible to discern from a factory-delivered M471. Lightweight door panels, minimal interior soundproofing and carpet, sports seats, and other minimalistic touches for a true lightweight experience.
Once the restoration was completed, Robert took delivery of the car and drove it sparingly. With other cars in his collection, the RS remained as a perfectly restored piece in his lineup of cars. The RS stayed indoors within the confines of his garage, ensuring that the 911 remained in beautiful condition.
In late 2004 a friend of Nate Cantwell was searching for a Carrera RS that was an excellent example. With 0096 leaving an impact with Cantwell that left him enamored with this particular car, he reached out to Robert to see if he was interested in passing his Carrera RS to the next caretaker. He was, so Cantwell set up Robert and the next owner which resulted in the car being sold.
The most recent owner of this Carrera kept a collection of prized Porsches, with a personal mechanic to ensure that all of his cars were in excellent working order. A collection of service work orders and parts receipts show the care that entailed with this special Carrera RS during its time with the owner. After 16 years of ownership and purchasing another M471 lightweight Carrera RS, he decided that it was time to let this 911 move onto someone else who would enjoy it. Being friends with Bruce Canepa, the two spoke about the RS and shortly afterwards the Carrera arrived at Canepa.
Each and every collector car that comes to Canepa is put through and extensive and diligent process called the "Canepa Difference." This includes a major and comprehensive mechanical inspection where all systems are checked and serviced as necessary. They also receive an award-winning concours-level detailing, a thorough cleaning of each and every surface that ensures that every car is a sight to behold. Finishing off with a foam-pad-only polish to enhance the paint finish, each and every car is a perfect example and a personification of Bruce Canepa's impeccable attention to detail.
Being that the 1st series batch of 911 Carrera RS cars spanned only 500 examples, having such a well-maintained and restored example come through the facility is always a welcome sight. With the combination of thinner sheet metal as Porsche originally intended along with the fact that they fully expected only to build 500, seeing one up close is a special occasion. With a restoration by Jim Newton and Nate Cantwell of Automobile Associates of Canton in fantastic condition, the significant maintenance performed to keep the RS in perfect running order, and being a 1st series Carrera RS are all reasons that set this car apart from the others. The opportunity to own a piece of Porsche's homologation history that you can drive and enjoy on the street is the example of duality that Porsche has built a reputation upon.
---
Report by canepa.com
---