Following the enforced absence last year, the Spa Six Hours are relishing the opportunity to unleash three races on the 7.04km Ardennes circuit.
Timetable for Spa Six Hours
The grids at Spa Six Hours include a 40-minute race for Pre-War Sports Cars; a 61-minute race for a combined grid of Royal Automobile Club Woodcote Trophy, Stirling Moss Trophy and Jaguar Classic Challenge; and a last-minute opportunity to run two 30-minute race for the Historic Touring Car Challenge, Tony Dron Trophy and Sixties Touring Car Challenge with U2TC.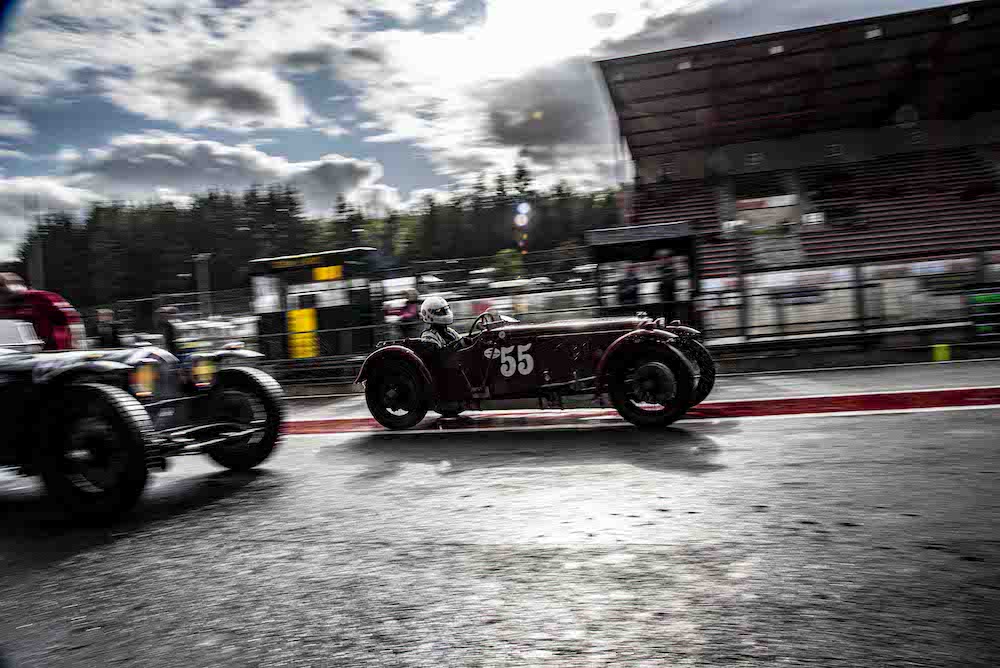 A magnificent grid of Pre-War Sports Cars line up featuring Maserati 8C and Alfa Romeo 8C Monza, with Maxime Castelein's Mercedes SSK an unmissable and rare addition to the grid. British raiders include a strong battalion of Bentleys, Richard Pilkington's glorious Talbot T26 fresh from Goodwood Revival and Sue Darbyshire's Morgan's nimble Morgan Super Aero. Martin Halusa's Bugatti T35B will be one of the front runners, sure to be harried by Michael Birch's Talbot AV105, the Parker GN of Justin Maeers and Frazer Nash TT Rep of Fred Wakeman.


The Royal Automobile Club Woodcote Trophy features a stunning grid including two Jaguar D-types, no fewer than four Maserati's and a rare OSCA MT4. Till Bechtolsheimer will be looking to tame his Allard J2 around Spa's undulations and there is sure to be a renewal of the season long rivalry between Fred Wakeman's Cooper T38 and Gregor Fisken's HWM Jaguar. The Stirling Moss Trophy has attracted no fewer than ten Lotus' in XV and XI guise, these nimble machines could have the upper hand over the might Listers Knobblys and Costins of which six feature. The James Cottingham / Harvey Stanley Goodwood Revival Sussex Trophy winning Tojeiro Jaguar will undoubtedly be one of the front runners but with some stiff competition this promises to me an unmissable race.
In the Jaguar Classic Challenge, a gaggle of E-types will likely see Rhea Sautter and Andy Newall up the front, along with teammate Marcus Oeynhausen-Sierstorpff. The Jaguars are a welcome inclusion in the grid for this year.


A broad mix of Touring Cars will twice take to the track over the weekend, with UK BMW M3 drivers, Arran Moulton-Smith and Mark Smith going to battle with Christophe Van Riet's similar car. David Hart's Ford Capri RS3100 is also a force to be reckoned with, yet Paul Mensley Ford Sierra Cosworth will be a potent option around this fearsome venue. The lightening fast Skyline GTR of Ric Wood and Skyline E32 of Simon Garrad make their Spa-Francorchamps debut….it's all to play for.


For more details please visit the Spa Six Hour page on our website including travel advice and COVID testing. Click here
Finally, the Motor Racing Legends 2021 season concludes on 30th – 31st October at the Silverstone Grand Prix circuit. There is a full programme of Motor Racing Legends races including the 3-hour Royal Automobile Club Pall Mall Cup and 80-minute all-Ford GT40 race, the Amon Cup.