There's nothing like hearing the gentle "thump" of a needle after it drops down on a vinyl record, waiting the few anticipatory seconds for the lead-in groove to rotate through, and then, seemingly out of nowhere, enjoying the warmth, detail, and glorious sounds of an LP.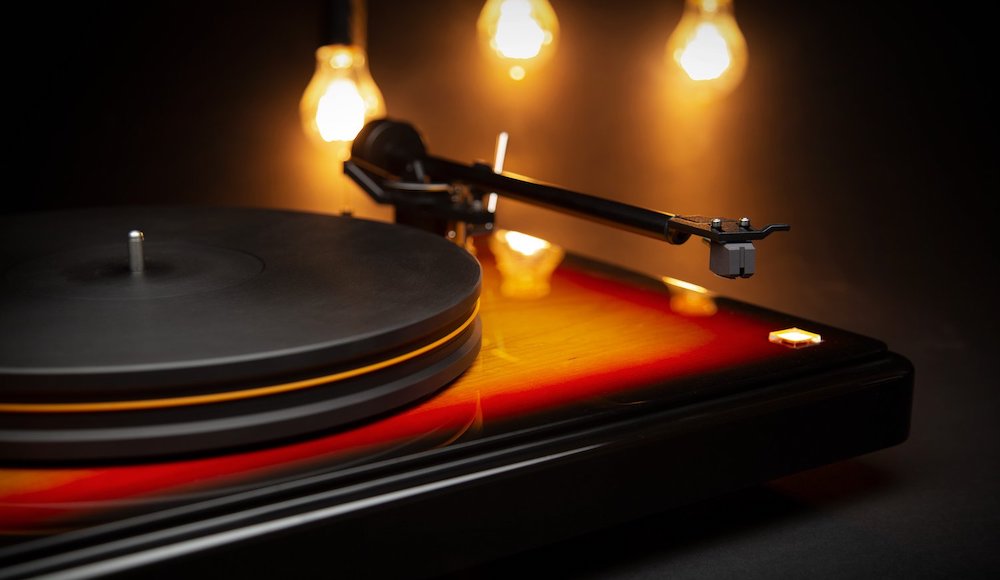 Now, imagine the magic of that beloved analog ritual with a turntable that authoritatively and accurately plays any kind of music, including the timeless albums recorded by many of the all-time greats – Jimi Hendrix, Bruce Springsteen, David Gilmour, Stevie Ray Vaughan, Eric Clapton, Jeff Beck, Pete Townshend, George Harrison, Mark Knopfler, Keith Richards, Robbie Robertson, Steve Cropper, Joe Strummer, Bill Frisell, Waylon Jennings, Muddy Waters, Donald "Duck" Dunn, Sting, Carol Kaye, Pino Palladino, and George Porter Jr. for starters – who played the very instruments that inspired its instantly recognizable design.
The striking result of an unprecedented collaboration between two legendary American companies, and a creation whose genesis predates the ubiquitous Stratocaster, Telecaster, and Precision Bass, the Fender x MoFi PrecisionDeck turntable makes that priceless experience possible.
Devised, handcrafted, and manufactured in the U.S.A., the limited-edition component features trademark traits connected to both American companies. Visually, it touts the unmistakable and iconic tricolor sunburst pattern that stems from the early 1950s and mirrors the enduring look of Fender Precision Bass, Stratocaster, and Telecaster models. Sporting an exquisite urethane finish that ages extremely well and lends to exceptional durability, each PrecisionDeck undergoes the exact same hand-painting process Fender employs in its Custom Shop factory for its revered four- and six-string instruments.
An instant collector's item limited to only 1,000 units, it comes individually numbered and badged, distinguished with a nameplate not unlike the metal serial-number plates found on Fender guitars. Sonically, PrecisionDeck exemplifies audiophile-grade through and through, with true-to-the-source vinyl playback that's exceptionally quiet and free of its own signature. Historically, it completes a narrative arc that began in Leo Fender's radio-repair shop and continued generations later.
Before the first full-production electric guitar ever left his factory, Leo Fender dreamed of designing a different instrument: a high-quality turntable that would fill people's homes with the sound of pure, detailed, natural, lively music. He even drew up blueprints, received a patent, and, in 1945, sold the rights for $5,000 in advance royalties. And he doubtlessly saw the parallels between the pickups on electric guitars and the pickups (a.k.a. cartridges) on turntables. Now, more than 75 years later, Mobile Fidelity Electronics and Fender Corporation are making the pioneering inventor's analog vision a striking reality.
Like any product worth celebrating and owning, PrecisionDeck has a story that runs deep. A Fender VP initially got the idea for the initiative between Fender and Mobile Fidelity Electronics when visiting an audio dealer and learning about Mobile Fidelity Electronics 'tables. The executive soon contacted Fender Custom Shop Principal Master Builder Yuriy Shiskov – a wood expert and one of Fender's most prominent luthiers – about the project.
Mr. Shiskov promptly worked late into the evenings crafting slabs of swamp ash wood – the very same blocks that are utilized to make Fender Precision Bass guitars – until he perfected them into the gorgeous shape that became the foundation of PrecisionDeck. Each exacting plinth on every PrecisionDeck is sourced, milled, and finished by Fender before it is sent to Mobile Fidelity Electronics' Michigan factory for incorporation into PrecisionDeck.
Of course, unlike Fender guitars, turntables cannot be allowed to resonate. To ensure no such problems would occur and disturb the otherwise beautiful design and sound, Mobile Fidelity Electronics turned to acoustics expert Mike Latvis at Harmonic Resolution Systems. His ingenious solution: Attachment points and resonance cuts on the bottom of the low-resonance plinth, performed to spec at the mill before getting sent to Fender. Those are just a few of the cutting-edge attributions that allow the 25.5-pound PrecisionDeck, based off of Mobile Fidelity Electronics' award-winning UltraDeck model, to stand apart.
True to its name, PrecisionDeck arrives meticulously built, with every part and function having gone through extensive testing to ensure optimal performance. Equipped with the equivalent of a guitar pickup – in the form of Mobile Fidelity's acclaimed MasterTracker cartridge – for easy setup and operation, PrecisionDeck is ready to go out of the box. Physically, it stands out via its super-sturdy, 1.3-inch, 6.8-pound Delrin platter that delivers deep-black backgrounds and a fantastically low noise floor.
Delrin is chosen due to its natural impedance match with vinyl. Speaking of being made for LPs: A 300RPM isolated AC synchronous motor offers excellent speed stability for stellar pitch accuracy and rhythmic drive. It's just another way PrecisionDeck takes its purpose to the extreme. Ditto its use of ester-based bearing grease, which lends to the 'table's extreme quiet.
The engineering prowess extends to the custom-developed Ultra tonearm, a 10-inch straight aluminum gimbaled bearing design whose rigidity and tracking prowess translate into hyper-accurate information retrieval. Ultra tonearm also uses Cardas Audio wiring to maintain signal purity from the headshell leads all the way through the RCA connectors. Adjustable tracking force, VTA, azimuth, and enhanced anti-skate grant listeners simple fine-tuning options.
A hardened-steel inverted bearing system complete with a sapphire thrust pad provides PrecisionDeck wonderfully smooth, rotational stability while anti-vibration feet – also co-developed with the engineering team at Harmonic Resolution Systems, the world leader in vibration isolation, specifically for the weight of PrecisionDeck – further shield the 'table from disruptive resonances. Again, everything circles back to preserving the genuine sound locked in the grooves of LPs. It's why PrecisionDeck even comes with high-quality gold-plated connectors shielded by a copper foil box to prevent airborne RF noise and, as a bonus, includes a removable, hinged dust cover to guard against debris when the 'table isn't spinning records.
Just as importantly, PrecisionDeck carries on a distinctively American legacy Leo Fender started in his garage roughly eight decades ago and which Mobile Fidelity picked up on more than four decades ago with its first recordings. Fender and Mobile Fidelity Electronics are proud to continue this heritage. PrecisionDeck stands as an authentic collaboration between two industry leaders and innovators – and a connection between history, music, and the artists you love that is both deeply personal and personalized, a creation that Leo Fender himself would have cherished.
Specifications of the Turntable
Motor: 300 RPM AC Synchronou
Speeds: 33 1/3 RPM, 45.0 RPM
Platter: 6.8 lb Delrin
Wow & Flutter: 0.017% – 0.025%
Signal-To-Noise Ratio: 74dB
Power Supply Requirements: 120V 60Hz, 220-230V 50Hz, 100V 50Hz
Power Consumption: < 5W
Dimensions: 20.75″ x 6″ x 15.5″
Weight: 25.5 lbs.
Click here for further information
more information: mofi.com
---