Saturday's races looked like a repeat of the "Lakes of Pomona", but drainage at Paramount was much better than Pomona and it rained only a short time, not all day. An estimated 15.000 spectators braved the hot sun on Sunday.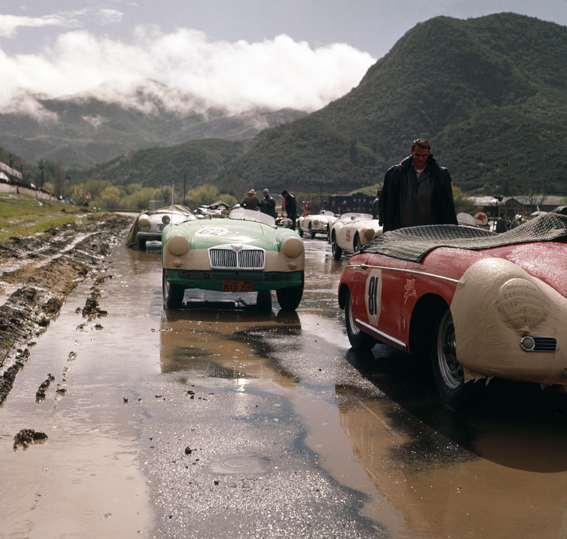 Weekend Heroes: 3rd Running Paramount Ranch Road Race, March 1957
This is the line-up for race No. 3 with Jay Hills' red and white Porsche 356 Speedster Carrera carefully covered for the torrential showers; the #62 green-and-white MG A is John Lumkin's mount. Hills started in the second row, behind Ed Barker's Super Speedster who won this lap-go. Second home was Jimmy Moore, also on Porsche and third was Jay Hills.
---
Weekend Heroes 2 is about sports car drivers, spectators and enthusiasts that made the scene in California in the 1950's. The fascinating books are not merely nostalgia ; those early years from 1950-1957 truly were magical – filled with special cars and special people , who have genuinely become our heroes. The three books are the most people focused sports car racing books ever. Photos never seen before and never published before. Almost six hundred pix in full color and over three hundred in black and white. Tony's books are all extraordinary and have never disappointed anyone. They are true masterpieces and levels above other period racing books.
Weekend Heroes 2
If you want to order Weekend Heroes 2 here is the link: corsaresearch.com