The building site had a significant influence on the design for this house. Layered with intense geologic history at the base of a three-million-year-old volcano, the site is a north-facing 20-degree slope with equal parts refuge and prospect at 6,300 feet above mean sea level.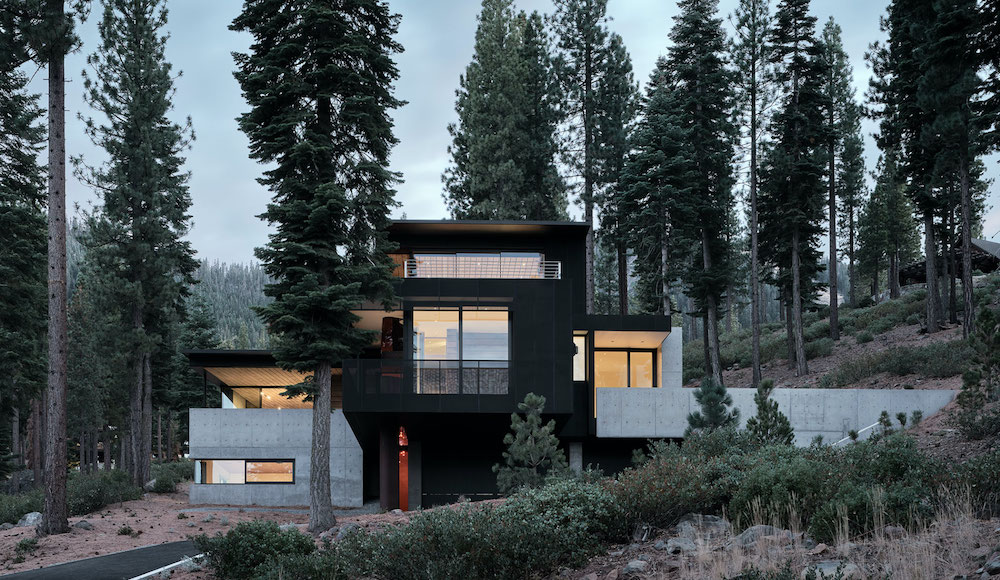 Consisting of volcanic sediment from ancient flows and strewn with boulders up to 15 feet in diameter, the site is in an open stand of second-growth Jeffrey Pine and White Fir trees. The vertical, plumb lines of the tree trunks, stripped bare from years of deep snow fall, reach for the light. Standing upright at an angle to the slope, they provide a constant reference to the perpendicular horizon in the distance. The harsh winters leave the ground sparse yet partially covered with a mat of pine needles and cones. Large waist-high clusters of manzanita group together and climb the slope in an organic, opportunistic pattern.
Insulated 20-inch-thick concrete walls made from local sand and aggregate build a ground form that extends to roofs to enclose space. Full-height openings with structurally glazed sliding doors open the space to the prevailing southwesterly breezes. The concrete walls extend beyond the warm interior environment to create exterior territories at each end. Angled to conform to the building envelope, the extended walls continue into the slope, nearly closing and connecting, but stopping short to leave a gap.
The ten-foot-wide opening allows the sloped grade to pour into the building form. Sustainability is addressed in this project with a focus on energy retention through the choice of materials and systems. Mass-heavy concrete walls and radiantly heated stone floors, an R80 insulated roof, enhanced glazing, and high-efficiency mechanical and lighting equipment minimize energy loss and use. The exterior of concrete and steel is fire resistant and low maintenance.
Click here for further information
Report by faulknerarchitects.com
---