InterClassics makes transition to year-round brand: The 28th edition of InterClassics Maastricht, initially slated to be held from 13 through 16 January at MECC Maastricht, will now be rescheduled. The event will still take place in 2022, and the definite date will be announced soon. Due to the ongoing problems around the coronavirus, the organisation has no choice but to reschedule the event again. The health of participants and visitors is paramount at all times. In addition, the uncertainty surrounding possible future measures makes it impossible to guarantee the quality of the exhibition.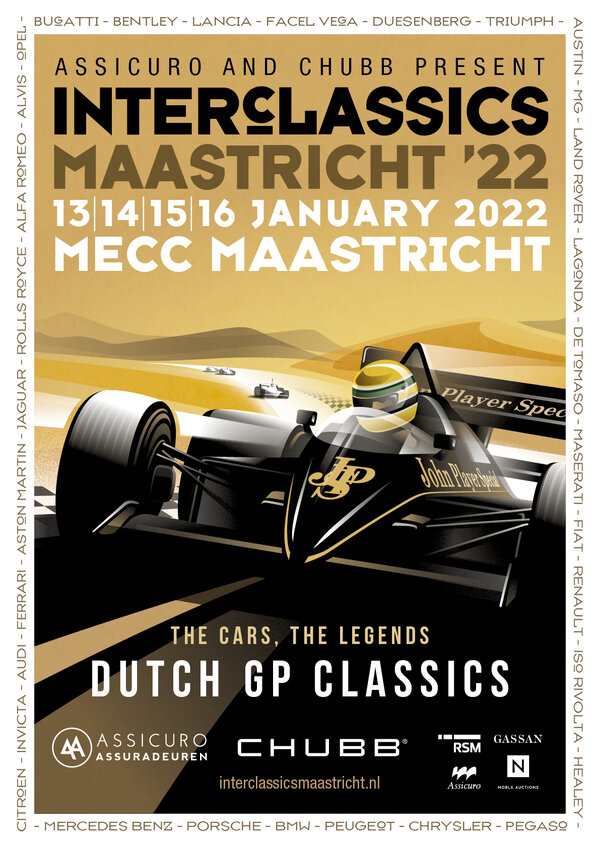 InterClassics 2.0
For years, InterClassics has been known amongst car enthusiasts as the organisation behind familiar and new events such as InterClassics Maastricht, InterClassics Brussels, Days of Elegance, and the brand-new Youngtimer Show. This multitude of distinctive car events gave rise to the ambition to look beyond events alone. The InterClassics team took advantage of the lockdown to turn this dream into a reality.  2022 will be the year in which InterClassics makes the transition to a year-round brand. This will ensure that classic cars are inextricably linked to the InterClassics brand.
A new corporate style is being introduced to boost further awareness for the brand. The organisation is launching a single overall website that will amuse, inform, and activate visitors 365 days a year, which will always use classic cars as the starting point. Own online or other content is the driving force behind this new concept and will include blogs, videos, and InterClassics contributions in popular car magazines.
Dutch Grand Prix Classics – the cars, the legends
InterClassics Maastricht takes a look back at the highlights from the Netherlands Grand Prix. Since the last F1 race to take place at Circuit Zandvoort had been held on 25 August 1985, the race in 2021 was fortunately more than worth the wait. Racing fans couldn't believe their luck when they had the chance to witness both a pole and a win for Max Verstappen. In cooperation with various museums and private collectors, InterClassics will present a unique collection of F1 cars from Circuit Zandvoort's Formula 1 history.