Bob Oker impressed all and everyone in Ed Savin's brand new Ace-Bristol. This car (BEX 169) was a very early one, ex-factory on July 2, 1956, the third Ace-Bristol imported into the USA, and the first to the West Coast.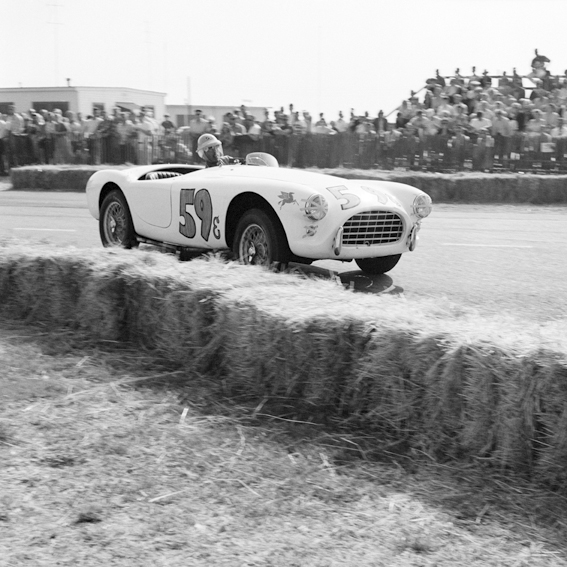 It raced here at Santa Barbara as it arrived from England in white with a black interior. It was shipped above deck in a crate which was not fully enclosing – and the car, as it arrived at San Pedro's dock, was covered in bird shit. They cleaned it up somewhat and drove the car from the dock to the Savin facility in East Los Angeles.
6th Running Santa Barbara Road Races, Goleta Airport, September 1956
Starting positions for Saturday's qualifying race were chosen by drivers drawing balls from a jar. Oker drew the very last position – the crew teased him, calling him "Dead Ass Last Oker". This short qualifier was to determine starting positions for the main race on Sunday. Before the race was over Oker had passed all the other cars to take first place. There were a number of very unhappy men who were protesting the Ace, saying that it was not a production car – AC was never to produce the minimum of 200 cars (the company produced a lot more eventually). At any rate, no one paid the fee to have the car torn down and it was permitted to run. Bob Oker again won the overall trophy on Sunday, and thus began more controversy.
Weekend Heroes 2
If you want to order Weekend Heroes 2 here is the link: corsaresearch.com