The GT40 was born out of a decision made by Henry Ford in 1962 to break from the long-standing agreement between US car manufacturers not to directly enter motor racing. Ford initially targeted the Indianapolis "500" but towards the end of the year, Roy Lunn, the English born head of the Ford Advanced Vehicle centre, was commissioned to design a sports car For the Grand Touring Prototype Cars class. Eric Broadley at Lola in England was working on a similar project and Lunn looked closely at the resulting Lola MK 6, deciding to use the design as the basis for the new Ford. Broadley was recruited to a new company, Ford Advanced Vehicles, together with Lunn and former Aston Martin team manager John Wyer.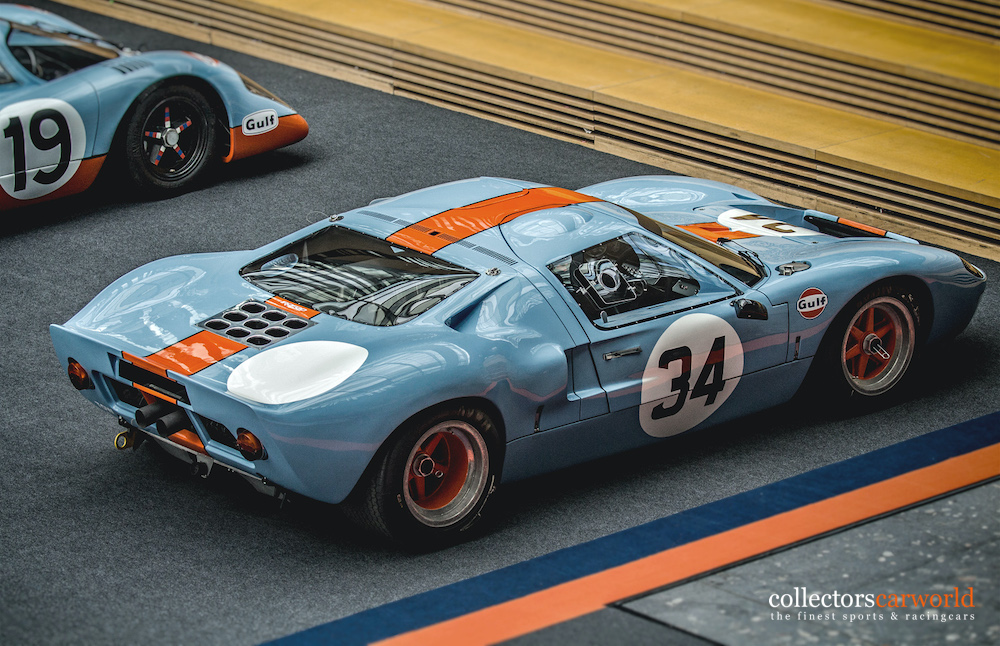 FAV fitted the Lola with the indy engine and test on this car led to the definitive GT40. Designed by Lunn the GT40 comprised a steel monocoque chassis with conventional double wishbone suspension, a Colotti gearbox and the 4195cc aluminium block dry-stump Ford V8 running on four twin-choke Weber carburettors giving 350 bhp at 7200 rpm. The car was tested at MIRA and, after disappointing tests during April, a rear spoiler was fitted at John Wyer's suggestion which did much to improve the car's stability. At Le Mans, the GT40s proved quick but unreliable.
For 1965, running of the GT40s was passed over to Shelby-American who fitted their 289 ci (4736cc) iron block wet-stump Ford fairlane engine. One of the new cars built for 1965 was chassis P/1004 which was entered at Le Mans by Rob Walker and driven by Bob Bondurant and Umberto Maglioli. Like every other Ford at the 1965 Le Mans, it retired. After this débâcle, P/1004 was returned to Ford's base at Slough and dismantled. Over two years passed before the car was needed again.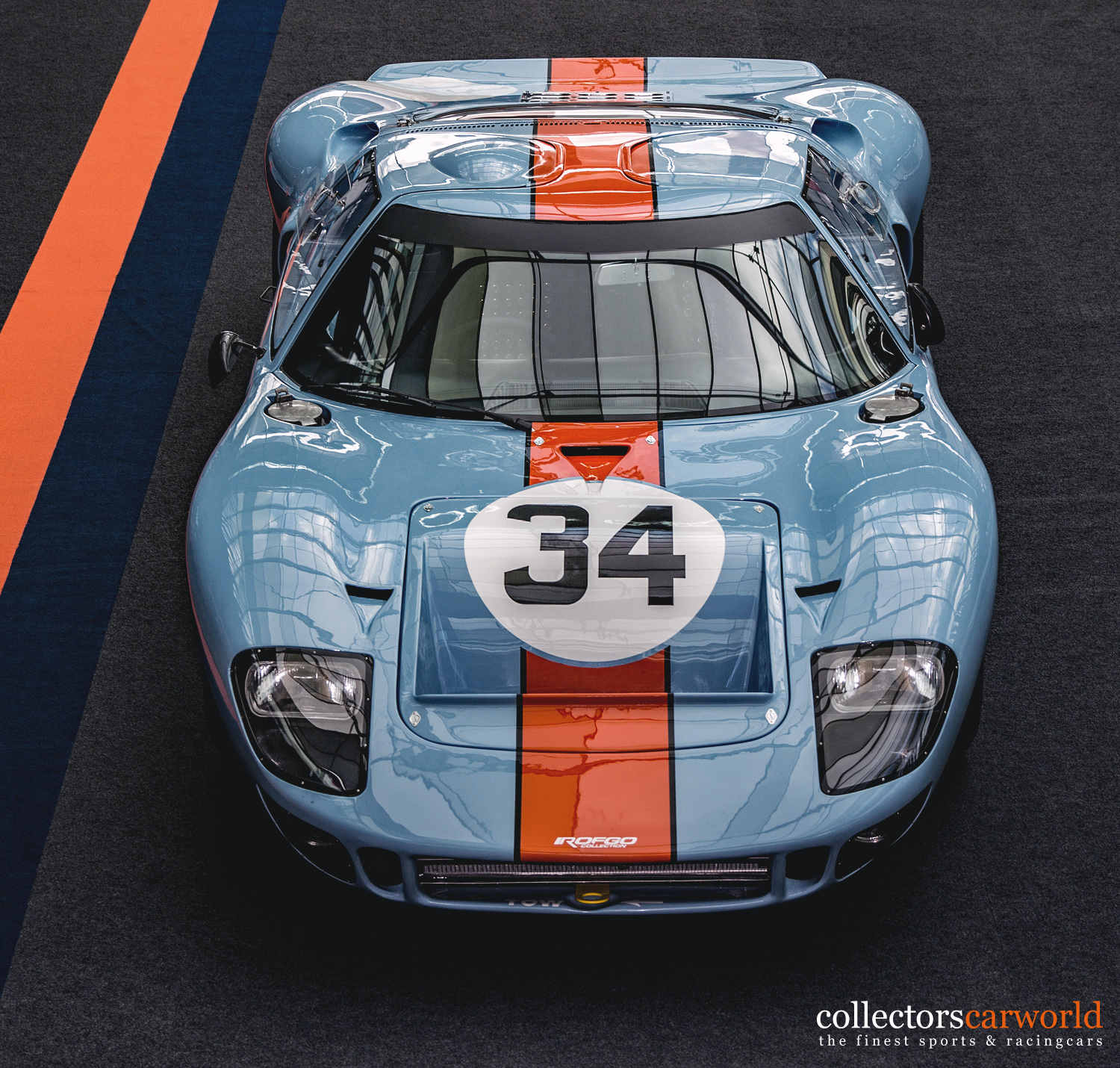 While P/1004 was languishing in storage, another GT40s won Le Mans in 1966 (Chris Armon and Bruce McLaren in a MK II) and 1967 (Dan Gurney and AJ Foyt in a MK VI). At the end of 1967, the FIA restricted prototypes to 3-litre engine capacity but created a new category for Competition Sports Cars. The new category allowed 5-litre engines but a minimum of 25 cars had to be built. The old GT40 was ideal for this category and John Wyer's JW Automotive built up three new cars for 1968, one a converted Mirage M1 and two were built up from original stock. Thus the old P/1004 chassis was pulled out of storage and was built up by JWA into a new car numbered P/1084. The cars initially used the original 4727cc engine but this was stroked to 4942cc as the season progressed. The team's main two cars were P/1074 and P/1075, but the Spa-Francorchamps in May for the 1000km race P/1084 was raced by Paul Hawkins and David Hobbs to fourth place.
A month later, Gulf GT40 chassis P/1075, driven by Pedro Rodriguez and Lucien Bianchi, won a third successive Le Mans for Ford and the following year P/1075 won again, driven this time by Jacky Ickx and Jackie Oliver.
But before that final triumph, P/1084 had been retired again, being used for exhibition purposes in 1969 and then, in 1970, it was sold by Rodney Clarke who registered it as CPI 6H for road use.
---
Report by rofgo.com
Photos by Rainer Selzer / collectorscarworld.com and rs65photos.com
---