A new Masterpiece in the world of automotive – with the world premiere of the BRABUS ROCKET 900 "ONE OF TEN" based on the Mercedes-AMG GT 63 S 4MATIC+, Brabus is creating a strictly limited edition of just 10 vehicles under the BRABUS MASTERPIECE label.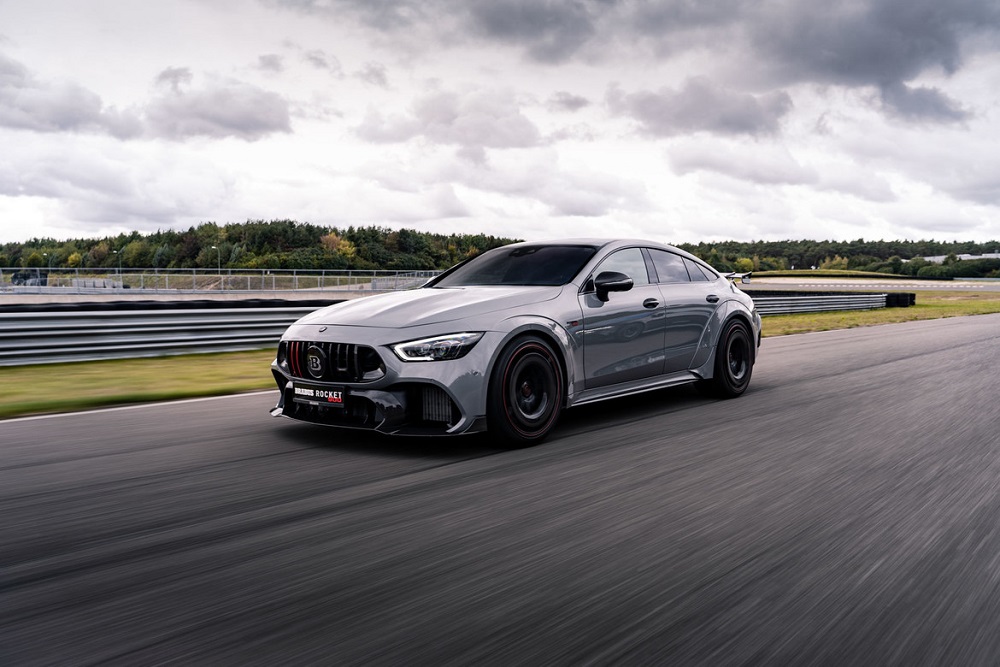 At the heart of this BRABUS top-of-the-line automobile is the new BRABUS ROCKET 900 Biturbo V8 increased-displacement engine, which thanks to the displacement increase to 4.5 liters and a new high-performance forced- induction system delivers a peak output of 662 kW / 900 hp (888 bhp). Although the engine produces a peak torque of 1,250 Nm (922 lb-ft), it is limited in the vehicle to 1,050 Nm (774 lb-ft).
---
In combination with the SPEEDSHIFT MCT 9-speed sports transmission and all-wheel drive, the four-seat coupe slings itself from rest to 100 km/h (62 mph) in just 2.8 seconds. The car reaches 300 km/h (186 mph) in just 23.9 seconds. Due to the tires, the top speed is electronically limited to 330 km/h (205 mph).
In order to put the tremendous power of the new BRABUS increased-displacement engine onto the road optimally, the BRABUS ROCKET 900 "ONE OF TEN" is equipped with extremely wide Monoblock Z wheels with diameters of 21″ on the front and  22″ on the rear axle. High-performance tires are supplied by there technology partner Pirelli.To create space for them, the BRABUS designers developed a carbon widebody with thrilling styling. The matching aerodynamic-enhancement components were developed in the wind tunnel. They produce more downforce and thus increase the handling stability at high speeds.
---
The color "Stealth Grey" is also found in the MASTERPIECE interior of the BRABUS ROCKET 900 "ONE OF TEN," which is tailored to the wishes of its future owner by experienced master upholsterers in the BRABUS Manufaktur in Bottrop. The BRABUS MASTERPIECE badge on the backrests documents the noble origin of this cockpit.
The gray seams and piping of these exclusive leather appointments add delicate contrasts to the fine royal black leather and Alcantara. Gray decorative stitching likewise demonstrates the great love of detail in these BRABUS MASTERPIECE appointments. The seat surfaces and inner sections of the door panels feature a quilted "Crest" coat of arms pattern applied with pinpoint precision. The same precision went into the additional perforations and the gray backing of the leather in select places. The floor mats and the trunk mat both also sport that same design.
As part of the collaboration with the technology partners, Brabus use the following products for there development cars:
---
Report by brabus.com
---