Sometimes everything is so near and so close that it's enough to just open a door – and we gaze out at a new universe.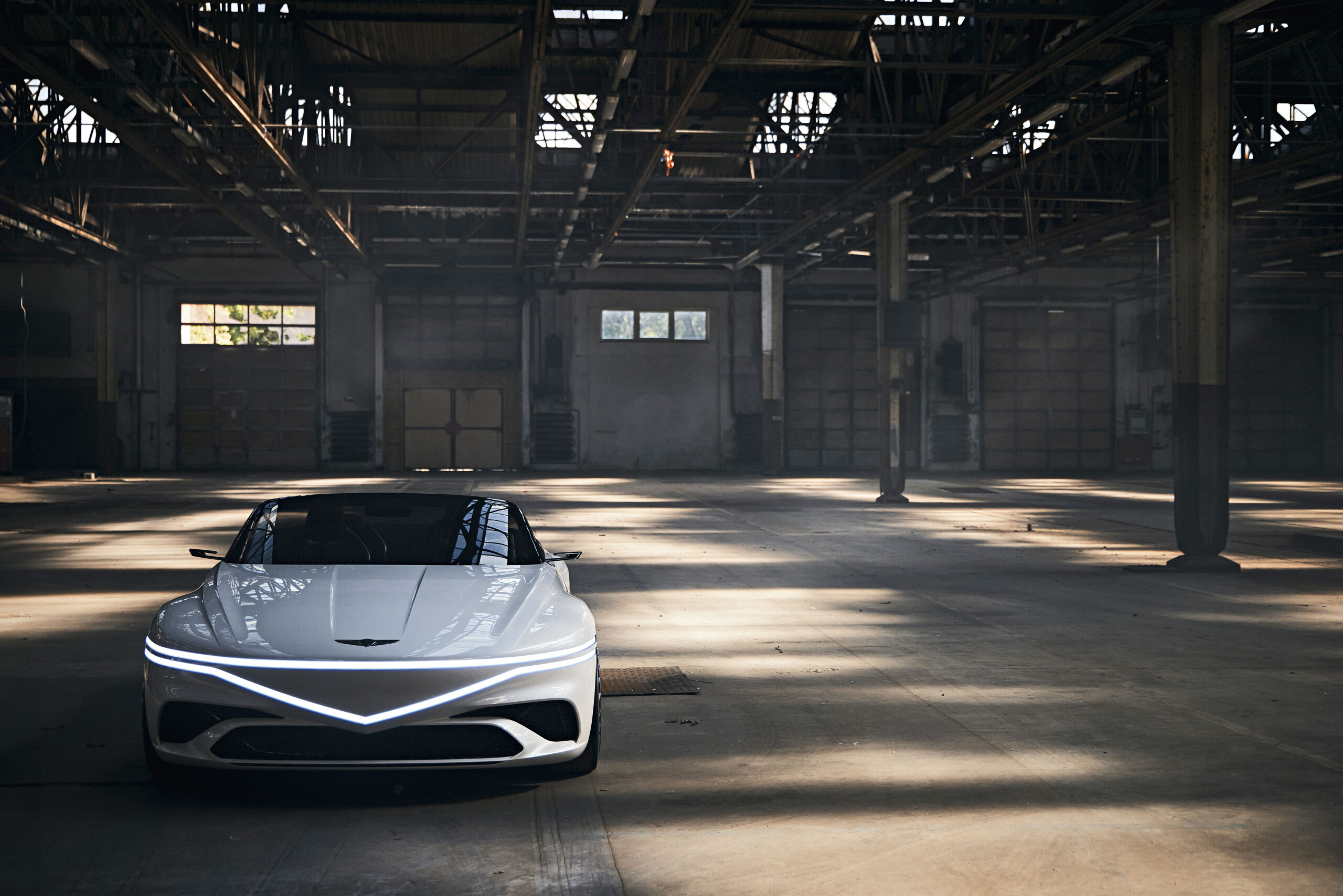 Genesis, Hyundai's premium luxury brand for athletic yet elegant design, for the first time gathered all the representatives of its X Concept trilogy together for us, watched over by the GV80 Coupe. 
And suddenly the firmament seemed immense, and the light was divided from the night …
Athletic Elegance. Parabolic Line. Hourglass Silhouette. Three wonderfully self-explanatory terms that Luc Donckerwolke, officially Chief Creative Officer for the Hyundai Motor Group, gives us as universal tools for understanding what we have before us. After all, we are presented here with four corporeal designs that must first be situated in space, time and origin.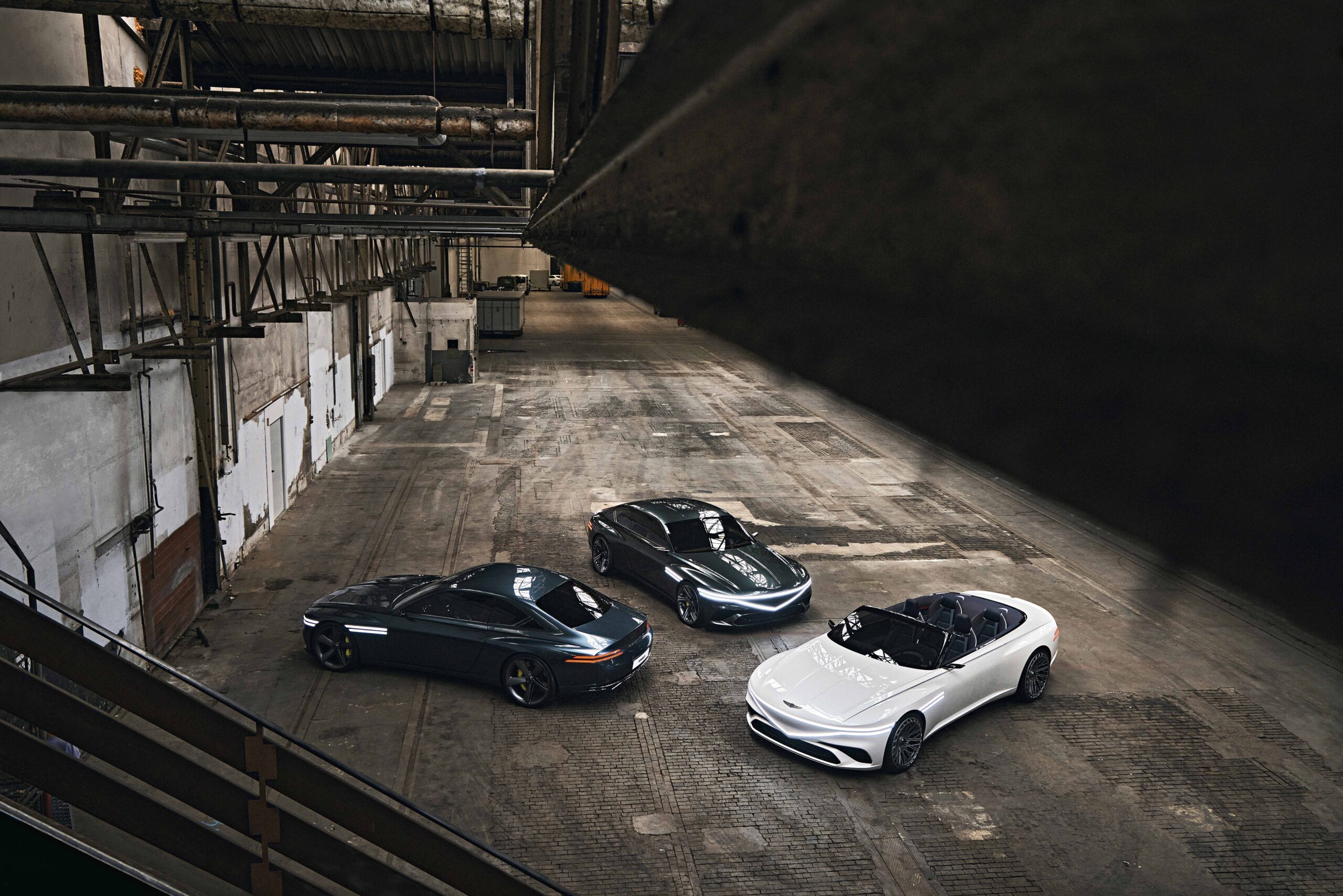 The space: Triebwerk München, a former railway repair shop – a place where things get done.
The time: the ever nearly tangible present.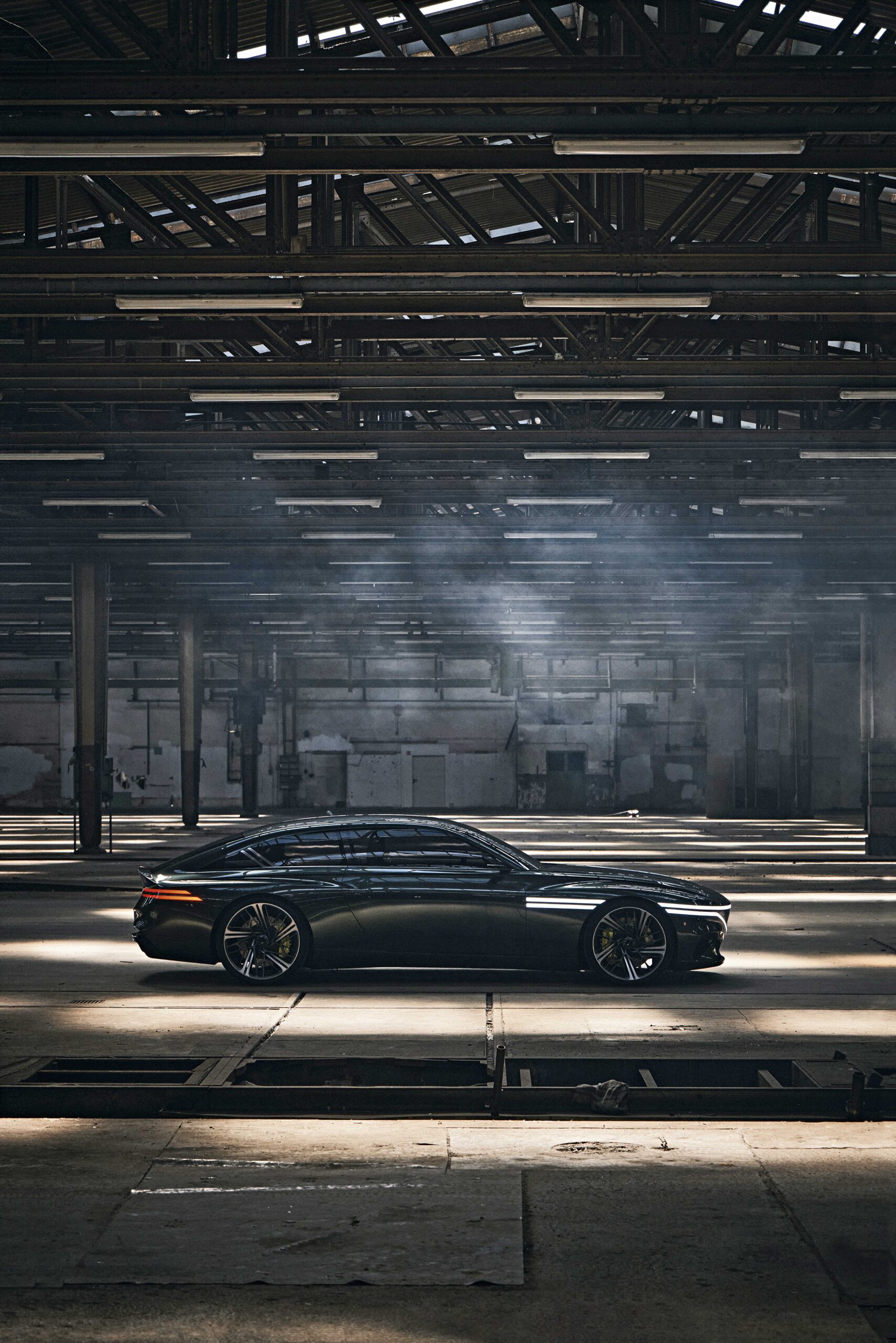 The origin: Hyundai, the global automotive group, represented by its design spearhead Genesis. On display here are the Genesis X Concept trilogy (GT Coupe, Speedium Coupe, Convertible), accompanied by the GV80 Coupe Concept high-performance SUV with its four carbon fiber bucket seats and uncompromising G-Matrix racing-style strut brace. These are, as Donckerwolke points out, not show cars in the traditional sense, but moments in time made real, to show the way into the electric future – the Genesis Way, you might say.
"We are giving each design element space to breathe," says Donckerwolke. After his ascent through the European brand cosmos, the Chief Creative Officer has once again docked at Hyundai, holding a position that hopeful design students could not have imagined – given that a creative function with such authority had never existed before. As President, he reports only to Euisun Chung, the Executive Chair of Hyundai Motor Group, whose full support he enjoys. For example when people criticized his rigorous designs: "Have you talked to the customers from 2030? No? Then you should do that!"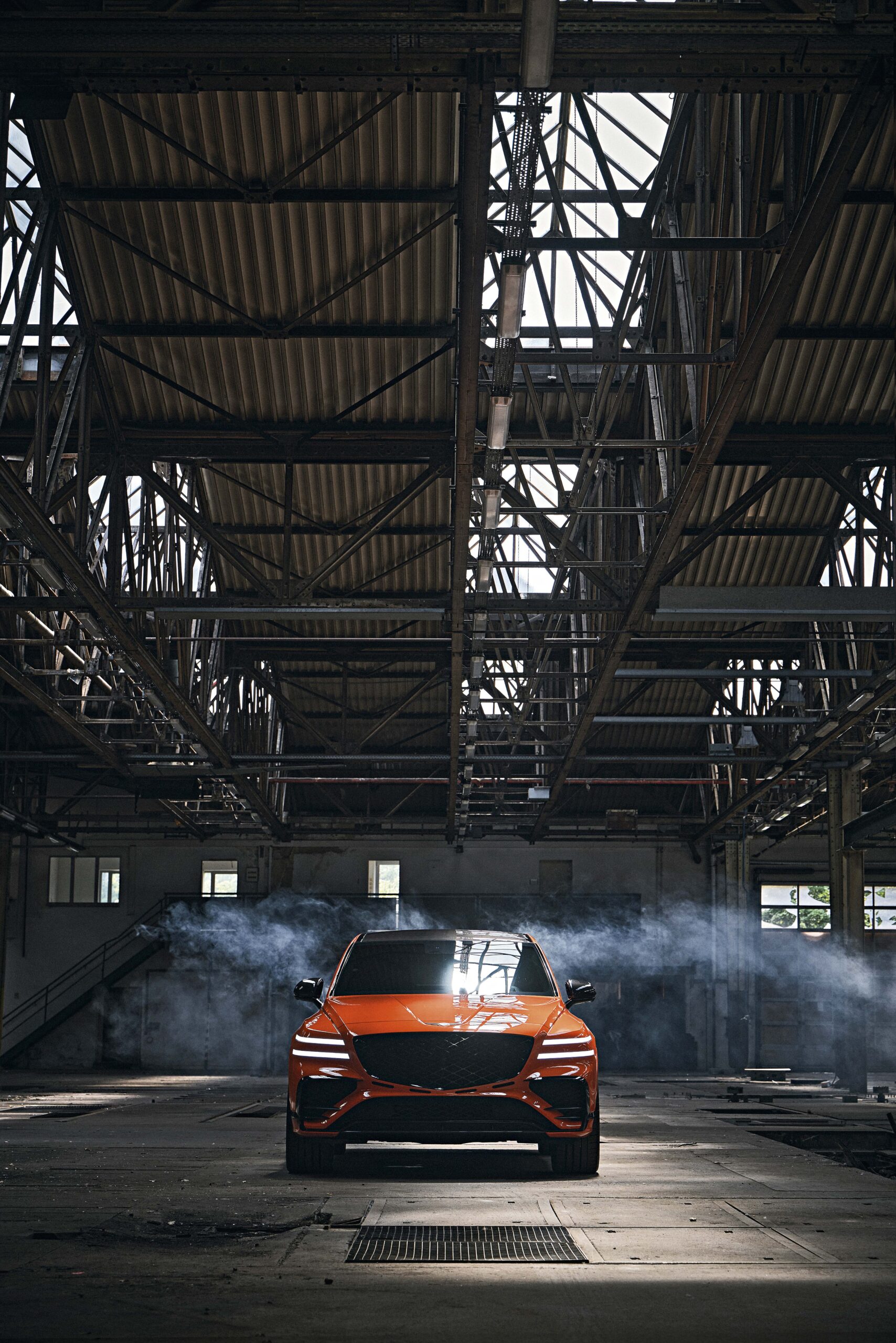 How does Luc Donckerwolke define the path to realizing the laid-back luxury of the future? "Quite simply and to the point: space, time and a sense of calm. It's not only about material things. The greatest danger is being seduced by this and doing something just because you can. But what really matters is something that is still prized greatly in Asia and which we seem to have lost sight of in Europe: hospitality."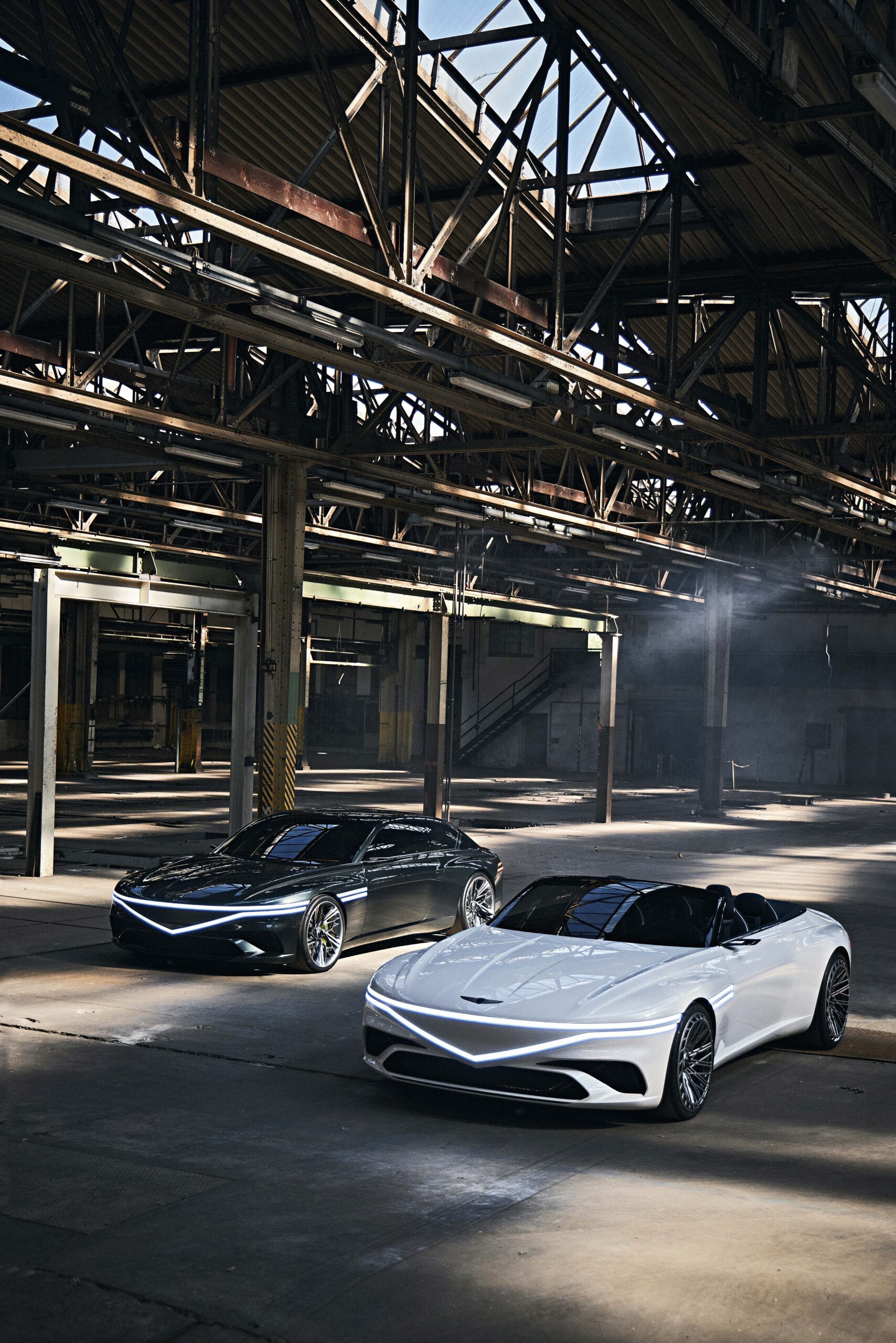 Hospitality also includes an all-embracing sense of devotion, which is particularly evident in the lovingly detailed solutions that are offered here as naturally as in a luxury hotel with unobtrusive yet extremely personal attention. There's the Mood Curator system, for example, which envelops you in a custom-orchestrated atmosphere in the interior using the right blend of fragrances, ambience and sound as you relax in the rear seats and have your feet massaged. And if you feel like you're sitting in your own personal concert hall, that's because the new high-performance sound system was designed by sound master Guk-il Yu of Metal Sound Design.
Hospitality, my dear.
The all-electric X Concept trilogy is clearly positioned for high-voltage fun: The Genesis X Concept is a grand tourer for the leisurely journey into the brand's future. The Genesis X Speedium Coupe embodies the fast and sporty way of getting there. And the Genesis X Convertible Concept stands for heightened emotions with the top down, thanks to an architecture without mechanical distractions to create a level of freedom that has never before been seen in a car. Genesis calls its X Convertible an "open-air theater", where the occupants themselves become actors in a play. "Innovation is the catalyst to becoming more engaged with the environment around us," says Donckerwolke. Genesis has certainly succeeded in creating innovation – as well as a beautifully set stage with a color scheme that reflects traditional Korean craftsmanship: Giwa Navy, named after the color of the roof tiles on Korean homes, is worked into the ­interior as an attractive blue contrast to the naturally soft semi-aniline leather. The Dancheong Orange of the contrasting stitching was inspired by the ornamental coloring of traditional Korean wooden houses. The outside world has been beautifully transferred into the interior here, encouraging us to rediscover these inspirations as we pass by.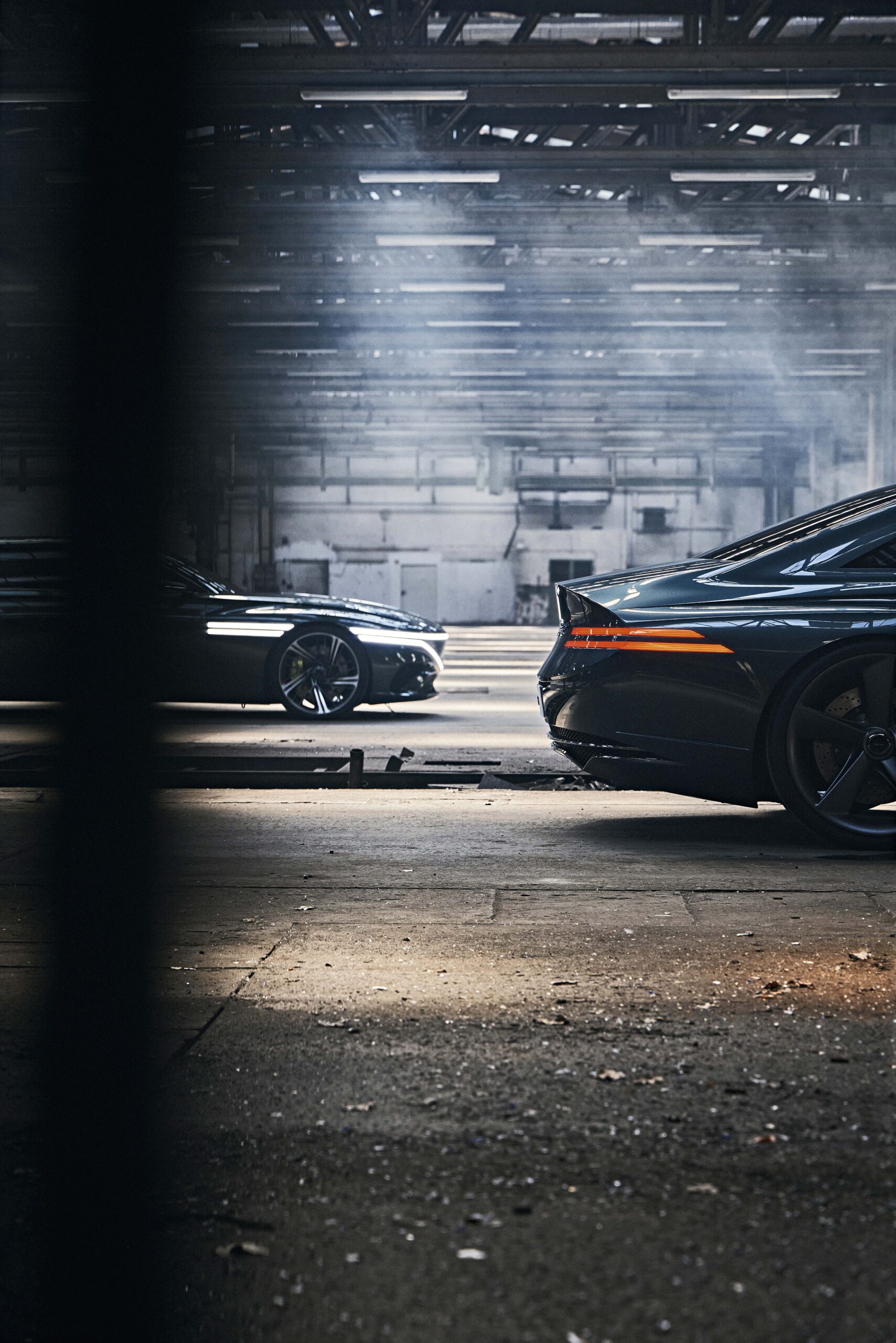 The Parabolic Line spans all four models with its unique way of creating a sense of tension and momentum, timeless and aggressive at the same time. The elaborate X Speedium Coupe is a good example of this and the best way of illustrating the designer's intention. Let's just take Luc Donckerwolke at his word: "This car is like an open door to the future of Genesis design. It isn't a show car. Instead, it offers our friends and customers a snapshot of the moment, a glimpse into the ongoing design process. It shows exactly what we are thinking and feeling, how we want to help shape the future by pursuing carbon neutrality, Genesis' target for 2035."
If only we could all express our feelings with such clarity and style.
Text by David Staretz
Photos by Matthias Mederer · ramp.pictures/ Peter Schreiber
ramp #62 Wild Things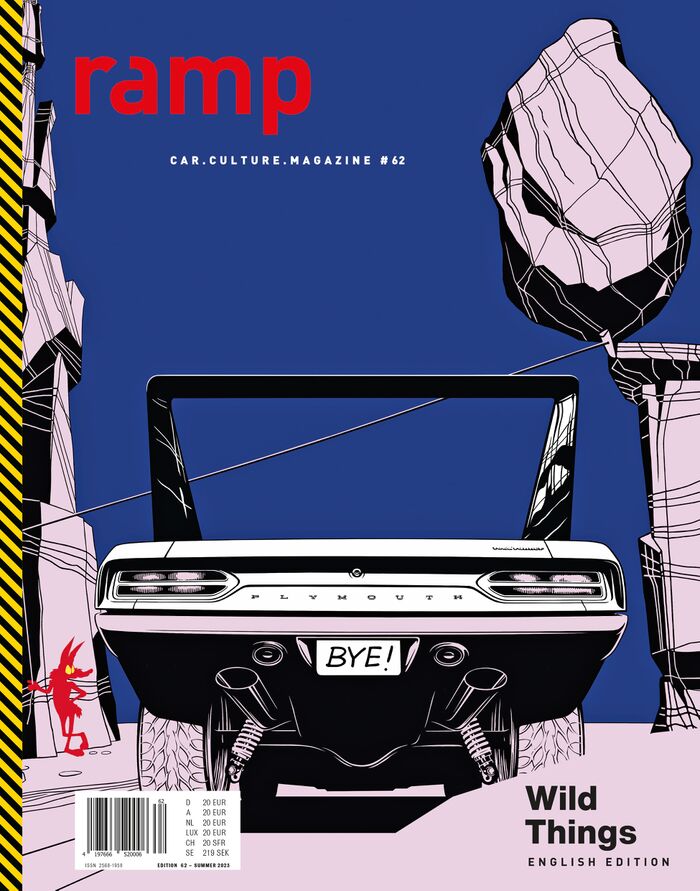 Just heading along, the journey itself a wonderfully blank page that presents itself to us with a cheerful unpredictability, as an inspired playing field for trial and error, for curiosity and spontaneity, unexpected surprises and flights of fancy. Wild and untamed. Just like life itself. Find out more