Written by Richard Adatto, noted expert on French coachbuilders, and co-writer Diana Meredith, Figoni on Delahaye pays homage to the artistic genius of Joseph Figoni and the beautiful bodies he both designed and built for Delahaye. The book shows the evolution of his creative process, illustrated through his pen and pencil drawings and designs. He also used clay models and truescale wire mock-ups mounted on the chassis, but only his drawings and a small wooden model survive.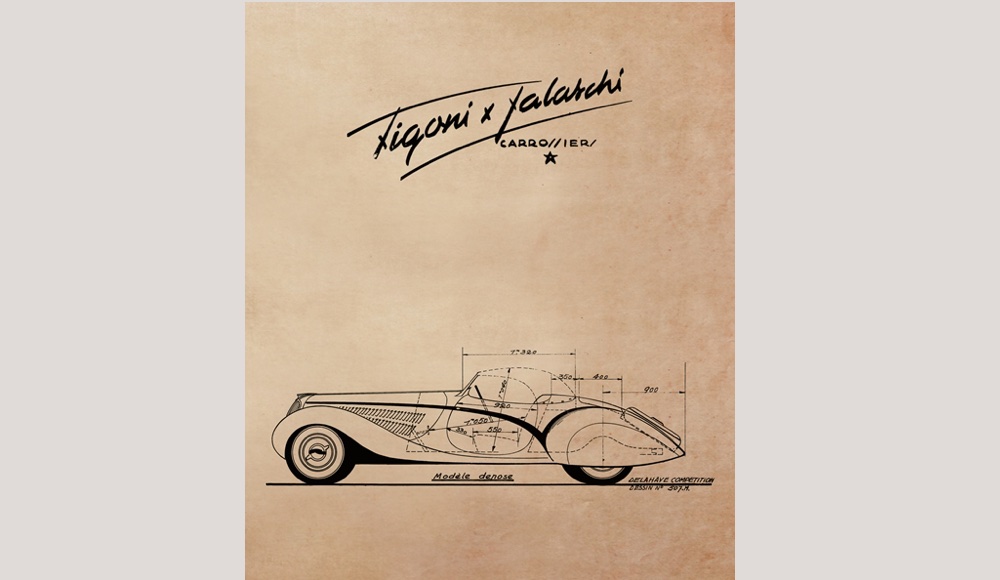 Today, modern photographs, many by renowned automotive photographer Michael Furman, allow us to appreciate the unique features of these decades-old cars, now restored to their original splendor. In addition, the notebooks, vintage photographs, and historical documents in the Figoni Archive help tell the full story of many cars. Over fifty Delahayes are featured in detail, each with striking Figoni coachwork. Many drawings, several never published before, are included in a unique appendix to the book, entitled Joseph Figoni's Designs and Drawings.
Claude Figoni, Joseph's son, provides a vivid account of his father's humble beginnings, his growth as a craftsman and artist, his difficulties during World War II, and his eventual recognition as France's premier coachbuilder. Figoni on Delahaye also includes Richard Adatto's personal recollections of his encounters with car owners and admirers, of finding cars long believed lost, and of meeting restorers and historians whose passion for Figoni-designed cars equals his own.
In August 2023, in recognition of the influence of the ideas of Joseph Figoni on the custom coachbuilders of the 1930s and beyond, the Pebble Beach Concours d'Élégance will celebrate the 100th anniversary of Carrosserie Automobile Joseph Figoni. The event will feature three classes of Figoni-bodied cars in the largest exhibit of Figoni coachwork ever assembled. The occasion will be a fitting tribute to an extraordinary artist and visionary.
Author Biography
RICHARD ADATTO is one of the world's experts on French aerodynamic cars. He sits on the Advisory Board of the Pebble Beach Concours d'Élégance, where he has acted as a judge for over 35 years. He is also a judge at the Concorso d'Eleganza Villa d'Este and the Salon Privé Concours d'Élégance in the United Kingdom. Mr. Adatto is the technical advisor for the Classic Car Club of America on French-built cars and the American correspondent for the French Delahaye and Talbot-Lago clubs. He has authored or co-authored six books, and his articles and scripts have appeared in major magazines and automotive TV programs. Mr. Adatto lives in Seattle, Washington.
DIANA MEREDITH is an interpreter, translator, editor and writer working in English, Spanish and French. She and Mr. Adatto are co-authors of Delage Styling and Design (2005) and Delahaye Styling and Design (2006). During her extensive travels, she has researched and uncovered original sources and information related to the automotive industry with a focus on the period before World War II. A native of Chile, Ms. Meredith is based in Seattle, Washington.
MICHAEL FURMAN is renowned for his studio photography of the world's great classic and sporting cars. For more than 40 years, his work has been seen in numerous publications, among them his many titles for Coachbuilt Press and publishers Assouline and Taschen. His photographs often appear in museum and gallery exhibitions in all parts of the globe. Mr. Furman is a founding Board Member of the Radnor Hunt Concours d'Élégance and serves as creative consultant to other automotive events and publications. Mr. Furman lives in Philadelphia, Pennsylvania.
Click here for further information
more information: daltonwatson.com
Studio photography by Michael Furman
---