To truly immerse yourself in the unique ambiance of Patmos, your destination should be Chora. This Byzantine citadel encircles the fortified monastery of Saint John and holds a distinct energy.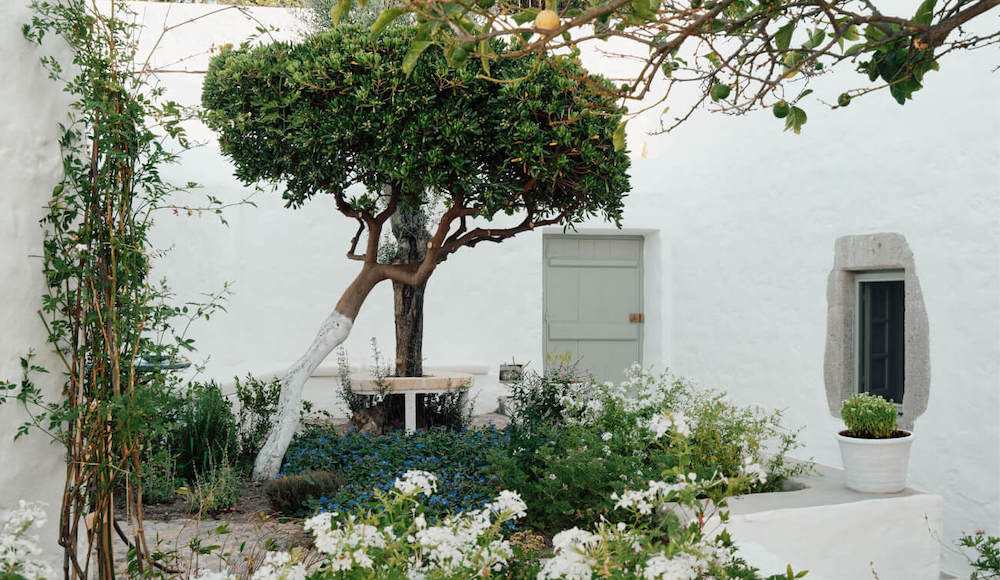 The robust mansions, characterized by their sturdy walls, concealed courtyards, and charmingly uneven terracotta floors, stand as some of the most desirable properties in the entire Mediterranean region. Unless you manage to convince one of the European aristocrats or the affluent Greek elite to let you borrow or rent their summer residence, there remains just one accommodation option in Chora: a three-bedroom guesthouse dating back to 1597, meticulously refurbished with a deep appreciation for its historical significance in 2022.
The Accommodations
Each of the three expansive bedrooms narrates its own tale through a meticulous fusion of antiques, custom-crafted woodwork, and handwoven textiles. The unassuming bathrooms, adorned in sleek Patmian stone, showcase reclaimed marble sinks and handheld showers. It's the sophisticated little details that enhance the overall experience: linen-bound notebooks for spontaneous notes or sketches, a daily delightful surprise tucked in the fridge, signature scented candles designed by Lyn Harris, and fringed beach towels so luxuriously soft they could easily double as shawls to ward off the evening's cool breeze. The minimalist yet inviting atmosphere encourages tranquility, yet the chance to socialize is readily available. Guests share access to the walled garden, three terraces, a dining room, and a kitchen. However, the abundance of shaded corners ensures that mingling remains a choice, not an obligation.
Culinary Delights
Served at any time and in any location, breakfast unfolds as a sequence of seasonal indulgences. Most ingredients, aside from the Fortnum & Mason's tea, are procured from Patmos or the neighboring islands—yogurt, eggs, tangy goat's cheese, heather honey, and tsoureki (Greek-style brioche). The delectable preserves are lovingly crafted by Gregoris' mother, Mouki. The delightful table settings change daily; on breezy days, a ceramic swallow holds my lace-trimmed napkin steadfastly in place. During aperitivo hour, chilled bottles of local biodynamic wine accompany charming platters featuring fig salami, cherry tomatoes, cheese, and grapes, all presented on the rooftop terrace as the horizon adopts a lavender hue. The minimal yet well-stocked kitchen, adorned with pale stacks of custom-made tableware, offers a pleasant space to assemble a salad or a quick bite. For those renting the entire house, the option of a full-time chef is available upon request, or one can opt for a simple supper of comforting Greek cuisine, prepared by a Patmian grandmother whose identity remains a closely guarded secret among Chora's homeowners, who take immense pleasure in hosting.
Click here for further information
more information: pagostas.com
---