Car owners trust Canepa´s motorsport team to deliver the expertise to restore and run their vehicles at the highest level.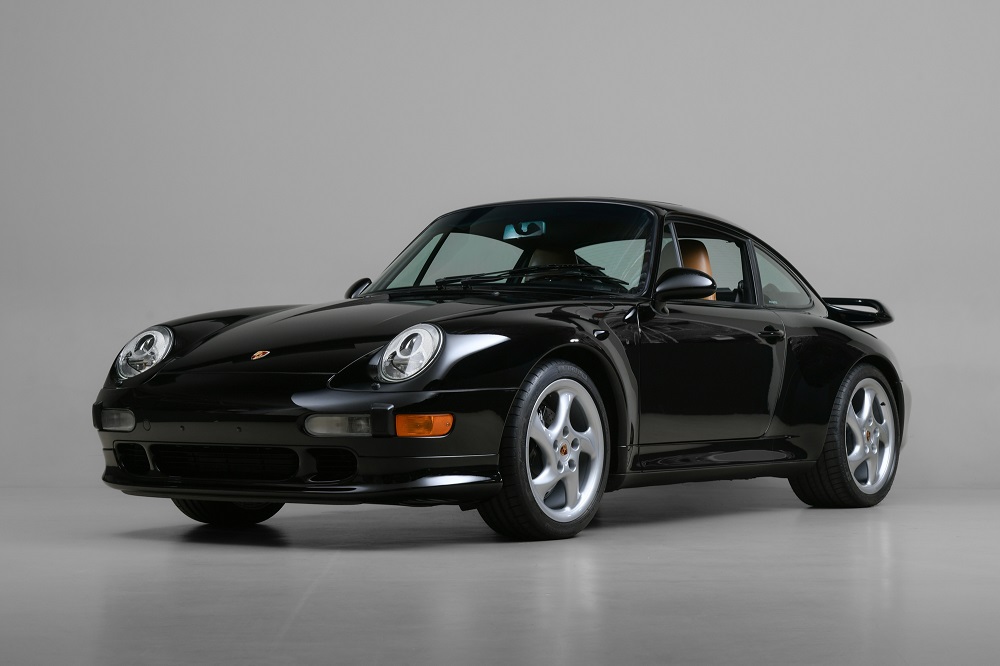 ---
1998 Porsche 993 C2S
With 1998 marking the end of the Porsche 993 generation, people were eager to purchase the final production of the air-cooled Porsche. Designed from the ground up both mechanically and cosmetically versus the previous 964 generation, the 993 was considered the best driving built 911 to date. The fervent buyers and collectors believed that this was the 911's final triumph since they were unsure of what the new water-cooled 911s would offer. Those who were fortunate enough to purchase a 993 in the final year of manufacture were treated to the greatest driving experience a Porsche could provide, with all the improvements and refinements you'd come to expect from a company like Porsche.
This 993 was first sold in California on January 28, 1998. The car came with multiple added options, including touring suspension, sound package, Comfort leather seats, full aero kit as well as stainless steel door entry guards and AM/FM Radio with CD Player with anti-theft coding. During the course of 18+ years the vehicle had only changed hands a few times among owners who were well aware of how special this 993 is. With an average of less than 1,000 miles per year it's apparent that each of the previous owners only seldomly drove the car to preserve its excellence.
---
1997 Porsche 993 Turbo
Introduced to the automotive world in 1995, the Porsche 993 Turbo quickly became an immediate classic. With an air-cooled 402 horsepower twin-turbocharged flat-six engine, sending power through its 959-derived all-wheel drivetrain, these cars quickly became known for their awesome real-world performance. With the ability to outperform sports cars double the price, the 993 Turbo was an ultimate tour-de-force of performance, technology, and comfort.
This spectacular 1997-year model 993 Turbo was manufactured at Porsche's Stuttgart factory in October 1996 in the stunning color combination of Arctic Silver metallic paint over a Classic Grey Leather interior. Delivered to its original Californian owner the following month, November 27, 1996, it was ordered with the additional options including electric sunroof, automatic speed control, and Becker Porsche CD-radio.
---
1988 Porsche 959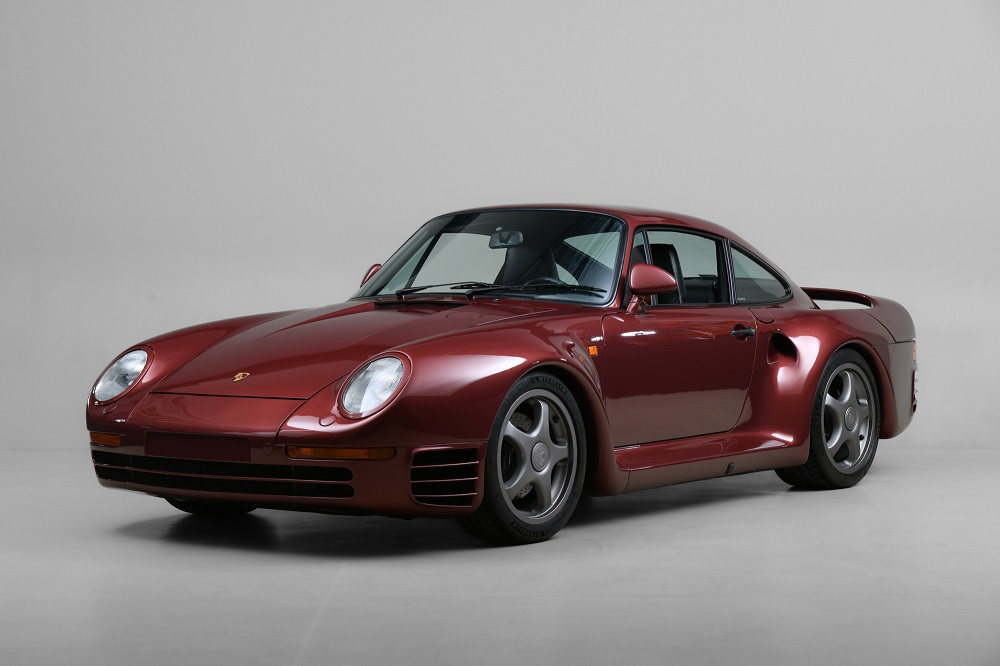 Finished at the factory on April 13, 1988, this 959 was special ordered with "Paint to Sample" Garnet Metallic paint. First registered in England on June 1st 1988, its first owner would keep the car until 2003. After being fully serviced at the Porsche Center Reading in England on July 24, 2003, with 3979 km on the odometer it was sold to its second owner.
The car remained in England, and when it was inspected in September of 2003 it had only 3,988 km. Over the years the car was cared for in a private collection before being brought to the United States by Canepa. During its time here, this 959 underwent Canepa upgrades: 959S type suspension, new Canepa 18" Magnesium hollow spoke wheels with Michelin PS4 high-performance radial tires, full black leather custom interior upgrade, Porsche Classic Radio, and complete mechanical systems recommissioning.
---
2019 Ford GT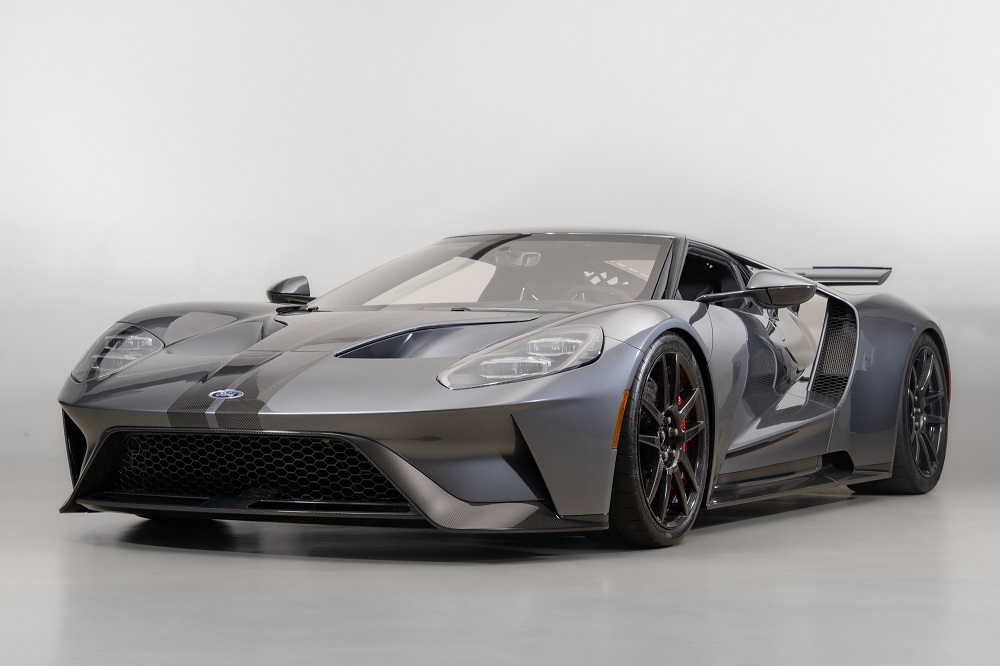 "Innovation in design meets pure performance in this return of the legendary Ford GT." The Ford GT story follows a 50+ year timeline. The original Ford GT40s were built to break Ferrari's seemingly unshakeable grip on the 24 Hours of Le Mans race. In 1966, they took 1st, 2nd, and 3rd place at Le Mans, proving that Ford, an American manufacturer, could run with the European contenders and dominate them. The Ford GT name would lay dormant for almost 40 years, seeing its revival in 2004 with the new Ford GT road cars. These were developed to be street cars first, comfortable and easy to drive, with 550 horsepower to enjoy. Fast forward to 2015's Frankfurt Motor Show, and the all-new Ford GT is revealed. It is announced that the Ford GT is set to go racing in both IMSA and the World Sports Car series, spearheaded by the Chip Ganassi Racing team. Much like the fateful race at Le Mans 50 years ago with Ford's triumph, Ford's GT under Chip Ganassi Racing took to 1st in class at the 24 Hours of Lemans in 2016, cementing the modern car's place in racing history as its predecessor had done before it.
This 2019 Ford GT was ordered through Galpin Ford, Van Nuys, and was optioned with the $70k "lightweight" Carbon Series package. The car is finished in Liquid Grey (a $5000 option) with a carbon and alcantara suede interior. Its 647 hp and 550lb/ft of torque comes from a mid-mounted, twin-turbocharged 3.5L EcoBoost V6 paired with a seven-speed dual-clutch transaxle. The car is wrapped in paint protection film, ceramic coated, and fitted with a windshield protection film ($10,000 value).
---
2000 Argosy Transcoach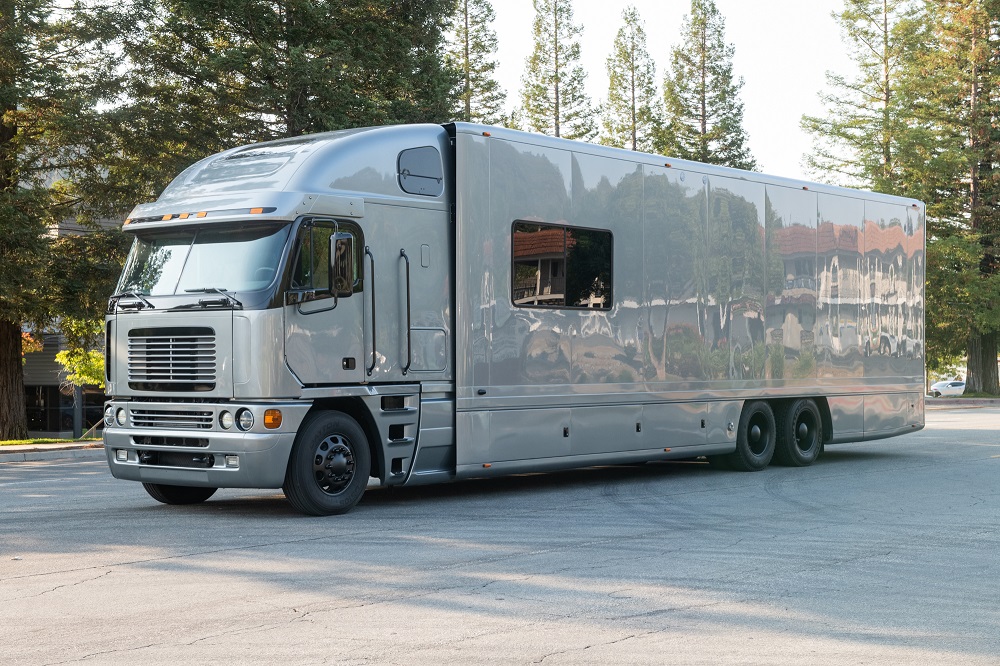 Concept Transporters has never been known for building the average, the minimum, or the basic. When Bruce Canepa founded the company, he envisioned bringing his design skills and intense attention to detail to the trucking/transportation industry. 35 years working with major automotive and truck manufacturers, clients asking for projects that few could undertake and bring to reality, Concept Transporters has become synonymous with forward thinking, design, quality, ingenuity, and utility.
The vision of this project started with a Mercedes/Freightliner Argosy. The body was built from formed aluminum panels, incorporating a "rivet-less" design to maintain a sleek European exterior finish. The interior of the transporter was designed to be as flexible as possible by incorporating a number of special design features (allowing vehicle to be stacked two high). This includes adjustable decking for different sized vehicles, a 6,000lb hydraulic lift gate, generator system, air compressor, 110-220 electrical outlets, interior and exterior lighting. The entire rig's exterior was painted in a custom grey pearl metallic color.
---
Canepa Shop Walk – Week of November 11th, 2022
Take a trip through our work shops, vehicle showroom and the Canepa Motorsports Museum. Whether you're into Porsche, Ferrari, Mercedes-Benz, Lamborghini, BMW, Shelby or anything else in between, Canepa has a little bit of something for everyone.
If you are interested in more news click here.
---