Pendine is offering this Jaguar XK120 Roadster for sale. A beautifully restored, well prepared sports-racing XK120 Roadster with a bucket load of correct period upgrades.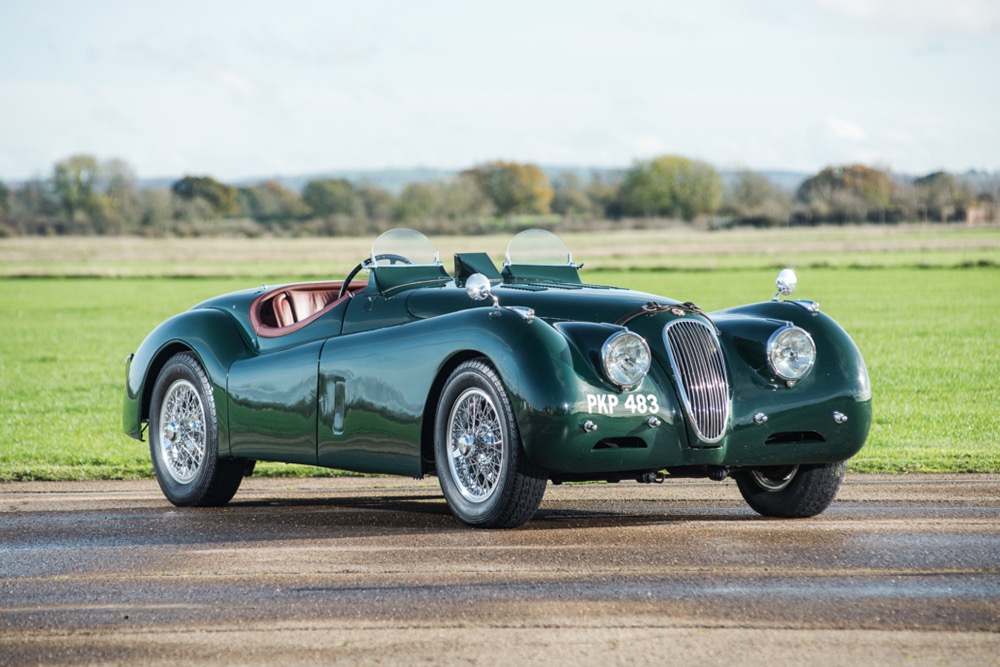 As soon as the XK120 was launched, it was raced; announced in the spring of 1949, there were already three cars competing at Silverstone in August that year. The factory in Coventry lead the charge, but there was a small army of privateers, with varying levels of professional experience, also working out how to get their new sports car to go faster. This lead to what many consider now the archetypical 'club racer', the fast road XK that one could drive to the race circuit in, compete, and drive home afterwards.
Chassis 660733 is very much in that idiom. An original Right Hand Drive Roadster, it was exported to the USA new, and supplied via Hoffman's of New York to dealer Jack Pry, Washington, to first owner Mrs Betty Swadley. What did Swadley want with a Right Hand Drive XK120 Roadster? In 1969 it was owned by Arthur Napolitino of Massachusits, before he sold it Larry Berman in 1978, a Jaguar enthusiast and – today – owner and collator a museum dedicated to Briggs Cunningham. Larry restored the car between 1980 and 1981, building a race car for historic racing. He built it with great attention to detail, making sure the upgrades were absolutely period correct, echoing the specifications of the Works and privateer teams from period.
This included an uprated C-Type head, original 2" Sand Cast C-Type carbs, an original C-Type steering wheel, louvered bonnet and Borrani wire wheels. Without its bumpers, now on wire wheels, and with an outside filler and bucket seats, it looks every part the racer that would have been seen at SCCA races throughout the US in the early 1950s. The specification was absolutely period, remaining on drum brakes and with a Moss gearbox, with the more popularist upgrades foregone. He kept a hand written note book of all the races and trips he made in the car, as well as a photographic record of the restoration and on-circuit action.
Larry competed every season between 1982 and 1988 before retiring the XK from historic racing. It was at this point he decided to turn his attention to National concours events, and undertook a two year nut and bolt restoration, to a level that ensured the XK was a serious contender. And it was. Over a period of four years, Larry showed the XK at numerous Concours events, his highest score being at the 1994 J.C.N.A National Champions, with a 3rd in class with 99.9133 points. He amassed some serious silverware over this period.
Larry sold 660733 in 1997 through a Christies auction, whereupon it came to Europe, before finally returning to the U.K. in 2017. Little used since, Pendine has recently recommissioned the XK with Guy Broad, spending £8,500, including fitting a new aluminium radiator, new exhaust system, new fuel tank and a service from stem to stern.
This period road rocket is a visceral driving experience. Period correct, it would almost certainly secure both a FIVA document and HTP papers. A beautifully restored, well prepared sports-racing XK120 Roadster with a bucket load of correct period upgrades and an absolute riot on the road.
Click here for further information  
---
collectorscarworld is partnering with the most renowned classic car specialists and dealer-ships in the world. We always offer selected rare and sought-after collectors cars and supercars for sale and every day a special car is featured for one of our partners. The passion for classic cars is diverse, sometimes it concerns the beauty of forms that can be admired at a concours, sometimes it is the smell of rubber , old leather and gasoline at a racing event or trip in the sunset.
Or its a classic car you have great memories with or which your parents owned a longtime ago. Classic cars and supercars are an expression of the lifestyle that someone shares with other petrolheads, and which is immortal, enduring and always a lot of fun. If you are looking for a special car or need support in the evaluation and history of cars, please contact us at info@collectorscarworld.com
---