Another day and another all-electric supercar has been revealed. This is the Deus Vayanne, just revealed at the New York International Auto Show. Though the name might not be familiar, there's some serious pedigree behind it, with Italdesign and Williams Advanced Engineering in on its development.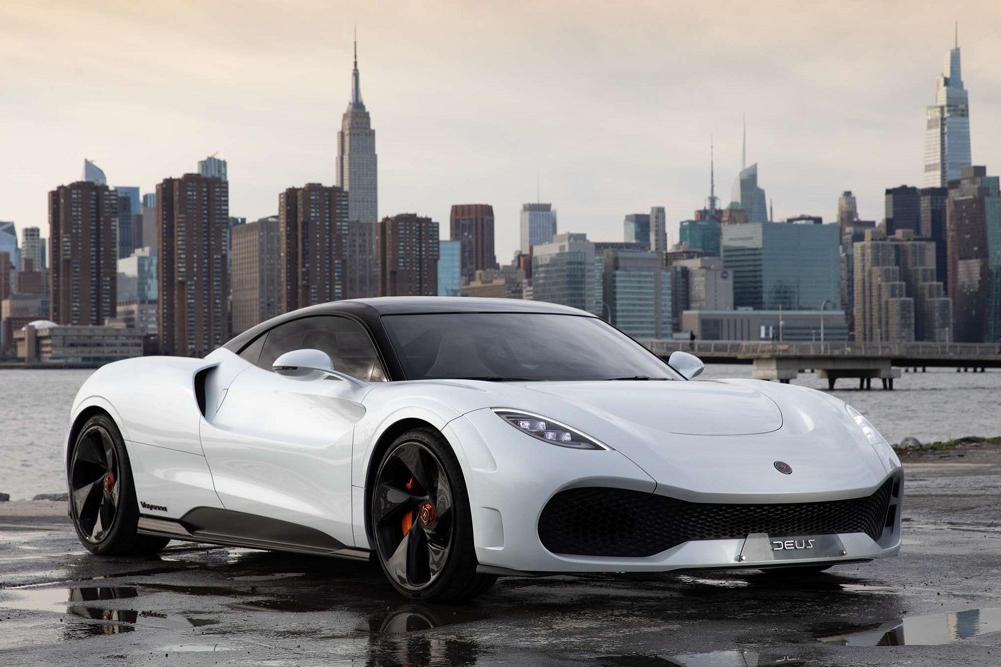 It's a pretty, if somewhat derivative thing, with a Koenigsegg-come-Lotus look at the front, a blacked-out glasshouse and 'infinity loop' grille. The profile, especially at the rear, mixes Lotus Evija and Mclaren P1, with the infinity design motif carrying on in the shape of the rear exit vent. There's a big emphasis on symmetry and flowing curves.
The numbers are none too shabby either, with 2,200PS (1,640kW) and 2,000Nm (1,475lb ft) expected. The associated performance ought to be borderline painful, with 0-62mph possible in under two seconds and a 248mph top speed. Exactly how that power and performance is to be achieved is yet to be determined, though as above Williams will be on hand to make it happen.
The Vayanne is described as a luxury electric hypercar, and as such, it'll need the cabin and accoutrements to match the performance. The interior will be trimmed in sustainably-prepared natural leather upholstery. Deus claims it'll be comfortable, and deliver "maximum daily usability in the hypercar class". It'll have good storage space and reasonable ground clearance, making it a "master of versatility". In the cabin we do spy a few borrowed bits, including some Audi column stalks and buttons.
Just 99 are planned for production, with first deliveries expected in 2025. Expect a price tag to empty a big banker's bonus cheque. Would you have this over a Lotus Evija, Pininfarina Battista or Rimac Nevera?
If you are interested in more news click here.
---