Meet the ARB Earth Camper – an unyielding and versatile trailer tailored for those who crave the off-road adventure with unmatched comfort. This robust camper is primed to conquer rugged terrains, empowering you to delve deeper into the wild while indulging in the finest amenities.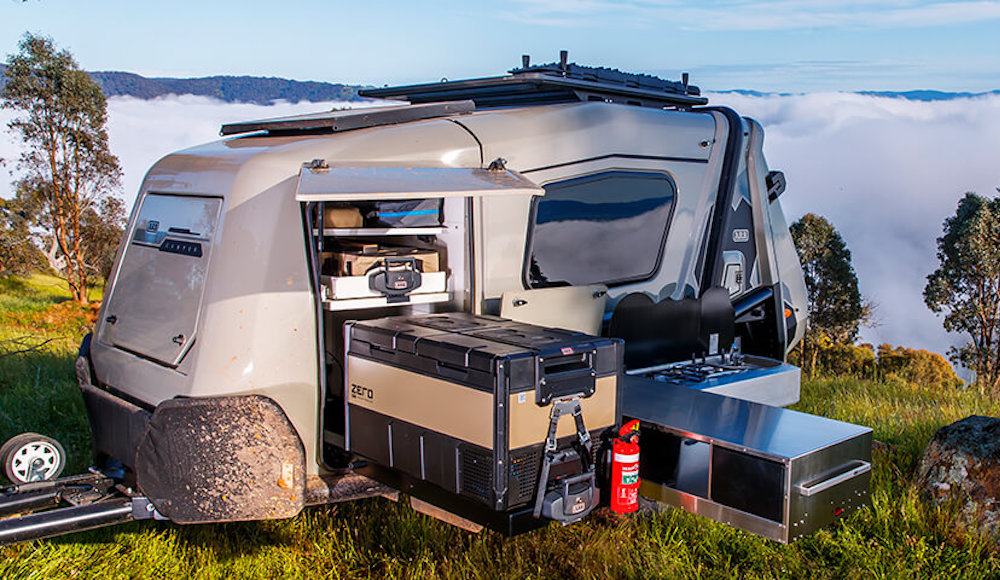 Crafted with a one-piece exoskeleton shell, the Earth Camper is a true survivor, purpose-built to withstand the most punishing conditions nature can throw your way. Embrace the freedom of exploration without hesitation.
The camper's rugged exterior unveils its secrets as the clamshell back elegantly folds down, revealing a raised hard floor. Capitalize on this feature by erecting a tent around the floor, transforming it into a fully sheltered haven for relaxation and dining. Enrich your camping experience and extend your journey amidst the wilderness.
Step inside to discover a generous 5-foot headroom, ensuring ample space for you to move freely. But that's not all – equipped with 120W roof-mounted solar panels and a 100Ah lithium battery, the Earth Camper is self-sufficient, catering to your power needs without compromising your off-grid lifestyle.
The interior is further adorned with a slide-out kitchen, offering convenience at your fingertips. Prepare sumptuous meals on the go with the three-burner stove and sink, elevating your culinary experience amid nature's embrace.
Don't sacrifice comfort when it comes to nature's call. The Earth Camper's thoughtful design includes a toilet and shower enclosure within an extendable tent, granting you the luxury of cleanliness and convenience during your escapades.
To cater to your individual preferences, the Earth Camper is customizable with optional awnings, side curtains, and other features. Blaze your trail, for this camper is ready to accompany you on the wildest and most thrilling journeys, providing both durability and the indulgence you deserve.
Click here for further information
more information: arb.com
---