Amalgam is delighted to reveal the next in their series of race weathered models at 1:8 scale. This hand-made limited edition of just 5 models depicts the Mercedes-Benz W196 Monoposto, precisely as it was raced by Sir Stirling Moss to his first Formula 1 victory at the British Grand Prix at Aintree Circuit on the 16th July 1955. Each model is accompanied by an archive quality Giclée print of the car as it crossed the line, selected by Amalgam from the Motorsport Images collection.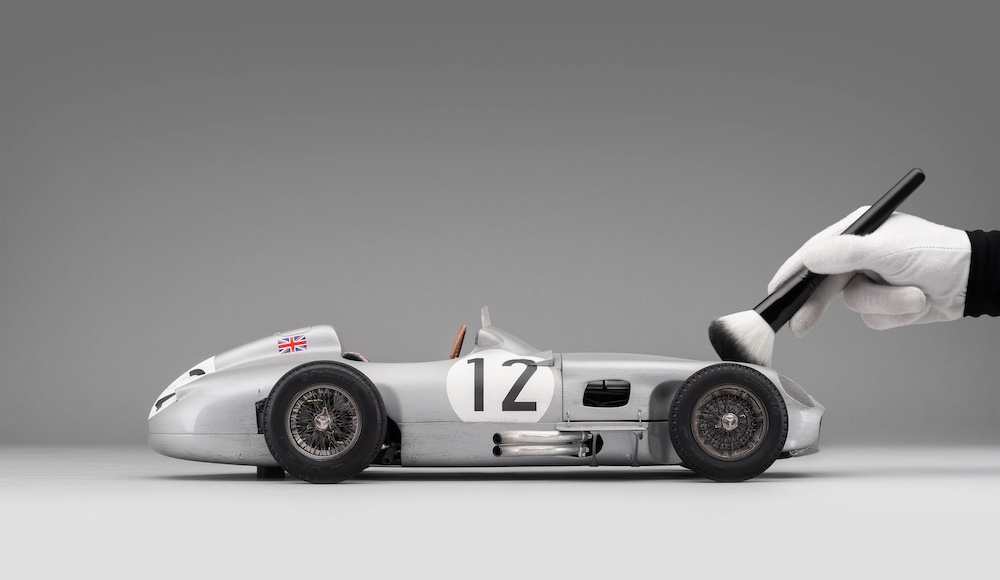 The race weathering has been applied by the artisans in their Bristol workshop, and exactly represents the #12 car as it reached the chequered flag. The artistry applied to these 5 models exemplifies Amalgam's commitment to creating beautiful hand-made pieces which fully capture both the spirit and precise appearance of iconic race cars at significant events.
A full twenty years after Mercedes Formula One Championship-winning year in 1934, the German giant returned to the sport with the W196 in 1954. It was no coincidence that this was the first year of the new 2.5 litre engine regulations meaning that a level playing field prevailed. Mercedes took a surprising and different route in their engine development, opting for a long straight eight configuration. This allowed the much smaller engine to rev higher and, combined with a Bosch-developed fuel injection system, allowed for 257 brake horsepower at the debut of the W196, rising to 290 bhp within a year of on-track development.*Winning the manufacturers' title in 1954, the 1955 season saw a new driver join the team alongside Fangio; a young Stirling Moss. Yet again, Mercedes' dominance was notable. This model is of the car raced to victory by Stirling Moss at the British Grand Prix at Aintree in July 1955. He led a group of four W196 Monopostos that took first, second, third and fourth places at this new British Grand Prix venue. This was to be Moss's first Grand Prix win.
This fine 1:8 scale model of the Mercedes-Benz W196 Monoposto has been handcrafted and finished in our workshops with the co-operation and assistance of Mercedes-Benz regarding original finishes, materials, archive imagery and drawings. The use of supremely accurate digital scanning of the original car has allowed us to perfectly recreate every detail at scale. Furthermore, it has undergone detailed scrutiny by both Mercedes-Benz's engineering and design teams to ensure complete accuracy of representation.
Click here to pre-order your edition of the race weathered Mercedes – Benz W196 Monoposto
Report by amalgamcollection.com
---