Developed by Alpina in 1970 was a new lightweight version of BMW's exclusive 2800 CS Coupe, the 3.0 CSL. The 3.0 CSL designed specifically to meet the demands of racing, went into production in August of 1971. It featured a larger more powerful engine, a lighter 5-speed transmission, an aluminum hood, trunk lid and doors, as well as more powerful brakes, wider wheels, a sport tuned suspension and additional aerodynamic parts. It was homologated as a racer in Group 2 for the 1973 season.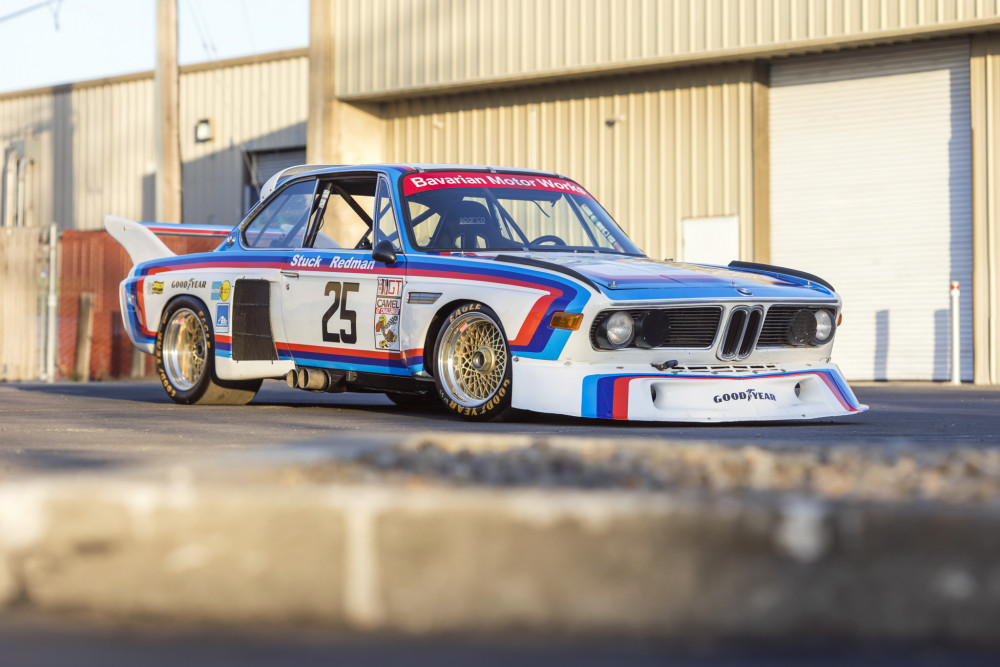 Under the leadership of Jochen Neerpasch, BMW had established its own in-house racing division. BMW Motorsport took over the development of the CSL from Alpina. They quickly evolved the 200hp two valve M30 inline six-cylinder engine into a 330hp M38. In 1973 the engine became the M52 with the capacity increased to as much as 3.5-liters, still with two valves per cylinder and an output of 370hp. In 1973 the aerodynamic parts that gave the CSL its nickname of "Batmobile" were homologated. Those parts included a deep front air dam, large rear spoiler, an air guide where the roof met the rear window and fins along the front fenders, which were wider along with the rears in order to accommodate wider tires.
In the midst of developing the M49 engine, the BMW Motorsport division was also building a series of CSL race cars. The 21 bodies were pulled from the production line at the Karmann plant in Osnabrück. In Munich the shells were fitted with a roll cage, racing suspension, a purpose-built motorsport engine and all the other accessories needed to make them ready for racing. The registry of each car built at BMW Motorsport since its founding is recorded in the Kommissionsbuch, these chassis were built in descending order from chassis number 2 276 000 to 2 275 980. Chassis #987 was one of four CSLs built to IMSA GTO specification. The CSLs started out in Group 4 configuration for 1975. Along with #988, it was one of the first two cars race by BMW Motorsport in the US. They ran at both Daytona and Sebring to open the 1975 season.
Taking over from the independent importer Max Hoffman, the newly formed BMW of North America began operating in November of 1974. The BMW IMSA campaign was a way to increase their brand awareness and serve as marketing for the newly formed BMW NA. In early 1975 BMW Motorsport rented shop space from NASCAR legend Bobby Allison. Two days before their first test at Daytona, they arrived at an empty metal building in Hueytown, Alabama. Technician Rudy Gmeiner stated, "First we had to set up the whole place. There was just the empty sheet metal building, and that was it!". Two weeks later was the Daytona 24 Hour race on February 2, 1975. American Sam Posey and Hans Stuck were assigned to drive chassis #988 wearing racing #24 and Swedish driver Ronnie Peterson and British driver Brian Redman were in chassis #987 wearing #24. Despite only having raced at Daytona one other time, Peterson recorded a lap time of 1:56.710 which put #987 on the grid in second place. Unfortunately, both #987 and #988 were DNFs in their first outing at Daytona, but with less than three weeks until the 12 Hour race at Sebring on March 21st, the team began formulating a strategy based off their Daytona experience.
Jochen Neerpasch instructed the drivers that Stuck and Posey would drive as fast as possible in #988 in order to "break ze Porsches!" as Brian Redman once reminisced and he and Allan Moffat were instructed to take it easy, meaning to run at 8,500rpm instead of the 9,000 rpm redline. The strategy worked and #988 forced the retirement of their archrival Peter Gregg/Hurley Haywood's Brumos Porsche. With #988 out of the race all of the drivers circulated into the driver's seat of #987, however Redman still ended up driving the bulk of the race. By the end of the race the car had a huge lead over the rest of the field, but was suffering from a failing wheel bearing, a dead alternator and 15 minutes before the checkered flag a rear axle temperature that was off the gauge. Redman limped #987 across the finish line after nine hours behind the wheel three laps ahead of the nearest competitor.
After scoring their first major victory on US soil in only their second race, the BMW team were ecstatic. They received a telegram from Munich conveying them congratulations from BMW chairman Eberhard von Kuenheim and the sales chief Hans Erdman Schönbeck. Unfortunately, the next months would not bring as much success with #988 crashing in testing at Road Atlanta and #987 suffering a rear hub failure that sent Sam Posey into the barricades forcing #987 to be retired for the 1975 IMSA season.
At Daytona in 1976 #987 in its Motorsport livery, but with an added "Hermetite" across the top of its windshield and #988 were joined by a third CSL. John Fitzpatrick and Tom Walkinshaw were assigned car #987. Fitzpatrick was in second place halfway through the race when electrical problems forced him into the pits. While #987 rejoined the race, it completed just 457 laps and placed 15th. After Daytona #987 was sent back to Munich where it was converted to Group 5 specification. With a new livery that reflected its Hermetite sponsorship, the latest M49 engine, and larger spoilers, #987 made its debut at the World Championship of Makes' season opener at Mugello in March, 1976. Fitzpatrick and Walkinshaw would finish 8th overall and 6th in Division 3. The next race at Vallelunga saw a 4th OA finish and a 3rd in class. A month later the #987 would take its first Group 5 victory in the World Championship for Makes at Silverstone. With another win later in the season at Zeltweg, BMW was able to take 2nd place overall for the 1976 season only 10 points behind its archrival Porsche. While the 1976 season would be the CSL's last as a BMW Motorsports racer, it ran again in the South African 1,000 Kyalami race. Not part of the regular season, the race paid for the transportation costs and start money to ensure a strong field. Unfortunately, #987 was forced to retire after developing a fuel leak on lap 99. Thus, its international racing career ended.
At the tie the CSLs were retired, BMW was not saving its old race cars. It reserved one IMSA-spec CSL, #984 for show and display, but the rest of the CSLs were put up for sale to privateers. After the race in South Africa, CSL #987 was sold to Hermosa Beach BMW dealer and racer Vasek Polak. Polak, who was also a Porsche dealer and racer had purchased both #987 and #988 but raced them only occasionally. After the cars raced in 1978 they were placed in storage where they would remain for nearly 20 years until the current owner, Henry Schmitt, approached Polak about buying one. Schmitt and Polak negotiated the purchase of #987 and a supply of spares shortly before Polak's death in an auto accident in 1997. His estate honored the deal however, and in June of 1997 Schmitt became owner of CSL 2 275 987.
In 1997 the cars racing history was largely unknown. With cars swapping race numbers and chassis numbers not being tracked as they are now, it made it difficult to ascertain its true heritage. Because Schmitt assumed his car to be just a Motorsport built IMSA CSL with no real race winning provenance, he began racing in the car in 1998. In 2005 he decided it was time to improve the CSLs performance and enlisted the help of Bill Watson's Road Rockets at Sears Point to aid him in the process. He wanted to update the car as much as possible within the vintage racing rules. The original engine was removed and set aside for preservation and an M30 cylinder block from a first generation 7 Series was used as its replacement. The new engine was fitted with the original components from the original engine to give the engine bay a look that is almost identical to the original except for the cam cover, which as the words "BMW M Power" cast into it unlike the M49. In addition to the motor, the safety equipment was updated, and a new seat and fire control system was installed, as was air conditioning and new BBS wheels. The car was finished in time for the Monterey historic races in August 2007. In 2008 the car's roll cage was revised and some chassis fractures were repaired. After two DNFs in 2009, Watson rebuilt the engine. The cylinder block and head were given a cryogenic treatment to reduce stress and improve their thermal properties. After two more years of racing an extensive drivetrain overhaul was completed in 2011. The gearbox and differential were rebuilt and a new Öhlins suspension with more precise dampening was installed. During the 2012 and 2013 season while Schmitt was racing his pro car, Watson replaced the crankshaft and rebuilt the cylinder head. He also treated the transmission and differential to the same cryogenic treatment previously done to the engine block. The steering column and other mechanicals were replaced and a new set of BBS 16inch wheels was installed.
In 2016 #987 was confirmed by BMW to be the 1976 Sebring winning racecar. It confirmed that #985, which had previously been recorded as the winner, had not in fact arrived in the US until May of that year. After reviewing the Kommissionsbuch, it was verified that the race cars had in fact been built in descending and not ascending order and the higher numbered cars were in fact the older of the CSL race cars. The corrected history was published in the February 2017 issue of Bimmer magazine written by BMW of North America's Tom Plucinsky. Schmitt's had always suspected that his car was not merely a spare but had been actively raced in 1975. As he stated "There isn't a corner on it that hasn't been brazed, hammered, straightened or welded. That car was driven hard and put away wet!"
Schmitt has driven the car hard. "I've pushed it to my limit, if not the car's, because I've been out there trying to win." says Schmitt. "I went through motors and differentials and everything trying to beat other guys, and I had a lot of fun with the car. Now, knowing what I know, it's too valuable for me to race in anger, but I don't want to be doing parade laps out there. You put the helmet on, and the competitive juices start flowing!" Schmitt has now restored the car to its as-race configuration wearing its 1976 Group 5 bodywork. It is wearing the BMW Motorsport's IMSA livery in place of the Hermetite colors it wore in the World Championship for Makes. In 2007 Schmitt had purchased a set of CSL spares along with #988 as a package deal. However, never intending to keep #988 he sold it on. The spares however he kept. After restoring #987 he decided to use the spares from both cars to create a tribute spare Motorsport built CSL. As he stated, "I don't want to use my 15 seconds of fame being the guy who crashed #987, the Sebring winner. Now that I have a duplicate that doesn't have that history and that can be just as if not more competitive because it has a stiff new chassis, I can still be out there vintage racing a CSL."
---
Exterior
Number #987, one of the most significant cars in the history of BMW Motorsports in the US, is clothed in BMW Motorsports Livery and will be auctioned from January 22 at Stratas Auctions as part of the Henry Schmitt collection. A true race car, there are few parts of this car that have not been repair at some point in its life. The styling of this, the original, "Batmobile" could not be more impressive. The wide body, wing and front valance all help to provide racing performance that even some 45 years after its victory is nothing short of astonishing.
---
Interior
The interior of #987 is set up for nothing but racing. With a race seat, safety harness and a full racing cage. The cockpit remains in good shape and is in ready to race condition. The VDO gauges all function properly and have been well maintained in working order. The dash has been signed by the 1975 Sebring winning drivers, Brian Redman and Hans Stuck.
---
Engine and Drive Train
The period 3.5-liter M49 engine is installed in the car backed by a 5-speed C/R "dog-leg" transmission. A C/R steering rack has also been installed. The engine and drive train have been maintained in race ready condition for the entirety of the life of #987. Campaigned by Mr. Schmitt for many years, there is a plethora of documentation recording the work done to the car during his ownership.
---
Report by stratas.auction
---