Copley Motorcars is offering this Aga Khan Maserati 5000 GT with coachwork by Frua.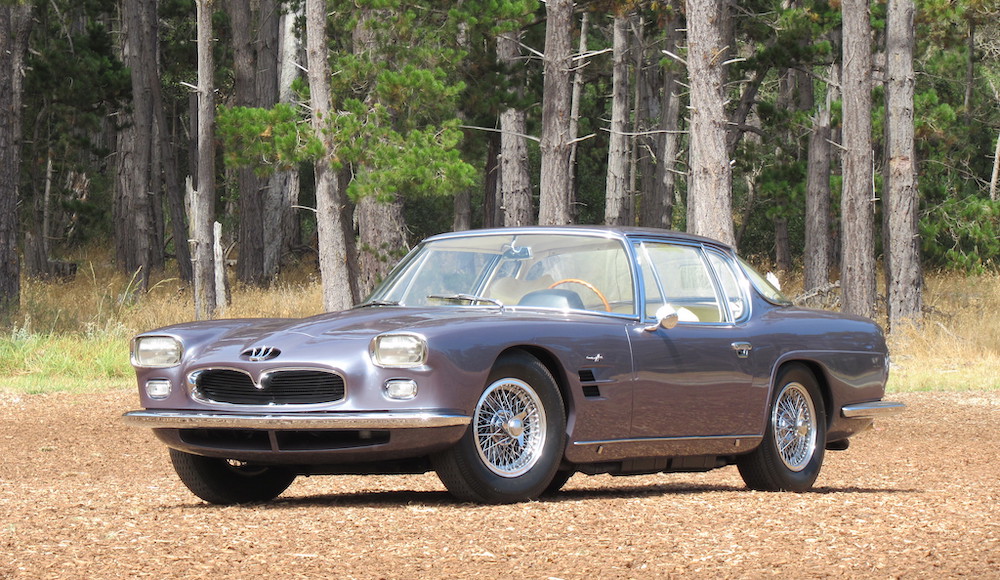 To gain proper perspective on this unique and influential Maserati, all one has to do is examine the current state of the supercar market. Shareholders and accountants rule today's car companies and as such, demand building relatively large quantities of even the most special of hypercars. And while each of our favored European manufacturers now has a bespoke department of some type, the word one-off is nearly forgotten. Yes, we can choose our colors and interior materials today, but supercars and hypercars have become commoditized.
It wasn't always that way though. The 1950s and early 1960s were the apogee of the bespoke era of automotive design, when one-offs and fouri serie cars were created for a very select clientele. Many commissioning customers were legitimate stars of the big screen and stage, well-known captains of industry, and royalty. These discriminating individuals desired something truly unique, a car that expressed their personal taste, and wasn't a different-colored carbon copy of what several hundred others had also ordered.
Adding to the early supercars' allure was many found their origins in competition—which is exactly what happened with one of the most bespoke of all, Maserati's ultra-exclusive 5000 GT. In 1958 the Shah of Iran coveted something different and extremely rapid, and asked Maserati to create a GT with the heart of their uber-fast 450S. That car's fabled DOHC 4.5-liter V8 was without equal, for at most every venue the 400-horsepower sports racer simply ran away from the competition. Unfortunately, they were often besieged with bad luck, and that cost Maserati the endurance-racing crown in the last race of 1957's season.
Still, the 450S's unparalleled horsepower, panache and speed had the Shah's attention. He requested his road car, and Maserati was more than happy to oblige. A unique chassis was created, proper suspension and brakes were used, and the potent V8 was slightly detuned to 325-340 horsepower for street use. Carrozzeria Touring did the coachwork, and a top speed of 280 kph (174 mph) was guaranteed—making the model the era's fastest road car when it debuted at 1959's Turin Auto Show.
Click here for further information!
Report by copleymotorcars.com
---