News of any authentic, vintage Shelby Cobra becoming available for purchase is unquestionable cause for celebration in the collecting community, as there are few other car models to have achieved such legendary status. When two become available at the same time, it's an opportunity that no fan of the late, great Carroll Shelby can afford to miss. This May in Indianapolis at Dana Mecum's 33rd Original Spring Classic, two of Shelby's best will cross the auction block in the form of a 1963 Shelby 289 Cobra Roadster and a 1967 Shelby 427 Cobra Roadster.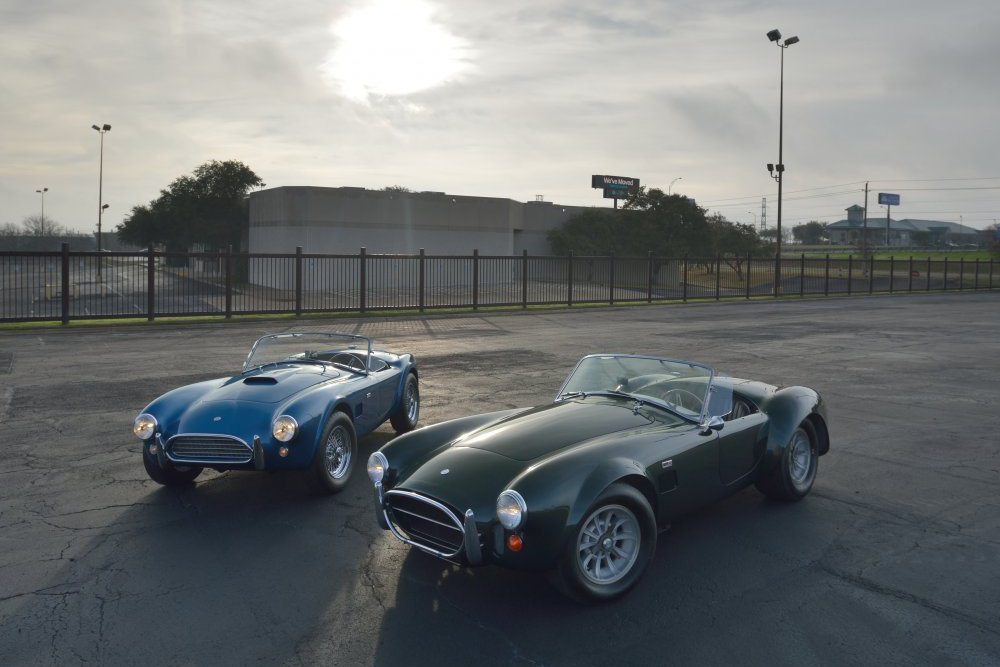 Carroll Shelby sped to the top of American sports car racing through the 1950s, then conquered Europe with the overall win in the 1959 24 Hours of Le Mans driving for Aston Martin. By then, however, Shelby knew his racing career would be cut short by a genetic heart ailment, and after his final race at Laguna Seca, California, in 1960, Shelby retired his famous bib overalls, the idea of producing his own "sport car" already taking shape in his fertile imagination.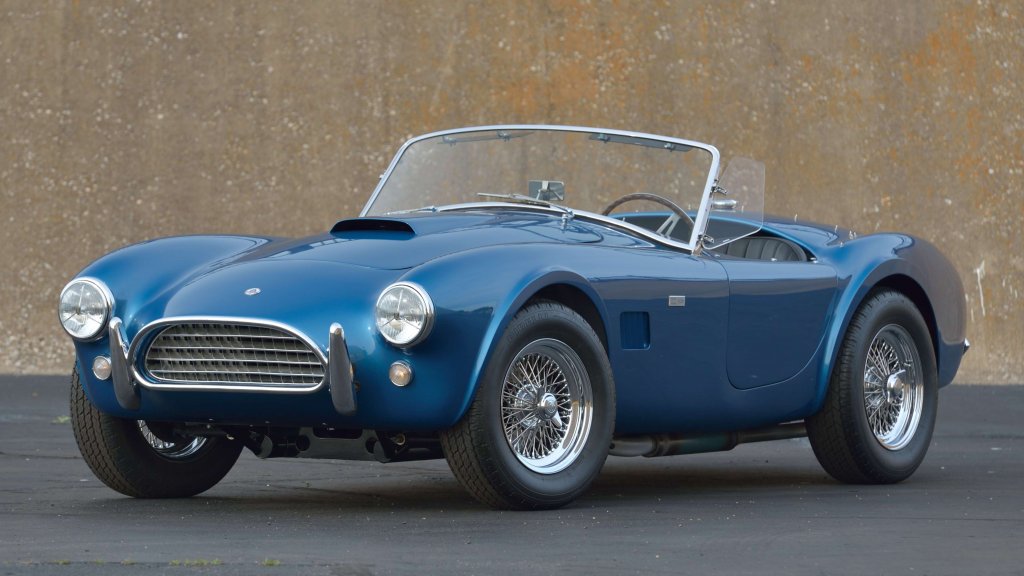 Shelby's competitive nature fueled the concept of a sporting crossbreed based on a nimble-handling European chassis and powered by a mass-produced American V-8. Chevrolet turned him down, but Ford's dynamic young VP, Lee Iacocca, recognized that Shelby's plan fit right into his nascent Total Performance marketing program, and the two struck a deal to produce a running prototype using AC Cars of England's Ace roadster and Ford's new thin-wall small-block V-8 engine. The completed car, dubbed CSX2000, captivated visitors to the 1962 New York Auto Show, where it was displayed front and center on the Ford corporate stand. Powered by Ford's 260/220 HP Fairlane V-8, it then made the rounds on the automotive press circuit, electrifying reviewers with its shocking performance and muscular appearance.
In 1963, the Cobra was upgraded with rack-and-pinion steering, the 289/271 HP Fairlane engine and beefier hubs and suspension. By 1965, the Cobra had proven itself in both national and international competition, scoring a string of SCCA national championships, a first-in-class and fourth overall at the 1964 24 Hours of Le Mans, and the 1965 FIA World Manufacturer's Championship, the first ever for an American manufacturer.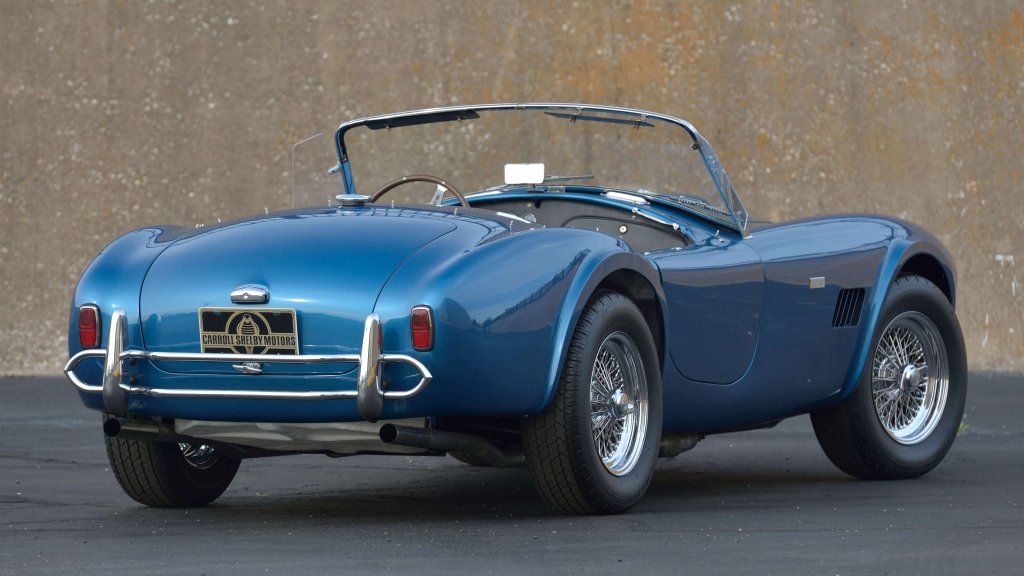 This late-production 1963 Shelby Cobra 289, CSX2195, will be of special interest to collectors as one of very few Cobras ordered by Ford Motor Company for exhibition and demonstration purposes. Shipped to Los Angeles on October 1, 1963, aboard the S.S. Alblasserdyck, it was invoiced on November 29 to Ford Motor Company General Office Accounting in Dearborn, Michigan. Factory finished in Bright Blue with a black interior, it was special-ordered by Ford with a roll bar, extruded rear wings to accept wider tires, and the "Class A" accessory package including chromed rocker covers, white sidewall (WSW) tires and a chromed luggage rack. The Cobra was delivered via Shelby transporter to S.P. Spaulding Ford in Richmond, Virginia, for use by the regional sales office. After a season of exhibition at Ford promotional events, it was sold through Lafayette Ford in Fayetteville, North Carolina, to North Carolina resident Tony Fisher, who refinished it in gold and drag raced it—notably, with an all-female pit crew—for approximately two years before selling it to Canadian Jim Walker in 1967. Walker, who claimed to have won more than $18,000 in prize money and bets, continued to drag race the car into the early 1970s under the pseudonym Jay Walker, reportedly winning the NASCAR Gold Cup Championship among other titles.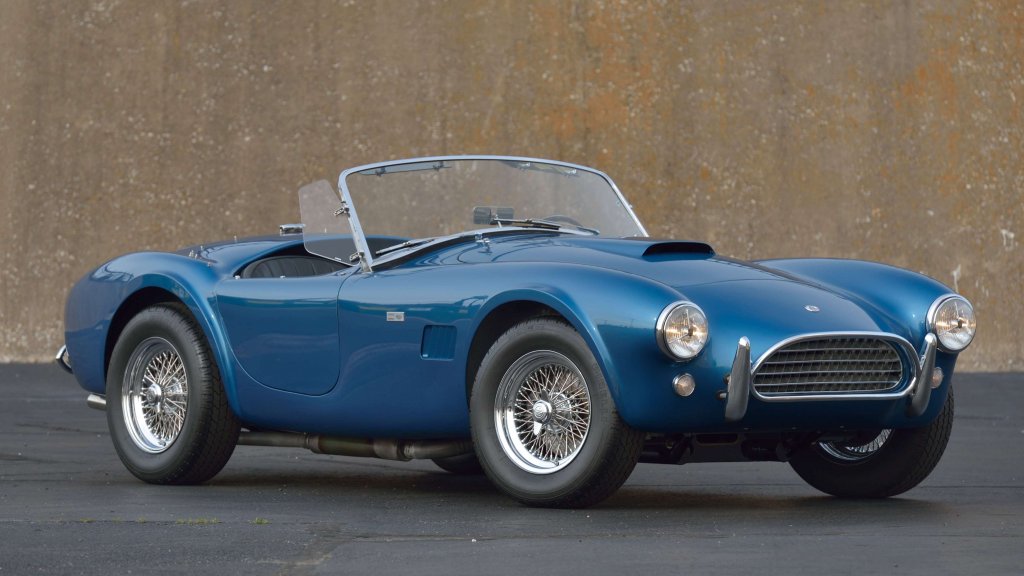 Another Canadian, Larry Epworth, owned the Cobra until 1985, when collector and enthusiast Doug Daniels in Clackamas, Oregon, purchased it. Remaining in the Daniels family collection until 2019, the Cobra received an extensive restoration over a 12-year period beginning in 2006. Now thoroughly restored to as-new condition, complete with correct paint, interior and exhaust, and equipped with Weber downdraft carburetors, CSX2195 is offered with extensive documentation that includes an event program signed by the late Carroll Shelby, who added "Chassis CSX 2195" to his signature. One of only 580 built between 1963 and 1965, this superb Shelby Cobra was enjoyed as Carroll Shelby intended, as both a racer and a sports car, and it offers its new owner the opportunity to carry that tradition into countless new driving adventures.
While the 289 Cobras in both roadster and coupe form dominated the competition like few cars before them, by the time Shelby American secured the 1965 World Manufacturers Championship, the 2,300-pound roadster and the only slightly heavier but more aerodynamic coupe had both reached the limits of their potential. As early as November 1963, when a pack of Corvette Grand Sport racers trounced the factory racing Cobras at the Nassau Speed Week races, Shelby and his ace driver Ken Miles began thinking about a new, more powerful Cobra to defeat what they felt must certainly be in the works at Ferrari and Chevrolet. The answer, after prolonged development, was the 427 Cobra.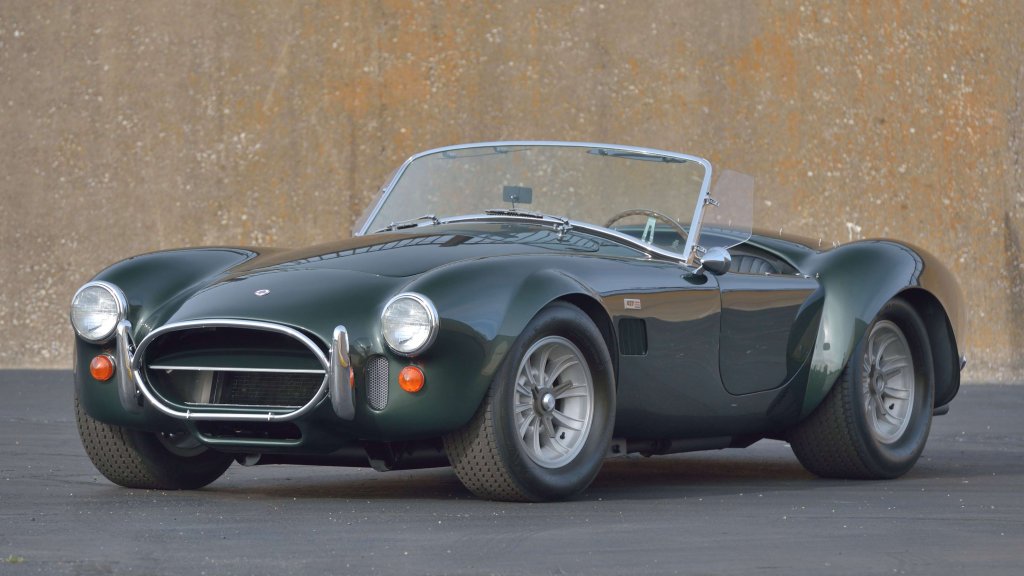 Without question one of the fiercest, yet most beautiful, four-wheeled conveyances ever conceived, the 427 perfectly embodied the Shelby/Miles "Bigger Hammer" approach to performance and remains the quintessential American muscle machine, one once lovingly described as "a Rubens' nude with a big engine." Previously part of the highly respected Otis Chandler Collection, this arresting 1967 Shelby 427 Cobra, CSX3281, was billed to Don Seelye Ford Inc. of Kalamazoo, Michigan, in September 1966. Records show Seelye received a shipping rebate of $285, suggesting it arrived at Seelye by truck. With a final invoice price of $6,730.69, it arrived equipped with the 428 CI Police Interceptor big-block V-8 and finished in green metallic acrylic lacquer with a black interior.
The first known owner, Timothy H. Parker of Houston, Texas, sold the car to fellow Houstonian Donald Mansker in the early 1970s. In 1976, Mansker traded the car for CSX2174 and cash to Rick Reese, an employee of Cobra Performance in Sacramento, California. Reese then modified CSX3281, replacing the original 428 with a 427, installing a full roll cage, rectangular tail lights in place of the original twin round lights, and enlarging the rear fender flares to accommodate wider Jongbloed wheels. Reese also repainted the car red, installed a hood scoop, an S/C dash layout and side exhaust. Reese advertised the car for sale in December 1977 Shelby American, noting an "8-month restoration." He eventually traded the Cobra back to Mansker in exchange for his 289 car, and in September 1979, Mansker once again advertised the 427 for sale.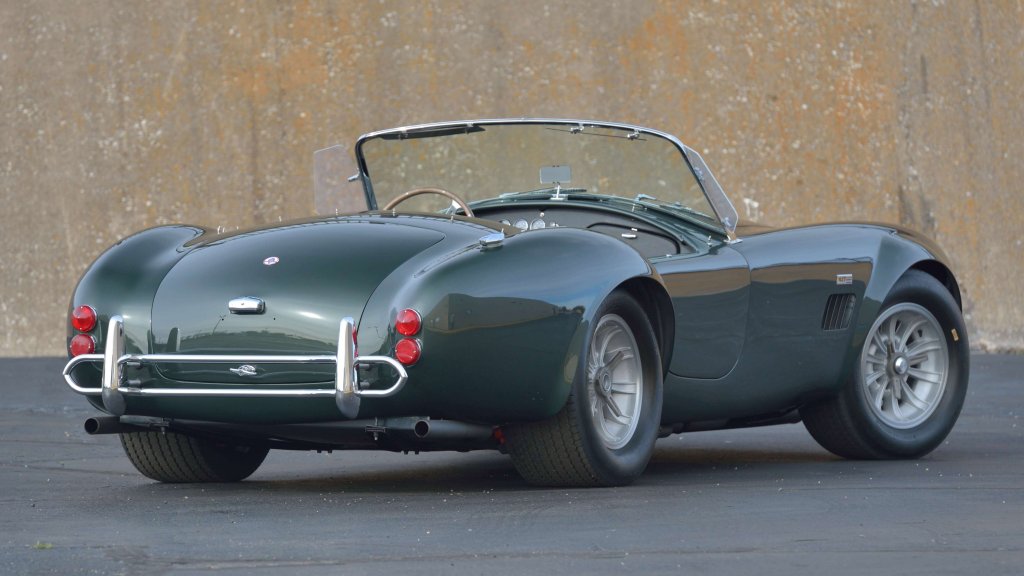 Oklahomans Don Blenderman and Larry Wheeler closed a deal on CSX3281, before advertising it once again, citing the Reese S/C upgrades and a 43-gallon fuel tank. Its next owner, Sloan Kritser of Dallas, commissioned renowned Cobra and GT40 expert Bill Murray of Longmont, Colorado, for a full restoration. Repainted in black, the Cobra retained the larger rear flares and received a correct S/C roll bar in place of the roll cage; chromed side pipes and quick jacks, 7.5- and 9.5-inch Halibrands and a competition fuel filler cap were also added. Murray completed the restoration in 1984, but when Kritser never returned for the car, Murray offered it for sale in May 1986 priced at $95,000 and sold it to J. Catron Jr. of Colorado.
In the fall of 1987, famed collector Otis Chandler of Oxnard, California, purchased CSX3281, eventually maintaining it in his collection for nearly 20 years, during which, in 1990, it was photographed for the cover of the 1990 Fall/Winter Classic Motorbooks Catalog, Randy Leffingwell's book "American Muscle," and the 1993 Cars & Parts Collector Car Annual.
After a number of subsequent owners, Motorcars International in Illinois acquired the Cobra and began a comprehensive and exacting restoration, with careful attention paid to returning CSX3281 back to the original factory specifications, including the correct green paint, black interior and sunburst knock-off wheels. Completed to concours condition and with only test miles since its completion, this sensational 1967 Shelby Cobra is fully documented with photos and receipts, ready to thrill its new owner with the presence and performance found only in one of Carroll Shelby's ultimate creations.
---
Report by mecum.com
---