Canepa is offering this Porsche Carrera GT for sale. The ultimate analog, manual transmission "Supercar". 1 of 42 Guards Red for U.S. market. Black Leather interior.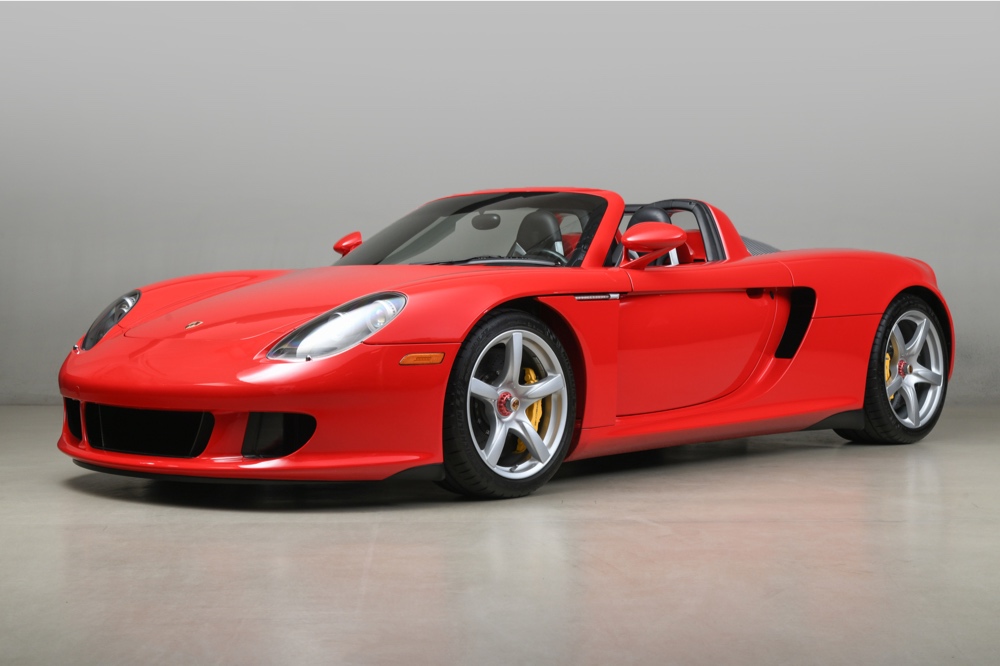 Early in the morning of 28 September 2000, before sunrise, Porsche presented the Carrera GT concept car to the world's press in Paris. Behind the wheel, two-time rally world champion Walter Röhrl navigated the V10 mid-engined car around the Place Charles-de-Gaulle, with the Arc de Triomphe rising majestically at its centre. As the rain fell, Röhrl had the job of transferring the engine's sheer power as cleanly as possible from the rear axle to the square's wet and slippery cobbles in front of the international media. The photos of Röhrl in the open-top Carrera GT en route from the Arc de Triomphe to the Louvre, escorted by French motorcycle police, caused a sensation among car fans around the world.
The concept was never intended for production but Porsche already had a V-10 engine on hand. One of the best engines ever fitted to a production car, the V-10 was originally developed in the early 1990s for Formula One, and when that didn't happen the engine was further developed for the Le Mans program. Eventually it would end up in the Carrera GT, where it displaced 5.7 liters and delivered 603 horsepower and 435 pound-feet of torque. With the Carrera GT weighing just 3,042 pounds thanks to its lightweight carbon-fiber monocoque and a host of other weight-saving mods. "There is nothing like it" – Bruce Canepa, as he describes the incredible sound that the V10 engine makes, combined with its manual transmission, delivering one of the most unique experiences of a driving an analog super car.
Once the green light was given, the first production Carrera GT's rolled off the assembly line at the then-new plant in Leipzig, Germany, in 2003. Production would run for 2 years, during which time Porsche built 1,270 examples.
A visit to Canepa's facility in Scotts Valley (Northern California), affords the unique opportunity to view in person, both the original Carrera GT Concept Car #001, piloted by Walter Röhrl at the cars unveiling in September 2000, and this incredible red on black production example, side-by-side.
Delivered new on December 21, 2004 at White Allen Porsche of Dayton, Ohio, this Guards Red example ordered with the Black Leather interior option. It was optioned with Carrera GT Bucket leather seats, and leather dashboard and door panels. Religiously maintained on an annual basis by the original selling dealer, its original owner accumulated a total of 5,300 miles on the odometer.
Over the next 4 years, the owner kept the Carrera GT in show worthy condition. The car was serviced at Pfaff Porsche, where it had its major engine out service totaling at $50,000.
Recent Major "ENGINE-OUT" Service including:
• Camshafts replaced
• Clutch reads 30.2mm
• No outstanding recalls or service campaigns
Upon arriving at Canepa, vehicles are treated to the "Canepa Difference" This includes a complete mechanical inspection. Everything is serviced as needed, and road tested by Bruce Canepa. It is finished off with a concours show quality detail. The undersides and wheel wells are hand cleaned, ensuring that each surface was spotless. The trunk, interior and engine bay are also cleaned, ensuring that the Carrera GT presented as though it had just rolled onto the showroom floor. With the remaining step being the exterior, the finish is polished and waxed to "as new" finish.
A technical tour de force, derived from a Le Mans prototype, this Porsche Carrera GT is a 612-horsepower racing car, with road registration. This fascinating piece of Porsche history has arrived in Canepa's inventory, ready to thrill its next caretaker.
Option list:
197​Stronger battery
288​Headlamp washer
386​Carrera GT bucket seat XT, left
387​Carrera GT bucket seat XT, right
406​Central locking magnesium wheels
​Front 9.5 x 19" w/ 265/35 – 19, Rear 12.5 x 20" w/ 335/30 – 20
480​Manual gearbox, 6-speed
482​Tire pressure monitoring TPM, 433 MHz
484​Version for USA
501​Car cover
535​Theft security system, 315 MHz
601​Xenon headlamps (standard)
681​Carrera GT sound system
690​CD radio "Porsche Online Pro"
981​Leather dashboard and door panels
983​Leather seats
Click here for further information 
---
collectorscarworld is partnering with the most renowned classic car specialists and dealer-ships in the world. We always offer selected rare and sought-after collectors cars and supercars for sale and every day a special car is featured for one of our partners. The passion for classic cars is diverse, sometimes it concerns the beauty of forms that can be admired at a concours, sometimes it is the smell of rubber , old leather and gasoline at a racing event or trip in the sunset.
Or its a classic car you have great memories with or which your parents owned a longtime ago. Classic cars and supercars are an expression of the lifestyle that someone shares with other petrolheads, and which is immortal, enduring and always a lot of fun. If you are looking for a special car or need support in the evaluation and history of cars, please contact us at info@collectorscarworld.com
---