George Harrison's impact and influence on popular music is unparalleled. Known for pushing musical boundaries and sonic experimentation, George's inventive hooks and groundbreaking tones helped propel the Beatles into legendary status. George played a variety of iconic guitars throughout his career, but the most visually distinctive was his 1961 Sonic Blue Stratocaster, hand-painted in psychedelic Day-Glo colors and affectionately named "Rocky."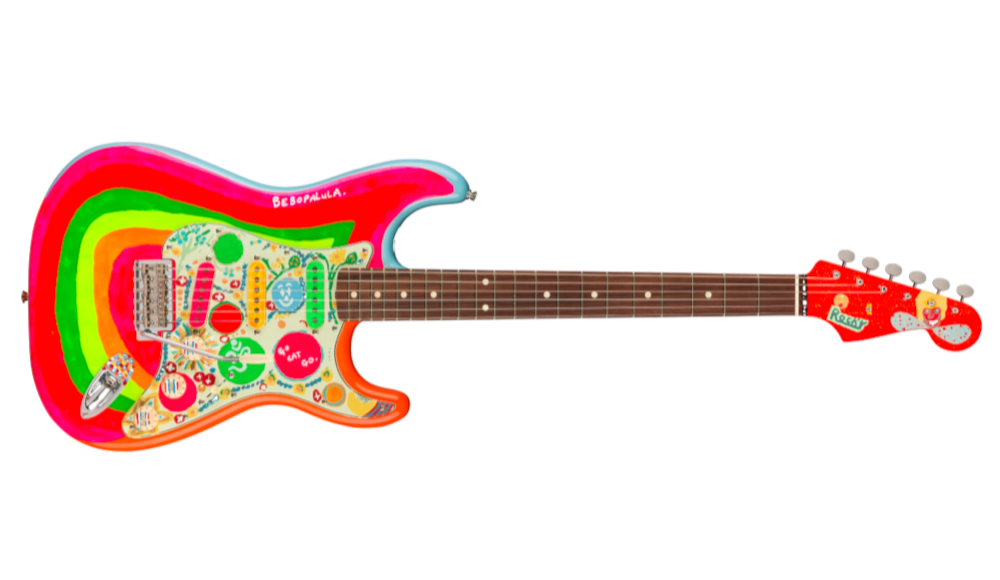 George acquired the guitar in 1965 and first used it on the Beatles' Rubber Soul album and continued to play it extensively on subsequent recordings including Revolver, Sgt Pepper's Lonely Hearts Club Band, Magical Mystery Tour and the White Album.
The George Harrison Rocky Stratocaster features an alder body lovingly hand-painted with a replica of Harrison's famous psychedelic brushstrokes. Every last detail is captured, from the artwork on the pickguard and plastic parts to a replica decal on the back of headstock from Grimwoods – the original music store where the guitar was purchased.
A trio of vintage-style '60s Stratocaster pickups sing with dynamic, crystalline tone that hearkens back to Fender's golden age. A Mid-'60s "C"- shape maple neck with a 7.25" radius slab rosewood fingerboard and 21 vintage-style frets offers a familiar neck profile with a comfortable feel. Finally, the Rocky Strat features a vintage-style synchronized tremolo and tuners which provide the look and feel of a classic Fender instrument.
Click here to learn more about this artist model
FEATURES
Alder Body
Hand-painted Rocky artwork
Vintage-style '60s Stratocaster pickups
Mid-'60s "C"- shape maple neck
7.25" radius slab rosewood fingerboard with 21 vintage-style frets
more information: fender.com
---