Canepa is offering this amazing Porsche 993 Turbo for sale. The final and most refined generation of the air-cooled 911 Turbo. 3.6-liter 408 HP twin turbo flat six engine. 6-speed manual transmission. All-wheel drive. Highly desirable Arena Red Metallic paint finish over Tan leather interior.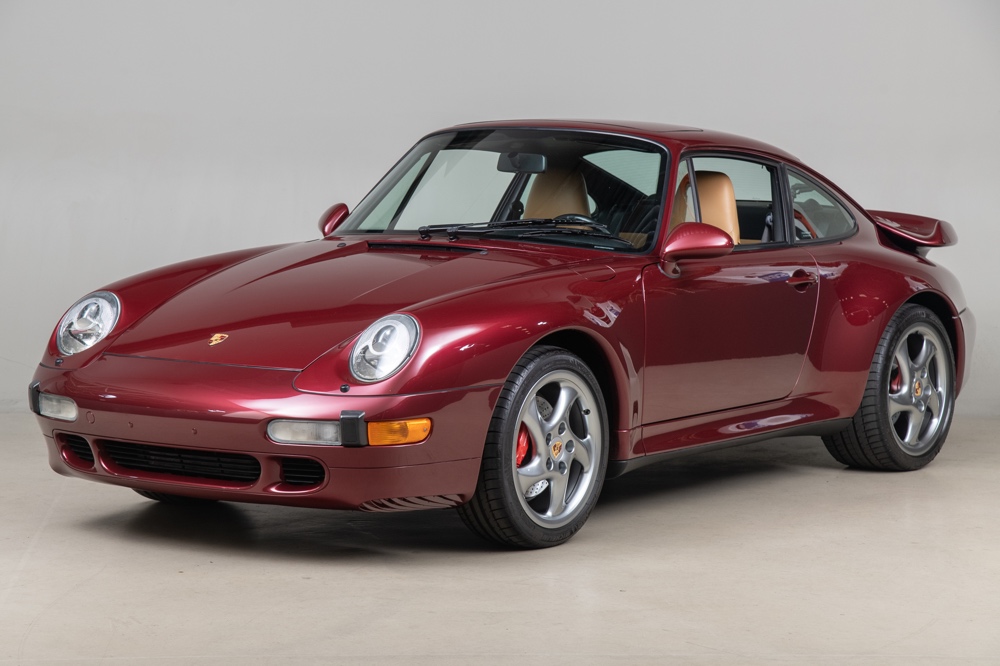 The Porsche 993 Turbo, introduced in mid-1995 as a 1996, continued to hold the torch of the most powerful 911 variant while continuing to improve the breed as a whole. Among the new features on the 993 Turbo was an electronically controlled viscous coupling all-wheel drive system—something Porsche had not offered on a turbocharged model since the 959 and a system that greatly improved the performance of the Turbo. Under the engine lid—now topped with a sculpted spoiler tail with downturned edges—resided the 3.6 liter flat six fed by twin KKK K16 turbos, each featuring integrated waste gates and two air-to-air intercoolers.
Combined with bigger brakes, wider tires, wide body fender arches, and specially designed 'Technologie-Rad' cast alloy wheels with hollow spokes, the 993 Turbo was one of the fastest cars on the planet. With all four wheels tearing into the pavement and 408 horsepower on tap, 0-60mph came in an impressive (even by today's standards) 3.7 seconds, 100mph ticked by in 5.7 seconds, and the forward progression continued until the speedometer had crossed 180mph. Beyond just going fast in a straight line though, the car could pull up to 1.00g on the skid pad and haul to a stop from 60mph in just 111 feet. In reviewing the 993 Turbo in June of 1995, Motor Trend magazine proclaimed, "To beat this Stuttgart screamer into submission requires a force no less wieldy than the million-dollar 627-horsepower V-12 McLaren F1."
This 1996 Porsche 911 Turbo is one of 1,357 cars produced for the North American market in 1996. It was spec'd with a number of driver and passenger comfort-centric options, such as heated seats with lumbar support, cruise control, electric sunroof, and a remote Becker 6-Disc CD changer. Arena Red Metallic is the same color that was used in Porsche's promotional advertising in revealing the Porsche 911 Turbo to the world in 1995. In the stunning combination of Arena Red Metallic over a Tan leather interior, this culmination of options produced a highly desirable specification for this 993.
In 2004 the car was purchased by the car's most recent and long-term owner based in Stockton, California. He learned of the Arena Red Turbo from the owner of Berberian European Mercedes-Benz, who was also a friend of his. The next day he went to the dealership where he was able to test drive the car. He brought along his daughter's long-time boyfriend who had never ridden in a 993 Turbo before, who after getting a ride in the car said "didn't know that a car could handle like that". He purchased the car from Berberian European Motors, Inc of Stockton, CA on June 9th, 2004. Familiar with the Porsche brand as having owned a 1987 Porsche 911 from new, the Turbo introduced him into the forced induction world in the best possible way.
Over the course of 16 years, he drove the car regularly to keep it exercised and kept the car serviced as needed. In August of 2018 the Turbo was given an extensive service at Niello Porsche at Rocklin, CA. During the time spent there a multitude of items were serviced and replaced including: lower valve cover gaskets, brake fluid flush, new hood struts, oil change, wipers, alternator belt, reseal of shifter rod at transmission, front left and right sway bar links, and the clutch slave cylinder and reservoir. This entire service totaled at a cost of $8,768.54.
A longtime friend of Bruce Canepa, he talked about the best course of action to find someone new to enjoy the car. Shortly after they talked, the Arena Red Turbo arrived at Canepa.
Each and every collector car that comes to Canepa is put through and extensive and diligent process called the "Canepa Difference." This includes a major and comprehensive mechanical inspection where all systems are checked and serviced as necessary. They also receive an award-winning concours-level detailing, a thorough cleaning of each and every surface that ensures that every car is a sight to behold. Finishing off with a foam-pad-only polish to enhance the paint finish, each and every car is a perfect example and a personification of Bruce Canepa's impeccable attention to detail. Its Arena Red paint finish was enhanced which now produces a deep luster, increasing the paint's clarity and making the color pop. In addition, Canepa refinished the factory 18" Technology hollow-spoke wheels in the Liquid Metallic Silver finish, adding a stunning and contrasting visual.
Canepa also installed Porsche Classic Communication Management Systems. This system allows the replacement of the old radio, and gives you the latest in technology, while keeping an OEM look. This includes navigation system, wireless Bluetooth connection for your phone device, as well as internal microphone.
Included with this 911 Turbo are its original owner's manuals, service documents, tool roll, compressor, spare wheel/tire, first aid kit, front windshield shade cover, car cover, and fire extinguisher.
Click here for further information
---
collectorscarworld is partnering with the most renowned classic car specialists and dealerships in the world. We always offer selected rare and sought-after collectors cars and supercars for sale and every day a special car is featured for one of our partners. The passion for classic cars is diverse, sometimes it concerns the beauty of forms that can be admired at a concours, sometimes it is the smell of rubber , old leather and gasoline at a racing event or trip in the sunset.
Or its a classic car you have great memories with or which your parents owned a longtime ago. Classic cars and supercars are an expression of the lifestyle that someone shares with other petrolheads, and which is immortal, enduring and always a lot of fun. If you are looking for a special car or need support in the evaluation and history of cars, please contact us at info@collectorscarworld.com
---