Winner of the Group C2 Championship in 2018 & 2019! Winner of the 2018 Le Mans Classic in the C2 class! Two participations in the 24 Hours of Le Mans! Eligible for Group C, Le Mans Classic – Registered for LMC 2021! Ready to race!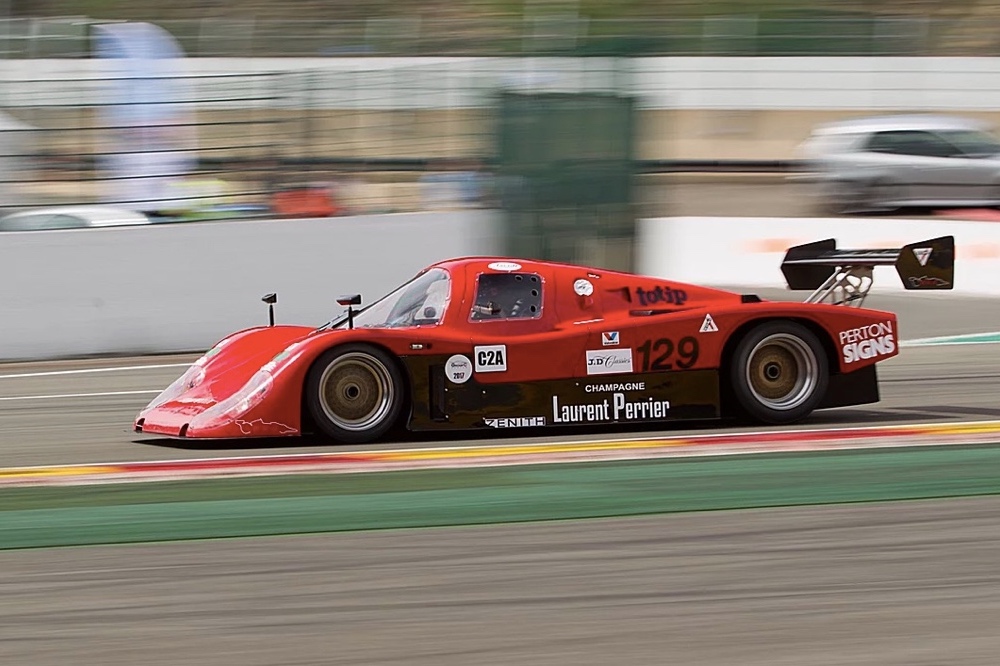 24 hours of Le Mans in 1989 and 1992
Chassis 366, is the third Tiga GC288 built for the 1988 season. It was delivered to the Italian team Kelmar Racing which also acquired the 365 chassis the same year.
This Tiga GC288 #366 was driven by Pasquale Barbeiro and Vito Veninata during most of the 1988 season. The best result was achieved in the last round, when Veninato was joined by Ranieri Randaccio and finished third in class in the 1000 km race at Fuiji.
Now entered under the banner of the Porto Kaleo team, it was used from the Dijon round of the world championship, including the 1989 24 Hours of Le Mans where an electrical problem ended the race prematurely.
Not used in 1990, it returned to the race the following season, still with Italian drivers, but under the British colors of the Berkeley team.
In 1992, it raced again at Le Mans, but a transmission problem prevented it from finishing the race. Withdrawn at the end of the year from contemporary racing, it was acquired by Ascott Collection, it was fully restored before being entered by Xavier Micheron, the founder of Ascott collection, at Spa Classic 2017, where it won its first podium. The beginning of a series!
It was then acquired by a French competitor who raced it with great success in the Group C Racing series and at Le Mans Classic.
​A winning car in Group C Racing Series and Le Mans Classic
This TIGA GC288 won the Group C2 class at Le Mans Classic in 2018 and won the Group C2 championship in 2018 and 2019. It is a Group C that offers both ease of driving and real efficiency and ….beautiful driving pleasure.
It is maintained by a reputable workshop and has always shown great reliability. Its crack-test is valid until June 2022 and the PTH is valid until December 2031.
Click here for further information 
---
Report by ascottcollection.com
---