Canepa is offering this Porsche Kremer RSR for sale.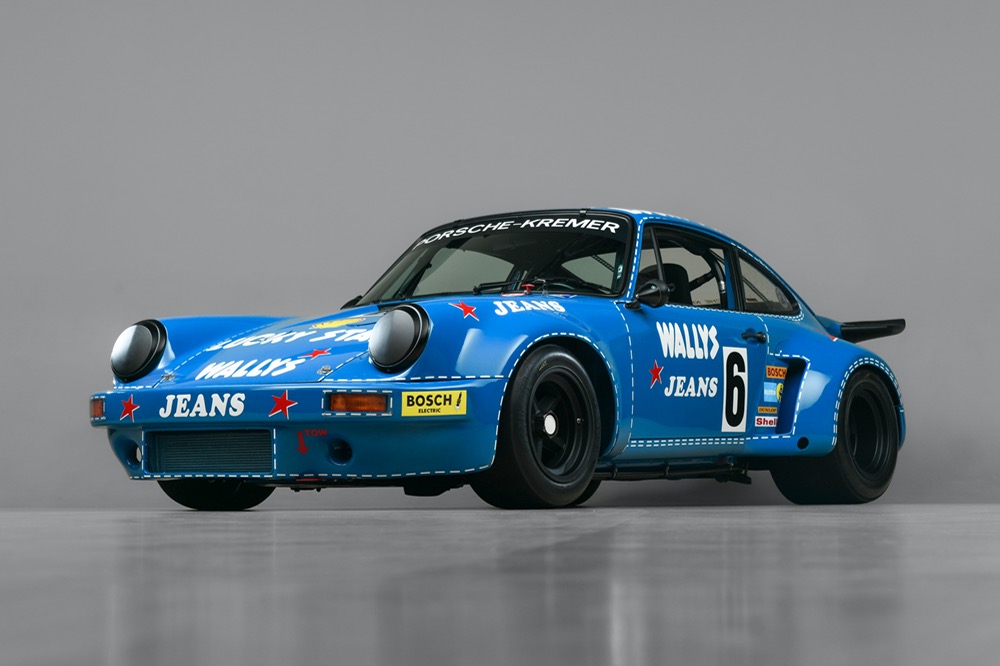 Kremer Racing RSR
3.0 litre slide valve twin plug flat six
335 H.P.
5 speed transmission
Fuchs 10"x15" front, 14"x15" rear centerlock wheels
Fully restored
First place at Diepholz and Hockenheim in 1975
This is the Wallys Jeans sponsored RSR built by Kremer Racing and raced primarily by Cees Sievertsen in 1975. It has extensive European racing history and many podium finishes, including a first-place finish at Diepholz and Hockenheim. After its tenure with Kremer in 1975, the car was sold to privateer Heribert Asselborn, who raced the car for the majority of the 1976 season. At the end of the season, 005 0004 was sold to racer Georg Feiberger. He finished off 1976 in the car and then sold it to fellow racer Karl-Josef Römer. The car continued to race at the amateur level in Europe for a number of years.
It turns out that after being separated from its components, 005 0004's original chassis was built up once again, and rally/ice raced in Iceland. It was discovered in the late 1990s by some rally friends of American Porsche racer Joe Cogbill with its original parts still attached, such as the front suspension, shock brace, and steering, which is unique to the RSR. Joe offered the chassis for sale to fellow Porsche enthusiast Charles Coker Jr. of 356 Inc. in Nashville, TN, who then imported the chassis from Iceland to the United States.
Meanwhile, Michael Foveny of Munich, Germany, purchased the replacement chassis car in 2002 from Bo Strandell, a Porsche dealer in Helsinborg, Sweden, who had experience fielding team at Le Mans, along with 005 0004's original racing logbook (ONS Wagenpass). From 2003 to 2004, Foveny set about a complete ground-up mechanical and cosmetic restoration of the car at Roitmayer in Munich, Germany.
During their restoration research for 005 0004, the Roitmayer team heard that the original chassis was actually in the United States and contacted Coker. After an agreement was reached, the original chassis was shipped to Germany, where Friesinger Motorsport performed a complete restoration of the original tub. Once the tub had been finished and painted in the proper Wallys Jeans Blue, it was sent back to Roitmayer for reassembly.
All suspension components were crack-checked and restored before refitting to the chassis. The original numbers matching the 3.0-liter engine and transmission were rebuilt mechanically and cosmetically. Once Roitmayer had remarried the original chassis to its original parts, the replacement chassis was destroyed.
Whole once again, 005 0004 soon returned to the track and raced in the Le Mans Classic in 2004 and then again in 2006. It also has seen action in an Italian street rally and at Spa.
In 2008 the car came to the United States. Its new owner enjoyed the car at several historic events, including the Rennsport Reunion IV and numerous showings at the Rolex Monterey Motorsport Reunion. The RSR's new owner was in Europe, where it competed in multiple historic races and had an engine refresh in 2018.
Race History:
March 25 1975, purchased by Erwin Kremer
4.13.75 DRM Hockenheim, Cees Sievertsen Kremer – 4th
6.8.75 DRM Hockenheim, Cees Sievertsen Jagermeister Kremer Team – 6th
6.29.75 Euro GT Norisring, Cees Sievertsen Kremer – 6th
7.20.75 Diepholz GT, Cees Sievertsen Lucky Star-Wally's Jeans Kremer – 1st
7.20.75 DRM Diepholz Cees Sievertsen Lucky Star-Wally's Jeans Kremer – 8th
8.18.75 DRM Kassel-Calden Cees Sievertsen Lucky Star-Wally's Jeans Kremer – DNF
8.31.75 DRM Hockenheim Cees Sievertsen Lucky Star-Wally's Jeans Kremer – 8th
9.7.75 DRM Nurburgring Supersprint Cees Sievertsen Lucky Star-Wally's Jeans Kremer – 4th
9.28.75 DRM Hockenheim, Cees Sievertsen Kremer​- DNF
10.19.75 Zolder, Gerhard Holup – 3rd
11.9.75 Hockenheim GT, Cees Sievertsen, Lucky Star/Wally's Jeans Kremer – 1st
January 30, 1976, purchase by Heribert Asselborn
4.3.76​DRM Nürburgring Heribert Asselborn #11 Heribert Asselborn3rd
4.24.76​Nürburgring
5.2.76​ DRM Nürburgring Heribert Asselborn #19 Heribert Asselborn 8th
5.23.76 DRM Mainz-Finthen​Heribert Asselborn #21 Heinzmann-Rennfeuerschutz 12th
5.30.76 1000km Nürburgring​Asselborn / Römer #35 Heinzmann-Rennfeuerschutz 9th
6.20.76 DRM Hockenheim Heribert Asselborn #18​Heinzmann-Rennfeuerschutz​ 8th
8.21.76 DRM Kassel-Calden​Heinz Schewe​ Heinzmann-Rennfeuerschutz​ 7th
9.11.76 DRM Nürburgring Supersprint Georg Freiberger Heinzmann-Rennfeuerschutz 9th
October 6, 1976, purchased by Georg Freiberger.
10.10.76 Nürburgring Trophy​ Georg Freiberger #4 ​Heinzmann-Rennfeuerschutz​4th
10.23.76 Nürburgring Neuss​Karl-Josef Römer 3rd
Click here for further information 
---
collectorscarworld is partnering with the most renowned classic car specialists and dealer-ships in the world. We always offer selected rare and sought-after collectors cars and supercars for sale and every day a special car is featured for one of our partners. The passion for classic cars is diverse, sometimes it concerns the beauty of forms that can be admired at a concours, sometimes it is the smell of rubber , old leather and gasoline at a racing event or trip in the sunset.
Or its a classic car you have great memories with or which your parents owned a longtime ago. Classic cars and supercars are an expression of the lifestyle that someone shares with other petrolheads, and which is immortal, enduring and always a lot of fun. If you are looking for a special car or need support in the evaluation and history of cars, please contact us at info@collectorscarworld.com
---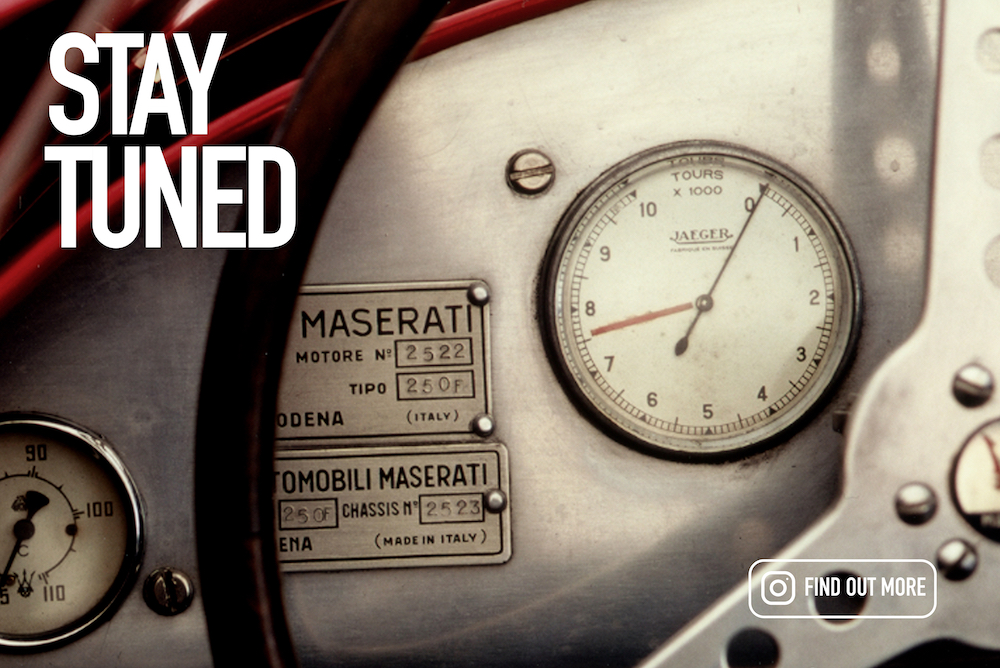 Interested in further "cars for sale"? Click here.