A teenage Giuseppe Gilera apprenticed at the Bianchi Motorcycle company as a mechanic. By 1909 he had designed and built his own motorcycle and started the Gilera Motorcycle Company in Arcore near Milan, Italy. Shortly thereafter he was winning races on motorcycles of his own design.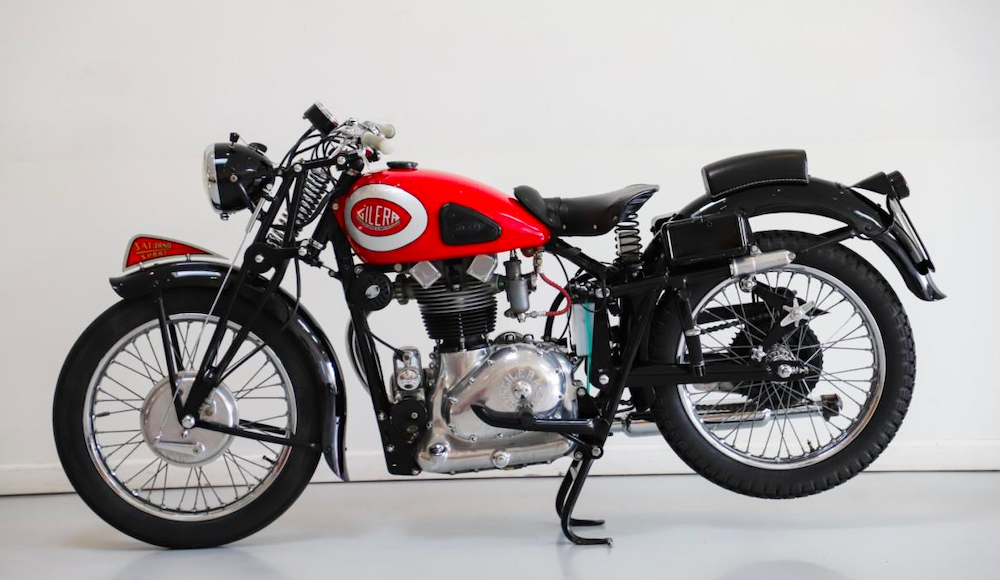 He soon hired engineer and rider Piero Taruffi, who set a land speed record in 1935 of 152 MPH on the four-cylinder 500 CC bike. The racing success continued after WWII with the new regulations for the 500 CC sporting class. The Gilera Saturno 500 was a success in the sporting class as well as winning the World Road Racing Championship for 500 CC bikes six times in eight years. 1950-1952-1953-1954-1955-1957. This while competing against AJS, BSA, Moto Guzzi and Norton. The Saturno also won the Isle of Mann TT for 500 CC bikes in 1955 and 1957.
The Gilera Saturno Sport was built from 1946 – 1958. About 6026 were built or just 500 bikes per year. Only 859 were produced in 1951. The sport was the bike for the gentleman racer to have putting out 4 HP more than the Tourismo. Cycle World Magazine called it one of the six most influential designs.
This bike here a Sport was built in 1951. It was restored by Marque experts near Milan and brought to the USA in 2015. It comes with the ASI Automotoclub Storico Italiano registration certificate showing it as a matching numbers Saturno 500. It also has the old Italian Libretto (title) paperwork showing it registered in Italy and then exported.
Click here for further information
more information: grandprixclassics.com
---