Outstanding Ford GT40 Roadster FIA Historic Racecar – a turn-key ready racecar in immaculate condition! Only 4 Roadsters produced!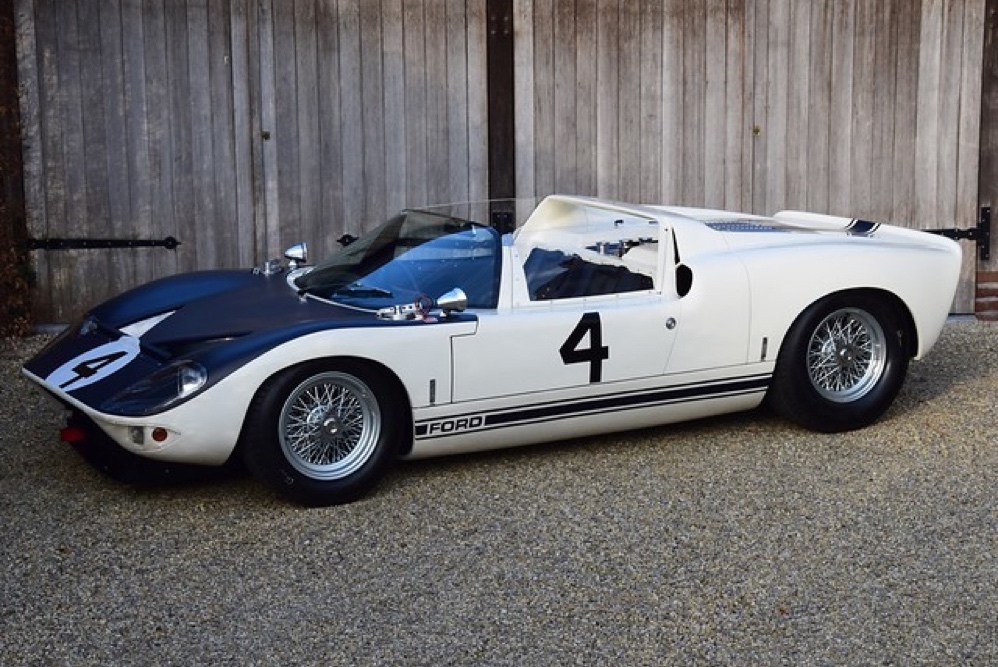 From 1966 to 1969, the Ford GT40 took all comers at the 24 Hours of Le Mans and came away with four straight wins, including a 1-2-3 finish in 1966. The GT40 is one of the most iconic racing cars ever, and an original is sure to generate some buzz when it changes hands. A Ford GT40 Roadster is something completely different, however. Ford only made 4 Roadsters, and these cars are a very rare sight on the racetrack today.
This example is constructed by a well known GT40 expert to exact specification of the very first GT40 Roadster (GT/108). Its performance specifications are identical to GT/111 (the Pale green Targa Florio car as driven by Bob Bondurant) which is a regular participant in most of the historic racing events.
It is built following FIA Appendix K homologations and ready for historic racing. The car comes with a brand new FIA HTP valid until 2031 and finished in the colour combination similar to the GT40 Roadster as tested in 1964 by Jim Clark: Wimbledon White with matt blue nose & striping.
The GT40 is beautifully constructed with incredible attention to detail and following a most interesting specification. The car has a steel welded monocoque with front, rear and doors in fiberglass, identical to the original GT40 cars. The brakes are period correct Girling items with Pagid blue brakepads. Hubs, pedalbox, steering rack, gearshift and fuel caps are all cast magnesium, as per 1965 Le Mans specification, all supplied by Gelscoe motorsport.
The 289 ci. engine was built by Steve Warrior Motorsport. Fitted with Weber 48IDA carburetors, providing 455 bhp at 6800 rpm (dynoed). The rubber fuel tanks are premier bladders FIA approved, and are fitted inside the monocoque in combination with a dual pump system. The rollbar is removeable and designed according FIA requirements. The seats are as per original specification, and the interior has all the original instruments. All buttons and warning lights are also to 1965 original specification. The wheels are correct alloy Borrani wire wheels 6 ½ x 15 front and 7½ x 15 rear.
As you have probably understood from the specification, this is a turn-key ready racecar in immaculate condition. In the right hands, this GT40 is a potential winner in the Master Series, and it is eligible for many events like Spa 6 hours and Goodwood.
It will stand out on every starting grid as there may only one other GT40 Roadster in the race, and that will be the pale green GT/111. So if you are still looking for the right car to participate in historic events, then this gorgeous GT40 Roadster is probably the one for you. Interestingly priced, incredibly fast and probably one of the best looking historic racecars on this planet.
Click here for further information 
---
Want to see another racecar? Have a look at 1965 AC Shelby Cobra 289 FIA
---