1963 Triumph TR4 finished in British racing green with Black interior and White contrast piping. This totally restored TR4 was just traded in to us after a total nut and bolt restoration.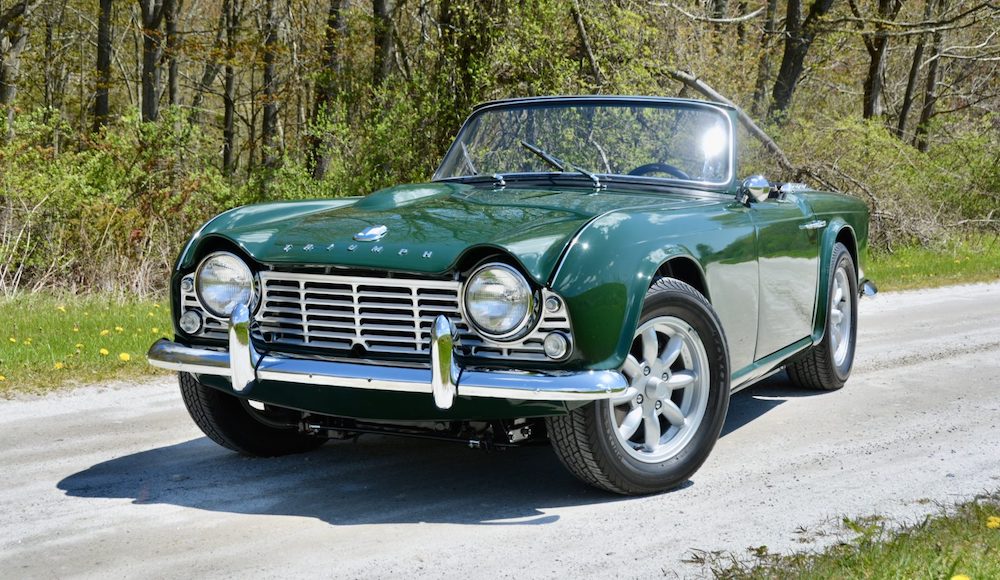 The client of Hunting Ridge Motors was informed by the restoration shop that he bought it from that the car had been purchased by a gentleman from Cleveland. It had been sitting for a long time in a partially disassembled state. He bought it because the body was incredibly straight and rust free. The car was delivered to an excellent British car restoration shop called Automotive Artistry for a full restoration. Shortly thereafter, the former owner found a TR4 that was completely restored. He asked the restoration shop to sell the car along with a parts car they had purchased. The client bought the car and the parts car. He commissioned the restoration shop to turn the car into a painted roller with brakes. While the body and paint work progressed, he had the engine and transmission rebuilt by an excellent local shop that specialized in English cars. While these services were progressing, he was sourcing parts that were either missing or not worth restoring. The body and frame paint work performed by the restoration shop was impeccable. The engine and transmission were rebuilt with new components. The radiator was recored with new tanks. A new wiring harness with 12 volt conversion was installed. The car was also fitted with an all new interior from Moss Motors. It is an incredible car. It starts right up and runs beautifully with lots of torque and a smooth shifting 4 Speed transmission. There is not a single rattle in the car and it truly feels and drives like a new car.
Click here for further information!
Report by huntingridgemotors.com
---