Pendine is offering this Austin Healey 3000 Rally Car for sale.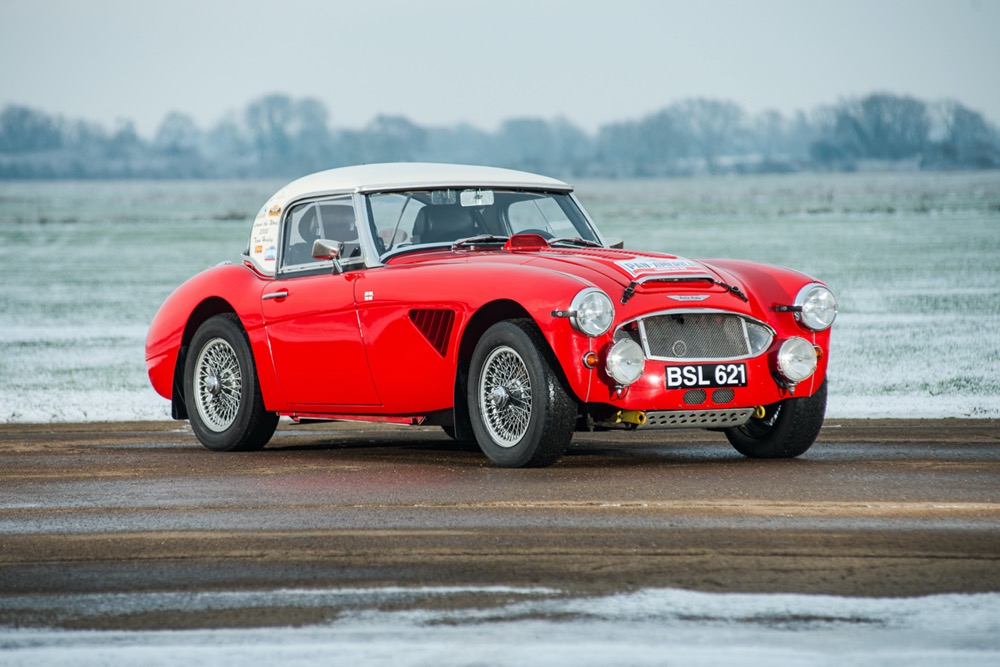 1959 Austin Healey 3000 Rally Car
If you're looking for a super-original, low mileage Austin Healey, then look away now. If you're looking for a Healey with a great history, ready to – quite literally – take on the world, then this is the perfect car for you.
BSL 621, affectionally known as 'Basil', is almost certainly the world's most developed and widely travelled Austin Healey 3000 Rally Car. It was purchased by its previous owners in the 1990s with the aim of building a long distance rally car. As the extent of travel would be global, a conscious decision was made to source a left-hand drive car from the USA. This was then subjected to a ground-up restoration in 1998/ 99 by noted Healey specialists Orchard Restorations, and since then has been continually maintained and developed.
This wasn't just any old ground up restoration, nor even one to Works specification – oh no! – it was a 15 year project costing more than £200,000 (that's £400,000+ in today's money) researching, developing and upgrading every nut and bolt on the car to the greatest degree.
The specification list is exhaustive, so here are a few notable points:
Rally spec. 3.4 ltr long stroke engine built for reliability, producing around 200 bhp with huge torque, breathing through twin 2" SU carburettors fitted with altitude mixture compensator and a bespoke filtration system
Bespoke rally spec. exhaust fitted into the door
Chassis modifications to give 4.5" to 5" ground clearance, without effecting the handling
Chassis massively strengthened, including all suspension mountings
Straight cut, close ratio gearbox with competition overdrive
Limited Slip Differential
Full underbody duralumin guarding
Uprated shock absorbers with remote reservoirs
All electrical circuits separately wired & fused
All alloy bodywork, with original works hard top
Four wheel, dual circuit disc brakes
Modern, super comfortable seats and inertia seat belts
Original dashboard with every additional piece of rally equipment you can think of.
80 litre fuel tank
Extensive set of tools in the boot to undertake any work required on the car
Hidden storage compartments, capable of carrying all spares necessary for an 8-12 week journey
Rear shelf modified to be capable of carrying two people's personal effects for a 2 to 3 month tour
All this (and more) makes for a strong, effortlessly powerful and reliable long-distance tourer. Don't take Pendine's word for it however as its amazing track records speaks for itself; having been driven across the globe – at least twice – with over 100,000 miles in gruelling events, 'Basil' always finished with no break downs, save for having a steering arm replaced in Argentina in 2001.
Besides extensive European travel and events such as the Rallye des Alpes, London – Lisbon etc, the car has successfully completed the following:-
"Around the World in 80 Days" 2000 – 30,559 kms
Inca Trail 2001 – 21,600 kms
London – Sydney Friendship Rally 2005 – 27,560 kms
Panama – Alaska Friendship Rally 2008 – 17,800 kms
Rallye Med Friendship Rally 2010 (right round the Mediterranean) – 19,100 kms
La Gira Andina Friendship Rally 2012 ( top to bottom of South America ) – 15,825 kms
Pan-American Friendship Rally 2016 – 16,533 kms
The current owner bought 'Basil' about 5 years ago with a view to continue its impressive career. However, between Covid, work and living between Milan and London, 'Basil' has been left yearning for the rally roads. That's not to say he hasn't been used, regularly enjoying trouble-free commutes between London and Milan.
In his ownership 'Basil' has been maintained by renowned Healey specialists Woolmer Classic Engineering and has been recently serviced by them.
Presented with a comprehensive history file detailing the build & development, this represents an opportunity to acquire probably the best big Healey in existence in terms of reliability, versatility and usability, at a fraction of build & development costs.
Click here for further information  
---
collectorscarworld is partnering with the most renowned classic car specialists and dealer-ships in the world. We always offer selected rare and sought-after collectors cars and supercars for sale and every day a special car is featured for one of our partners. The passion for classic cars is diverse, sometimes it concerns the beauty of forms that can be admired at a concours, sometimes it is the smell of rubber , old leather and gasoline at a racing event or trip in the sunset.
Or its a classic car you have great memories with or which your parents owned a longtime ago. Classic cars and supercars are an expression of the lifestyle that someone shares with other petrolheads, and which is immortal, enduring and always a lot of fun. If you are looking for a special car or need support in the evaluation and history of cars, please contact us at info@collectorscarworld.com
---