Talacrest is offering this stunning Ferrari 250 GT Cabriolet Series I for sale. Superb restored condition with a vast comprehensive documented history file. One of a handful retaining matching-numbers engine, gearbox and rear axle.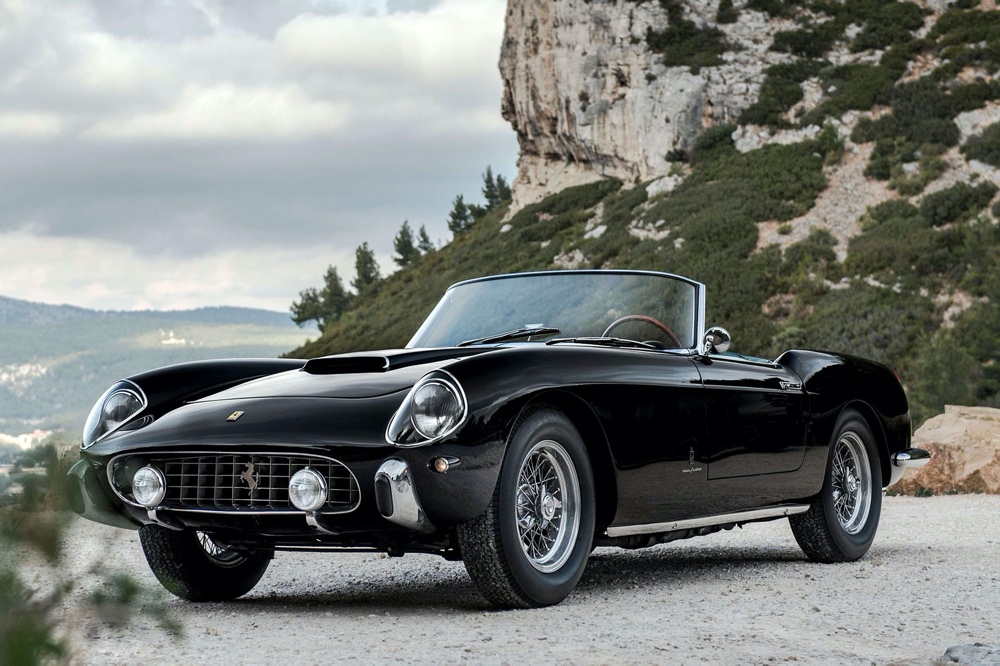 Coveted covered headlight, secondary bumper model
1 of 2 with side vents and 1 of 11 left with full matching numbers
23rd of only 40 models produced
That the 40 Pinin Farina Cabriolets produced between 1956 and 1959 are referred to and grouped as a distinct "series" is somewhat misleading since each of these spectacular cars is utterly unique in its combination of mechanical specification, interior appointments, exterior details, and overall character. Despite their differences, all 40 examples share the same basic 250 Gt chassis and timeless style that have garnered the model a revered reputation with collectors.
All of the Series 1 Cabriolets were assembled by Pinin Farina in its custom shop, not just in the effort of maintaining a superior build quality, but also in the interest of accommodating the wide variety of requests specified by the car's original owners – generally top clients of Ferrari. In fact, the people who bought series 1 Cabriolets new were often as glamorous as the cars they drove, with a roster of original owners that include Peter Collins, Prince Sadruddin Aga Khan, Pofrio Rubirosa, Count Giovanni Volpi, and Muhammed Al Faisal.
When compared directly to the Scaglietti-bodied 250 GT LWB California Spider, an open Ferrari of the period that shares a similar design and chassis, it becomes clear that Pinin Farina's Cabriolet is an even more refined and mature product. This extraordinary quality, style, and exclusivity came at a price; when new, the Cabriolet was not only the most expensive 250 model by a wide margin, it was also one of the most expensive automobiles money could buy. Factory literature indicates a list price of $14,950 for a new Cabriolet, $3,000 more than the California Spider and $2,500 more than the "Tour de France" Berlinetta.
0849GT
The 23rd of 40 examples made, this model left the Ferrari factory in May 1958, originally finished in Bianco over a Turchese Connolly leather interior according to the Ferrari archive. It was subsequently sold to its first owner Enzo Tacchini in Lodi, near Milan, with the purchase price recorded as 5.7 million Italian lire.
In September 1960, the car was sold to its second owner, a Milanese resident, before ending up in France with it's 3rd and 4th owners. In 1964, the car's drum brakes were replaced with disc upgrades. It is recorded in the accompanying Massini Report that in 1971, the original engine suffered a failure. Consequently, the engine was replaced by the motor from a 250 GT 'Tour de France', chassis number 0973 GT by Garage Berson of Paris. In 1975, the car found a new owner in Yvelines, France, at which point it was repainted in red and the trim was replaced with a black interior.
During the 1980s and 1990s, 0849 passed between owners in England, France and Belgium. Recorded as being offered for sale in the USA in November 1995, in 1996 the car was sold to a new owner in Arizona, still painted red with black leather, featuring secondary bumpers and no side vents.
The Ferrari was added to the Guikas Collection in September 2007 – a collector Talacrest has dealt with in the past. The car was still fitted with an engine stamped 0949 GT. It was presumably no coincidence that 0849 GT now was part of the Guikas collection which included Ferrari 250 GT 'Tour de France' chassis 0973 GT, with the original engine from 0849 GT installed. Finally in 2017 as the car was restored by Carrosserie Lecoq, inevitably 0849 GT was fitted with its original matching-numbers engine (number 0849 GT). The restoration included a repaint to the stylish black it wears today and a retrim of its interior in the original Turchese — a stunning combination.
When the car was repainted, it was discovered and evidenced by a number of photos on file, was how straight and untouched, the original bodywork on the car remained. There was also no evidence of the original white paint on the body. It was also determined that 0849 GT once had elegant, more subtle vents installed on each wing line, which is also substantiated in very early period photos of the car. These vents are known to have been installed on just one other 250 GT Series 1 Cabriolet. The newly discovered evidence of these vents, led to them being reinstated in 2021.
One of the rarest and most desirable Classic Ferrari models made and certainly a contender as one of the ultimate open top Ferrari motoring experiences, this fully matching numbers car finished in a fantastic colour combination, presents as a fabulous example of the 250 GT Series 1 Cabriolet. The car comes with a huge history file with approximately 400 items in respect of imagery and documents – including the restoration.
Talacrest know these rare models well having dealt with over 25% of the production over the years and can confirm this is a reference example and would be a centrepiece in any Ferrari collection.
Click here for further information 
---
collectorscarworld is partnering with the most renowned classic car specialists and dealerships in the world. We always offer selected rare and sought-after collectors cars and supercars for sale and every day a special car is featured for one of our partners. The passion for classic cars is diverse, sometimes it concerns the beauty of forms that can be admired at a concours, sometimes it is the smell of rubber , old leather and gasoline at a racing event or trip in the sunset.
Or its a classic car you have great memories with or which your parents owned a longtime ago. Classic cars and supercars are an expression of the lifestyle that someone shares with other petrolheads, and which is immortal, enduring and always a lot of fun. If you are looking for a special car or need support in the evaluation and history of cars, please contact us at info@collectorscarworld.com
---