The Valiance Convertible is based on the design DNA of the beautifully styled Land Rover Defender. Heritage Customs is offering the coachbuilt Convertible option for its so called Valiance model, building on the popularity of their range of Magic Metal exterior and interior options, forged wheels, unique leather trim patterns and optional in-house designed sports seats.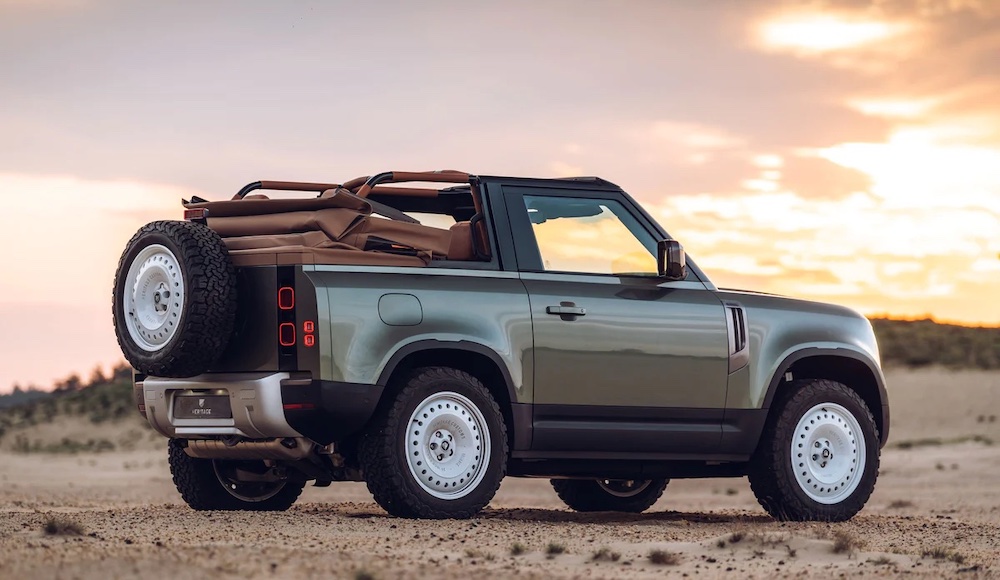 Truly unique: the coachbuilt Valiance Convertible offers unparalleled customization. Each Valiance Convertible is designed in collaboration with customers, who can personalize their vehicle by choosing from their very own paint options, exterior themes and design details. The interior can be finished in almost infinite ways, in collaboration with the Heritage Customs Carchicture team. All Valiance Convertible models will be individually finished using one of the many available colours, materials and customization options and the optional inhouse designed sport seats.
The beautifully handmade hood and exterior styling details harmonise perfectly with an exquisite handcrafted cabin, featuring the highest quality leathers on seats, dashboard, door panels, steering wheel and roll cage. Magic Metal was been applied to a host of elements inside, from the centre console, to door panels and other interior details.
Heritage Customs holds no stock of Convertibles on site, as each Convertible conversion is designed specifically on customer wishes and requests. Heritage Customs sources the donor car for the customer. Depending on wishes and specifications it takes from 3 months to create a coachbuilt Heritage Customs Valiance Convertible.
The convertible roof is opened electrically by the switch of a button, after manually releasing the latches. This operation transforms the Valiance Convertible from a luxurious 4×4 into an open-top grand tourer. A wide choice of different fabric hood colours are available, including an authentic finish with a contrasting top of the roof, similar to the OEM white roof option of the standard vehicle.
The interior design of the Valiance Convertible is tailored specifically to the modern luxury customer, with unrivalled attention to detail that creates an unqiue ownership experience. The cabin seamlessly integrates cutting-edge onboard technology with the finest handcrafted natural materials. The result is an exquisite, harmonised and luxurious space. Never-before-seen paint options, exterior treatments, interior finishes and materials are the essence of what makes the Valiance Convertible a true coachbuilt car.
The Valiance Convertible is coachbuilt by craftsmen based on a Land Rover Defender 90 of the customers choice. The conversion is available starting from 82.500 Euro's excluding VAT.
Elegant, sophisticated and refined, the Valiance Convertible is the pinnacle of open-top luxury 4×4 grand touring.
Click here for further information
more information: heritagecustoms.nl
---