Rare opportunity to buy a BMW 503 in wonderful condition and similar finish! One of only 413 examples made!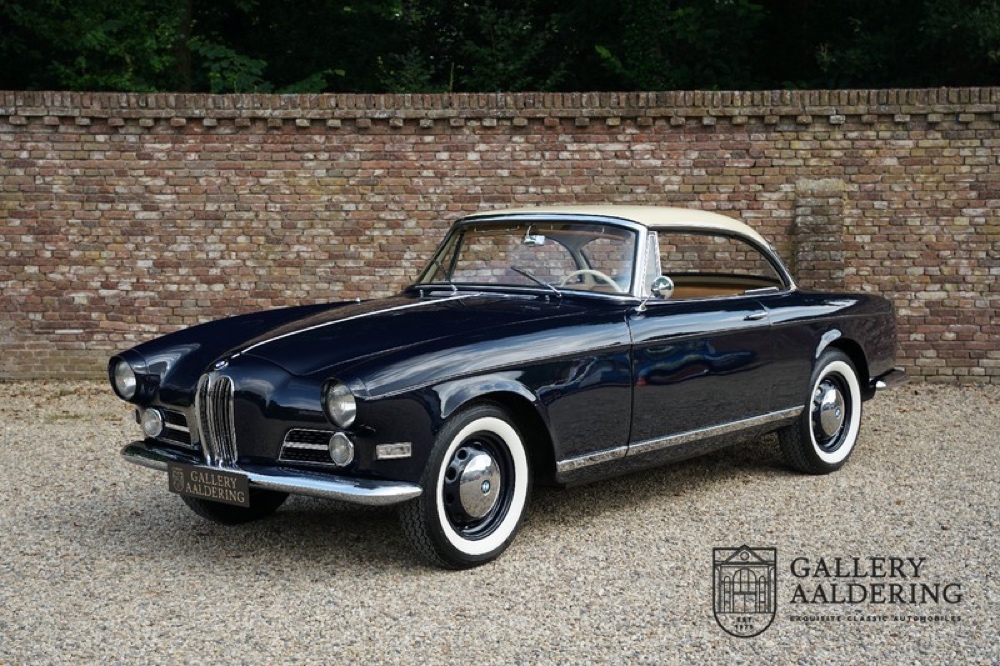 Just suppose you happen to be BMW in the last centuries 50's and you see the whole of the worlds eye gazing at your arch rival Mercedes-Benz thanks to its drop-dead gorgeous 300SL Gull Wing. What would you do? You listen to your American importer, Max Hoffman and then instruct your top designer Albrecht von Goertz to develop a Gran Turismo as well as a stunning roadster. The eventual result was the BMW 503 and BMW 507.
This was a "money no object" BMW project, an absolute "tour de force" to show the world its capabilities. Only the very best was good enough. The result was there to be admired.
The BMW 507 is still considered to be one of the most beautiful cars ever to be admired. The BMW 503 also received an enthusiastic reception and according to connoisseurs like Batista Pinin Farina earmarked as the prettier of the two. Bayerische Motor Werke gave the gorgeous 2+2 Gran Turismo a V8 engine capable of developing 140 Ps coupled to a 4-speed gearbox. Max Hoffman promised he could sell a thousand cars if the price ended up around the DM 12,500.- mark. Because BMW only wanted the very best for the BMW 503, the price came out a lot higher and the car was introduced for DM 29,500.- a lot higher than Hoffman had wished.
Even though BMW was a top-quality product, sales disappointed because of the high ticket price. In March 1959 BMW stopped production due to huge financial losses. Only a total of 413 BMW 503's were ever made. The BMW 503 has become a rare sight these days. This German example is in very good condition. The car was restored in the past and not been used a lot since. The fine bodywork is straight with thin and correctly aligned panelwork.
The brightwork is also in good condition. The two-tone "Dark blue and Crème" finish is in good shape with only minor blemishes. The lovely beige carpet and leather seat upholstery is in good condition inside showing off a lovely patina. The instrument cluster and all controls are in very good shape and work exactly as you would expect.
This BMW 503 has retained its original, matching numbers, engine. The engine and gearbox work really well thanks to recent maintenance. Late in 2019 extensive maintenance was carried out, keeping the car in top condition. As soon as you turn the key you will realise this BMW represents one of the top pieces of German automotive history.
The car drives superbly and the V8 engine in the front sounds delightfully demur. This is the kind of car that everyone understands why it was no sales success at the time, making it even more so a desirable classic today.
Click here for further information 
---
---