Thus was born the fabled 100S, one of the rarest and most highly sought after of all Austin-Healey sports cars. Donald Healey's stylish Austin-Healey 100 had caused a sensation when it debuted at the 1952 London Motor Show. Intended as a low-cost, high-performance, limited production sports car and aimed at the US market, which took almost 100% of production initially, the Austin-Healey 100 sourced its major components from the Austin Atlantic saloon. This beautiful sports-racer will be auctioned at Bonhams Bond Street Sale.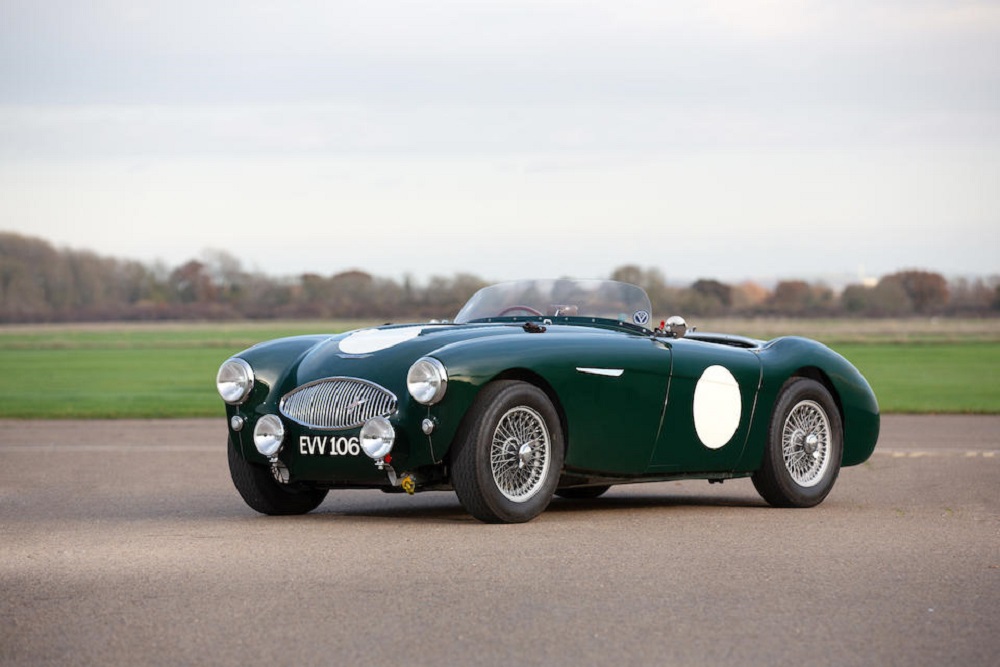 In fact, the car first appeared at Earls Court badged as a 'Healey Hundred' and was re-badged 'Austin-Healey' while still on its stand after Austin boss Leonard Lord bought the rights to the design. It was just as well that he did, for Healey would take over 3,000 orders during the Show yet his company had never made more than 200 cars in a single year!
---
"The prime motive of all our competition motoring was to generate publicity that would increase sales of the production model, the '100'… We were under pressure from distributors, particularly in America, to build specially prepared cars to meet demands from customers." – Geoffrey Healey, The Healey Story.
---
Lord had been happy to agree to supply Austin Atlantic components as the model had not been selling well in its intended market – the USA – and was scheduled for deletion. Low-revving and torquey, the Atlantic's 2,660cc four-cylinder engine produced an unremarkable 90bhp but when installed in the lighter and more streamlined Healey the result was a genuine 100mph-plus car capable of reaching 60mph in under 11 seconds. A three-speed gearbox equipped with overdrive on the top two ratios was an unusual feature of the original BN1, which was superseded by the short-lived, conventional four-speed BN2 for 1956.
In 1953 a team of drivers including Donald Healey and George Eyston set a host of international and AMA speed records at Utah's Bonneville Salt Flats driving two Healey 100s. Highlights including a maximum speed of 143.626mph and 1,000 kilometres at an average of 127.00mph achieved by the tuned car and 24 hours at an average of 104.3mph set by the AMA-selected 'off-the-showroom-floor' example. A muscular sports car to delight the purist, the 100 was not bettered by its six-cylinder successors in terms of outright performance until the introduction of the Austin-Healey 3000 in 1959.
The project that would culminate in the 100S model began in 1953 when the factory began preparing the Austin-Healey 100 for competition. Dunlop disc brakes were one of the first important upgrades, followed in 1954 by the adoption of a Weslake-designed, 'single-port', aluminium cylinder head. Instead of the three-speed overdrive gearbox of the standard production model, the 100S was fitted with the new C-series four-speed unit. Healey's body suppliers, Jensen, built the 100S bodies in aluminium, the slightly different frontal treatment with its smaller oval radiator intake having been arrived at during development. There was no weather equipment, merely a low Perspex windscreen, while another of the model's distinctive features was its seats with their vertically slotted backs. A 20-gallon fuel tank filled the boot. Weighing 2,960lb (891kg) and with a claimed 132bhp on tap from its tuned engine, the 100S was good for a top speed of around 130mph (210km/h).
When a prototype driven by Lance Macklin and George Huntoon finished an excellent 3rd overall at the Sebring 12-Hour Race in March 1954, it seemed only logical that the competition version should be called the 100S. The new car was premiered at the London Motor Show in October 1954 with deliveries commencing in February '55. Austin-Healey's contemporary advertising made much of the recent successful speed record attempt at Bonneville, Utah where a prototype had run for 24 hours, averaging 132.2mph. Excluding prototypes and 'Special Test Cars' to 100S specification, only 55 production versions were made, all being completed during 1955 and all with right-hand drive, most of which were despatched new to the USA. At most only 38 are believed to survive today.
During the 1950s the Austin-Healey 100S was most accessible, most appealing and in many cases the most successful club-racing car available to any aspiring racing driver. This particularly appealing, and highly successful in period, Austin-Healey 100S is a shining example of the type. It has an outstanding record as a club-racing contender over a seven-year period from 1955 to 1962. 'EVV 106' was distinguished almost from new by two distinctive features. Firstly – as required by first owner David Shale – the car was equipped with an Aston Martin gearbox during production. And within days of its delivery to David Shale in February 1955 he had its paintwork changed from the standard Old English White over Lobelia Blue to British Racing Green, a colour that it wears to this day. The car was first UK road registered on 2nd March 1955, and evidence of its early paint change survives in a photograph of the car taken at one of its maiden outings in Mr Shale's hands, at the British Empire Trophy meeting at Oulton Park in April 1955.
From 1955 to the present day, 'EVV 106' has had only seven owners: David Shale (1955-57), Mike Kellett (1957-58), the future multiple British club-racing champion Tony Lanfranchi (1958-1960), and the last of its great club-racing owners Derek Buller-Sinfield (1961-62). The retired warhorse was then acquired by Norfolk farmer-cum-noted Austin-Healey collector Arthur Carter, in whose hands it was preserved and maintained for the following 42 years, before being acquired by the immediately preceding owner in 2004. Furthermore, 'EVV 106' is one of only four 100S models originally sold and raced in the UK home market, and has the distinction of being domiciled in the UK since new.
David Shale drove the car in its club racing debut outing at Goodwood Motor Circuit on 26th March 1955, finishing 2nd, and on 30th May 1956 took a 3rd place at the short-lived Davidstow aerodrome circuit in Cornwall. After failing to finish in the higher-level British Empire Trophy race meeting in April, he recorded four fine race wins, the first at Aintree and subsequently three at Silverstone. Never averse to compiling many road miles on the way to (and from) club race meetings around the British mainland he also achieved 2nd-place finishes at Brands Hatch in Kent, Mallory Park in Leicestershire, Snetterton in Norfolk and Davidstow. He also added a 3rd place at Brands Hatch and two more at Silverstone to the car's growing list of club race laurels. David Shale finished the season as runner-up in the 1956 Autosport Championship.
The car was then acquired by second owner Mike Kellett, in whose hands a 2nd place was achieved at Croft in September 1957 and a 3rd at Marston Moor, followed in 1958 by 2nd and 4th-place results at Full Sutton, the very fast Yorkshire aerodrome circuit. Overall, it was raced at least 18 times in his ownership and remained a competitive contender against newer opposition.
Tony Lanfranchi, from Huddersfield, then acquired the car and learned much about his chosen sport in it before going on to become one of the most colourful characters of the British and international motor racing scene. In 'EVV 106' he won the 1959 Catterick hill-climb, and 3rd places in the Burton Sprint and at the Mallory Park circuit. Derek Buller-Sinfield continued the Healey's regular competition career into 1962, at which time it was acquired as one of the founding feature cars of the illustrious Arthur Carter Collection, within which it was subsequently preserved and maintained for so many years.
Upon acquisition by the preceding owner, 'EVV 106' was extensively restored over an 18-month period, the work being undertaken by respected specialist, the late Jonathan Everard of JME Limited, who was until 1969, a Donald Healey Motor Company and Austin-Healey employee at The Cape factory in Warwick. Ongoing maintenance, servicing and race preparation was undertaken by noted Austin-Healey specialist Paul Woolmer of Woolmer Classic Engineering Limited. The previous owner enjoyed many rallies, tours, and races with the 100S, including the Goodwood Revival, Donington and Silverstone Festivals and, on multiple occasions, the Mille Miglia retrospective. The car is also eligible for the Monaco Historic and Le Mans Classic.
The current vendor, a prominent historic racer, purchased 'EVV 106′ at Bonhams' Goodwood Festival of Speed sale in June 2014 (Lot 331). Since then, the 100S has been predominantly maintained by JME Healeys, with in excess of £16,000 spent over the last seven years (bills on file). Notable works carried out include fitting a new heavy duty clutch kit and changing the SU carburettors from 2″ to 1¾" in addition to routine servicing and maintenance, the last such visit to JME Healeys being in July 2021. 'EVV 106' has FIVA, MSA and FIA HTP registration papers (valid up until 2027) and also comes with period photos available of it racing at the likes of Goodwood, Brands Hatch, etc.
The Austin-Healey 100S is a perfect – and versatile – entry for all the great historic motor events, being equally at home on road or track, and this well documented and carefully maintained example is worthy of the closest inspection.
If you want to find more news click here.
---