Pendine is offering this AC Ace for sale. The only AC Ace to ever compete in the Mille Miglia in period.
The Ace was, for many, a stepping stone into motorsport. For amateurs, it was their first race car, a taster of what racing could be. For privateers it was a fast, economic proposition that regularly achieved class wins not just in Europe, but all around the world. And it is these cars that competed in period so successfully that today ensure the AC Ace is such a highly desirable sports car for both road and track.
With this in mind, chassis AE 40 is unquestionably one of the historically most important Ace's in existence.
Like its brethren, this production Ace was built at the AC factory in Thames Ditton during the winter of 1954/55. Fitted with the six cylinder AC engine, it left the factory in February 1955, and was registered PYF 800 and then sold to Bruno Ferrari, an Italian based in London who had already forged a successful racing career in karts, winning seven British Championship titles between 1963 and 1971. After he retired from racing in 1975, he built a successful garage business in Pinner and prepared many championship winning cars.
No, Bruno Ferrari was no relation to the famous family in Modena, but he did have a relationship with the factory. He was their 'fixer' in the UK, so when the factory or representatives of the company visited the UK, he was often the person who arranged the logistics on this side of the Channel. The Ace was his first dalliance with sports cars.
He immediately started competing all over the UK including Silverstone, Brands Hatch, Silverstone and Goodwood, and with some success. This was his warm-up act for the car, entering the XXIII Mille Miglia in 1956.
Arriving in Italy, it seems as though his connection to the Ferrari marque ensured he could store and prepare the Ace at the famous Modena factory – the mechanics there fixed Ferrari badges on the doors 'for luck' – look carefully, and you can see them in the period pictures at the event. He didn't finish in 1956, coming off the road at the point where Stirling Moss, just one year earlier in the 300SLR, had become airborne for quite a distance. The same happened to Bruno, the front suspension breaking upon their return to terra firma, the race over for car and driver. The damage was light and was quickly repaired, and he continued competing in 1956 throughout the U.K.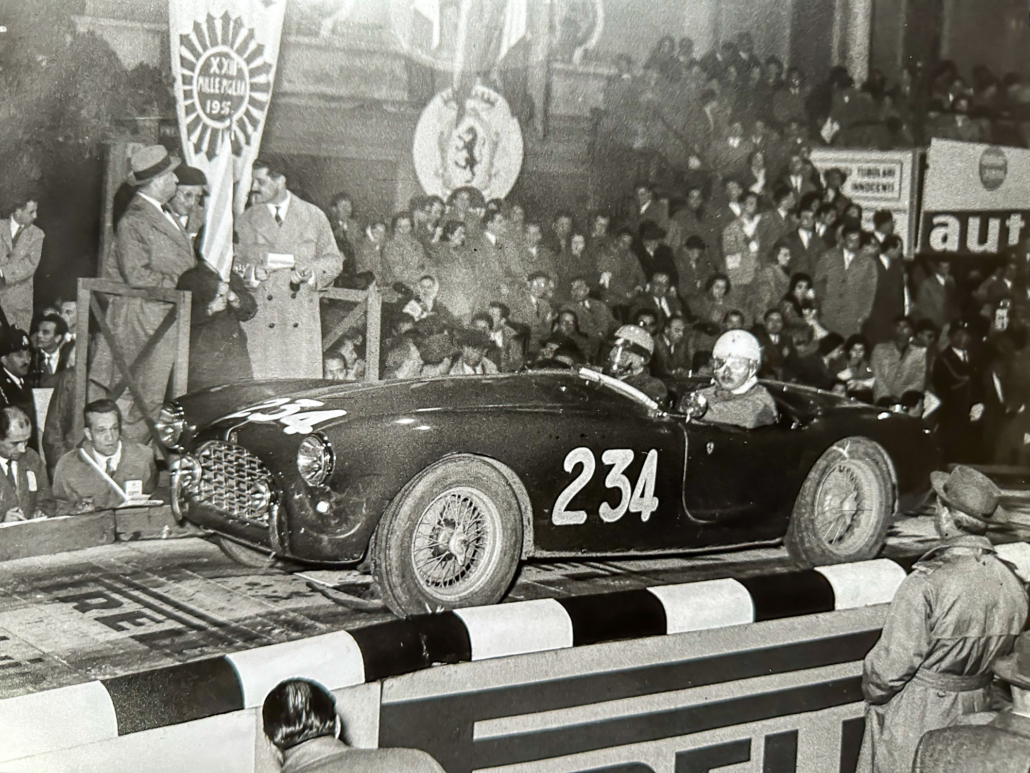 In 1958 he sold the Ace, via Ken Rudd, to Malcolm Knights, a Sussex dentist. The second, dramatic, phrase of its life began. Knights was keen to race the car and teamed up with his customer and semi-professional Team Lotus driver, Michael Anthony (the second longest serving BRDC member after Stirling Moss).
Michael Anthony had a Lotus X with a Bristol engine, and so they decided to replace the "tired" AC engine with the powerful Bristol BS4 engine out of this car – it had large Solex carburettors and a twelve port head. At the same time they fitted stiffer springs, anti-roll bars and much needed disc brakes, as well as a ZF differential.
Knights engaged Anthony to race the Ace on his behalf, under the banner of the Rudd Racing Team. This proved a wise decision, Michael Anthony was a very quick driver and they often won silverware – at Spa in 1958 Anthony beat Jim Clark in a Porsche, claiming First in Class at the Belgium Sports Car GP, whilst also beating three works Porsches – the silverware for this win comes with the car. Anthony had a busy season, competing in 15 events all round Europe. Recently interviewed about his experiences in the Ace, he recalls that there were very few people out there who were quicker than him.
At the end of 1958, Michael Anthony recalls that the car was 'clapped' and so the car was retired and Knights embarked on a refurbishment. In an audacious move that wouldn't be possible today, he persuaded the registration authorities that this now Bristol engined car was brand new! So it was issued with a new registration number (EJK 213) based on an entirely fictitious chassis number, BE1377 and thereby its value was significantly enhanced. All this is very well documented by the AC Owners Club who supported current owner to reverse these changes.
Following a few years of enjoying sprints and hillclimbs, Knights sold the car in 1961, and it went through a several owners before being acquired in 1968 by Geoff Orme, an engineering lecturer in Chesterfield who used it as a project with his students – the plan was to prepare it for ModSports racing. A Jaguar engine was fitted and the body restyled with huge wings to accommodate large wheels and a reshaped nose – it looked just like a Cobra. But it never ran on the road or track, and was put into storage for 20 years.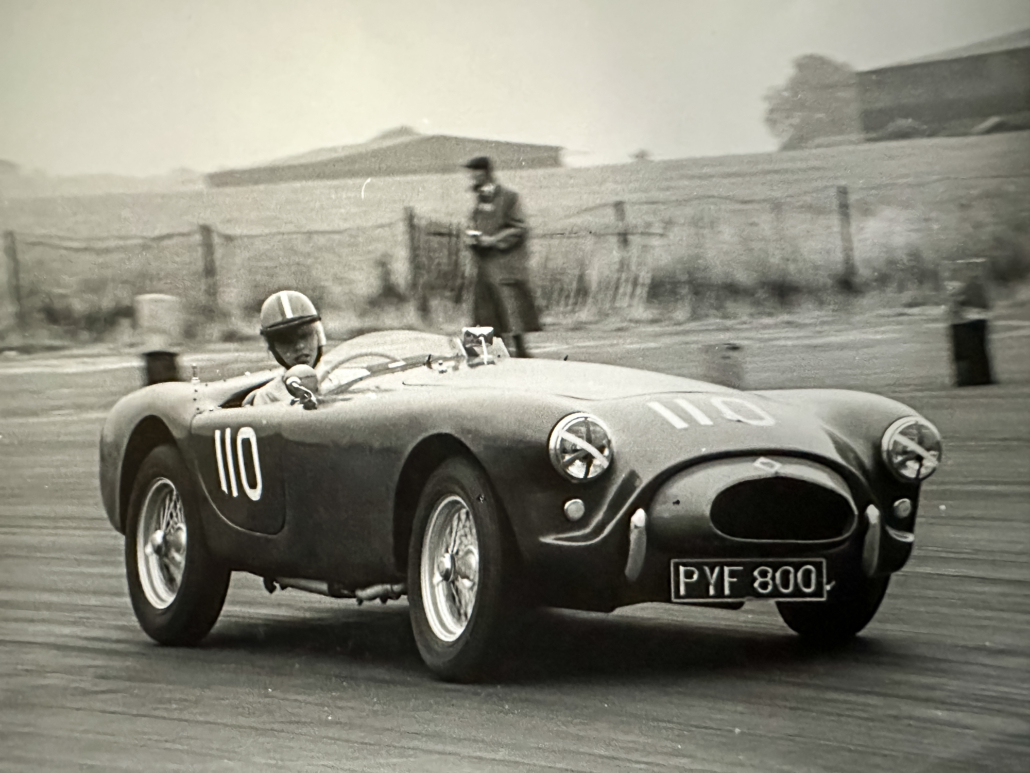 The car was discovered by Richard Sutton in 1988, then writing for Classic & Sports Car magazine (before being a central player of shaping the early days of both the Goodwood Festival of Speed and the Revival), but he didn't do anything with the project, selling it to AC specialist Bill Young. Young completed the first restoration, using Shapecraft to put the body back to a standard car, albeit in 'short boot' configuration. Young didn't keep the Ace long, exporting it to Germany where it stayed for ten years before being sold on to Mario Tomassoni, a wealthy Italian classic car owner, who kept it for the next ten years during which it formed part of the display of original race cars at the Mille Miglia museum in Brescia.
AE40 campaigned the Mille Miglia retrospective six times between 1998 and 2011, as well as Le Mans Classic in 2004. As can often happen, when a car doesn't belong to a Club member or attend Club events in its home country, it was kind of forgotten about during its 20 years out of the UK – that is until its current owner tracked it down in 2015 with the help of Rob Hall of Hall & Hall.
The test drive didn't go well – the head gasket blew – but it was irrelevant as he intended to completely restore the Ace. Under his dedicated and determined guidance, AE 40 has been restored to its current outstanding condition, with great attention to originality and detail. He appointed Steve Grey of AC Heritage, Brooklands to undertake the work. One of the many reasons was because Shapecraft, during the earlier restoration, had produced a dimensionally incorrect body, so a completely new skin was fitted to the original frame and chassis –AC Heritage have the original AC body bucks so Pendine knows now that the car is absolutely correct including its return to 'long boot' configuration. The plan was that eventually the current owner would extend its Mille Miglia record and complete at the highest level in 'the Big 4' – Le Mans Classic, Goodwood Revival/Members Meeting, Mille Miglia and Monaco Historique.
The no expense spared restoration by AC Heritage took 18 months, and visually the car was returned to how it looked on the starting podium of the Mille Miglia in 1956. A new engine and gearbox were prepared by Bristol expert Steve Stanton, and once the car was completed and assembled, it was fettled and race prepared by Jim Stokes Workshops. In 2017, AC Heritage were awarded 'Specialist of the Year' at the Octane Awards off the back of the restoration of AE40 to a 'world class standard'. By this point, the original PYF 800 registration had been restored, the same as for the 1956 Mille Miglia.
The first time it was seen in public was at Salon Prive 2016, in the 'Racing Improves the Breed' class where it was runner up. But AE 40 was never going to be just a show car. Having not yet been driven since the restoration, and just two weeks after the lawns of Salon Prive, it was delivered to Goodwood for the 2016 Goodwood Revival (Lavant Cup), where it finished midfield as a completely 'fresh out the box' car (later competing at the Goodwood Members Meeting in 2019). Octane magazine then did a 9-page feature article around this time.
In 2017 and 2018, AE40 returned to Italy to compete in the Mille Miglia with the coveted Participant entry designation – it is thought that there are less than 200 original Mille Miglia race cars in existence in the world today. Cars that competed in the original Mille Miglia race are therefore pretty well guaranteed an entry, and as such AE 40 was invited to run in the 90th anniversary event in 2017. This was one of two times the current owner completed the 1000 miles around Italy. Just seven weeks later, having been back to Jim Stokes for a spanner check, it was off down to France for Le Mans Classic, ticking off the third of the 'Big 4' events.
Today, the Ace is absolutely on the button and is equally at home as a fast road car, on regularity rallies, or on the race track. Jim Stokes Workshops completed a complete engine and gearbox rebuild in 2019, since when it has hardly been used, and certainly not 'in anger'. It has current HTP, FIVA and 1000Miglia Registro (P0117) papers, running as it would have done in period. There is an interchangeable disk brake conversion, engineered by Jim Stokes Workshops, road and race shod drum brake shoes, as well as the original full width screen and wet weather gear should the next owner want a little more comfort than the Mille Miglia wrap around screen provides.
The car is fitted out for regularity rallies including a GaugePilot and Peltor intercom system and all the usual extras that are required for a pass by race scrutineers.
The history files – seven in total – document the history from new with a record of every owner, including interviews with either them, their family or drivers who competed in it. There are letters of authenticity from Hall & Hall, AC Heritage and the AC Owners Club, all of whom inspected the car, along with SGS to confirm its authenticity. There are documents from the 1956 Mille Miglia, as well as photos, and photographs from throughout its life in various guises and points of restoration.
This is a beautifully restored, well known and historically significant Ace, ready for the next chapter of its life. To recap:
One of the most historically important AC Ace's existing
The only Ace to have competed in the Mille Miglia in period
Raced extensively by Mike Anthony under the Rudspeed banner in period
Ownership known from new
Fully researched and continuous history from new
Original Buff logbook for EJK213 registration
FIA HTP and FIVA documentation
Attributed a 'Mille Miglia Registro' certificate, being a car that competed in period (number 0117P)
The subject of a no-expense spared restoration by marque authority Steve Grey
More recently looked after by Jim Stokes Workshops
Your ticket to every significant international motorsport event
Mechanically absolutely on the button and ready to go
Click here for further information 
---
collectorscarworld is partnering with the most renowned classic car specialists and dealer-ships in the world. We always offer selected rare and sought-after collectors cars and supercars for sale and every day a special car is featured for one of our partners. The passion for classic cars is diverse, sometimes it concerns the beauty of forms that can be admired at a concours, sometimes it is the smell of rubber , old leather and gasoline at a racing event or trip in the sunset.
Or its a classic car you have great memories with or which your parents owned a longtime ago. Classic cars and supercars are an expression of the lifestyle that someone shares with other petrolheads, and which is immortal, enduring and always a lot of fun. If you are looking for a special car or need support in the evaluation and history of cars, please contact us at info@collectorscarworld.com
---