Pendine is offering this Jaguar XK120 Fixed Head Coupe for sale. A well sorted touring Coupe with a nice history.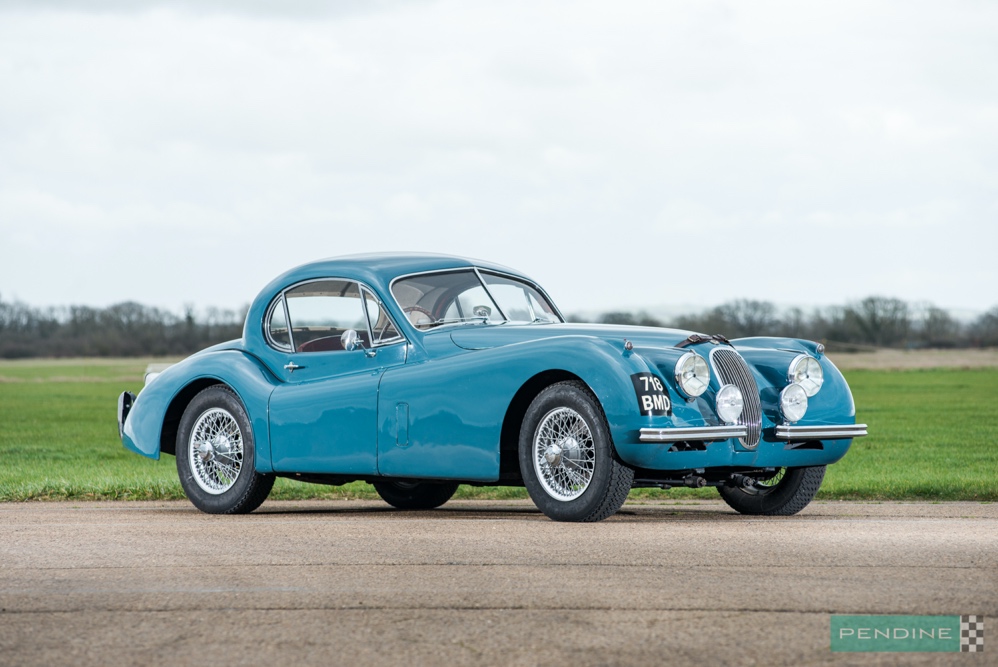 This is a cool XK. Bought in 1973 by moustached legend David Beckett some 12 years after he won the East African Safari in a Mercedes-Benz 220SE, Becket was a delightful old school character. A respected period and contemporary amateur racer, he competed in everything from a Cooper 500 through to his Lister Chevrolet, still donning his race gloves throughout the 80s and 90s, piloting such oddball racers as the Costin-Nathan.
Becket wanted to uprate a standard XK120 FHC into a more usable GT car, so bought 718 BMD. A Home Market Fixed Head Coupe, it was originally supplied by Henley's of London in January 1954. Amongst other things, Beckett fitted a 3.8 Litre engine and painted it an XK150/E-Type colour of Cotswold Blue. It was regularly seen in the paddock of various race meetings as his weekend transport. After he sold it, it was exported to Norway where it fell off the XK radar.
It was Guy Broad, with his well-honed XK nose, who sniffed it out in 2020, and repatriated it to the UK that year. Broad completely went through the car. During its life in Norway it had been modified further, and Broad returned the mechanical parts back to how he believed Beckett had built it. He built a 9:1 compression, 3.8 Litre engine with uprated oil pump, fully balanced crank and later specification con rods. A genuine C-Type head was also fitted, with D-Type specification cams. Larger 2" H8 C-Type style carbs were mated to a modified XK120 manifold. All new internal components were used.
A litany of other work was completed – rebuilt Close Ratio gearbox, WOSP starter motor and dynalternator, high-flow radiator, Bell stainless exhaust, XK150 disc brakes all round, polyurethane bushes, AVO adjustable shock absorbers – the list goes on and on. A full summary is available upon request.
So mechanically, it is sorted, whilst still presenting 'in its own juices'. Still retaining its original seats and dash, it's like putting on an old slipper. As you can imagine with that specification engine it goes well, with one of the nicest Moss gearboxes Pendine has come across. All in all, a really super, well sorted touring Coupe with a nice history.
Click here for further information 
---
collectorscarworld is partnering with the most renowned classic car specialists and dealerships in the world. We always offer selected rare and sought-after collectors cars and supercars for sale and every day a special car is featured for one of our partners. The passion for classic cars is diverse, sometimes it concerns the beauty of forms that can be admired at a concours, sometimes it is the smell of rubber , old leather and gasoline at a racing event or trip in the sunset.
Or its a classic car you have great memories with or which your parents owned a longtime ago. Classic cars and supercars are an expression of the lifestyle that someone shares with other petrolheads, and which is immortal, enduring and always a lot of fun. If you are looking for a special car or need support in the evaluation and history of cars, please contact us at info@collectorscarworld.com
---